Sweet Pics of Ice Cube Fan Art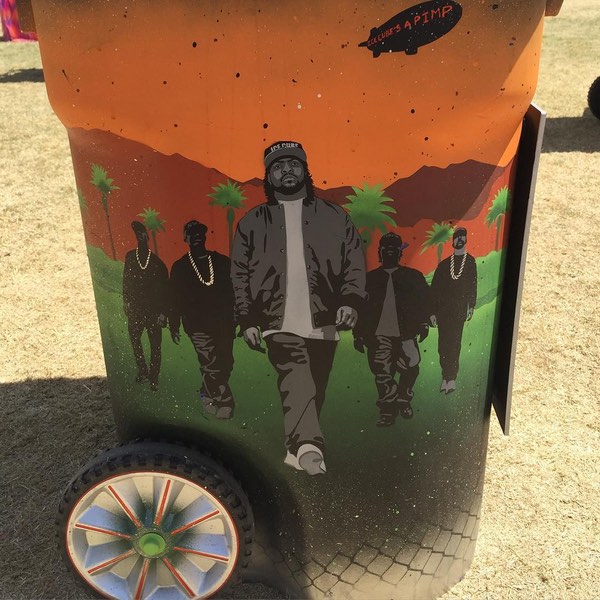 A haze of magic and music filled the Coachella Valley the past couple of weekends as hip hop legends, Dr. Dre, DJ Yella, MC Ren, and Ice Cube joined together on stage for the first time in 27 long years. The iconic return of NWA (minus the late Eazy-E, of course, RIP) was nothing short of a dream true for hip hop fans who have been waiting for this moment since the original members disbanded almost three decades ago. The Coachella crowd went wild and bounced along to a number of classic jams such as "Straight Outta Compton" and "F*** the Police," even paying tribute to their fallen band-mate with a cover of Eazy-E's "Boyz-n-the-Hood."
Cali knows how to party, just ask @icecube #Coachella pic.twitter.com/ZtgqWxLQie

— Ticketmaster (@Ticketmaster) April 24, 2016
The performance has the whole world talking, and fans couldn't be more pumped to watch Ice Cube (and possibly other special guests) throw it down at his remaining festival sets this year, such as Hard Summer in Fontana, CA and Bunbury Festival in Cincinnati, OH.
As we continue our festival coverage, we want to shine the spotlight on one of the greatest to ever do it, Ice Cube, and his dedicated fans. Just keep scrollin' to check out some super dope fan made "odes to the old school" featured down below:
Very creative line work and use of geometric shapes to shade this ink portrait by the talented @thegoldvan.
---
Lovin' @mitch0s_'s beautiful digital design of Cube's classic mean mug. Gold grill and all!
---
You know its dope when the man himself puts it up on his personal Insta, Twitter, AND Facebook! Awesome cartoon illustrations of Dre, Snoop, and Cube by the skillful @rasul_ink.
---
Check out these sick hand-sculpted figurines by @tokenique! He's captured Ice Cube at every stage of his career.
---
It's amazing how @davmou82 was able to use countless chaotic squiggles to make one comprehensive, detailed portrait in his killer tribute to O'Shea Jackson, Sr.
---
Bummed you missed Ice Cube at Coachella? Don't worry, you can still catch his explosive performance live at Hard Summer and Bunbury Music Festival. Head to Ticketmaster.com for more info.
Pro Tip: We're giving you the chance to win a one of a kind experience to a select music festival of your choice with our all new #FestGoals Sweepstakes. Enter for a chance to win here at Ticketmaster.

Tags