10 Empowering Songs from Breakout Artists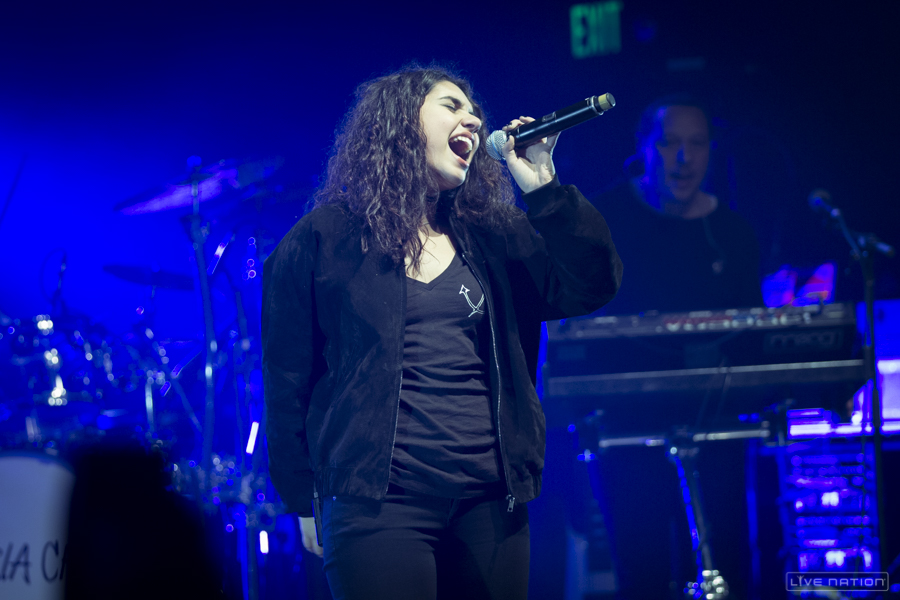 As we celebrate pioneering artists this Women's History Month, we're putting the spotlight on a new generation of fiercely independent performers who continue to blow our minds with their fresh sounds, unique perspectives, and powerful command of craft. It's been a banner year for breakout stars like Tori Kelly and Andra Day — both made their debut on the GRAMMY stage, with Kelly bringing the house down alongside James Bay while Day joined forces with Ellie Goulding for a duet that stirred souls across the nation.
Meanwhile, superstars like Beyoncé and Gaga continue to pave the way — Queen B launched the Super Bowl Halftime Show to new heights, and Lady Gaga stunned at the Grammys and Oscars with her moving tributes (her soulful rendition of the National Anthem at Super Bowl 50 was also majorly on-point).
With their game-changing mix of style and substance, these fearless artists are making their mark on the music scene in a big way. Without further ado, here are 10 recent songs by breakout artists that have us feeling empowered this Women's History Month (more details, music videos & playlist down below).
10 Empowering Songs from Breakout Artists
"Conqueror" – AURORA
Aurora captured the spirit of empowerment during a recent iHeartRadio interview:

"'Conqueror' is about a world that is kind of falling apart around you, and you're looking for a conqueror to save you. But you're looking for the conqueror in someone else, which I think you should not do. You should find the conqueror in yourself first, and be your own hero. If you stand strong, then you will stand for a bit longer."

Backed by a feverishly catchy drumbeat, this song by Norwegian songstress AURORA will definitely stay in your head all day. The 19-year-old offers up a soaring bit of soul-searching about looking for a conqueror to save oneself from a dreary world, when the truth is that salvation actually comes from within. It's a perfect reflection of today's generation, riddled with self-doubt over stagnant wages and struggling under a mountain of student loan debt, yet unsure where to turn for a solution. This song won't right the world's wrongs but it will certainly make you feel like someone understands what you're going through—and that's quite comforting. AURORA's debut album, All My Demons Greeting Me As A Friend, drops on March 11th and she's performing at SXSW in Austin, TX on March 16; Brighton Music Hall in Boston, MA on April 17; and Bowery Ballroom in New York City on April 19.
---
"I'm In Control" – AlunaGeorge
Song Lyrics from "I'm In Control":
"I like crashing waves
But I want to see them at first light
After a long night
And see the sky take shape
But I want to see the stars burn
After I had my turn"

British electronic duo Aluna Francis and George Reid blur the lines between cool irreverence and warm sensuality with this mid-tempo track about a woman who is the master of her own destiny. In an age where ghosting is common practice in the dating world, AlunaGeorge's trippy feel-good jam reminds you that no matter what happens, you can remain in the driver's seat. The chorus repeats like a mantra and if you sing along loud enough, you'll suddenly find yourself in control too.
---
"Hard Time" – Seinabo Sey
Song Lyrics from "Hard Time":
"This time I will be
Louder than my words
Walk with lessons that
Oh, that I have learnt
Show the scars I've earned
In the light of day
Shadows will be found
I will hunt them down"

Seinabo Sey's sultry yet powerful voice makes one feel nearly invincible in this commanding song about bouncing back after a particularly difficult relationship. The Swedish 25-year-old vows to grow from the lessons learned in the less-than-pleasant experience — something that can definitely be applied to the real world. Beyoncé's "Irreplaceable" is one of the top breakup anthems in the last decade, and "Hard Time" is following in its footsteps.
---
"Raceday" – Grace Mitchell
Song Lyrics from "Raceday":
"This is not a game to me
This is raceday"

If you dig Lana Del Rey and Kanye West, check out pop prodigy Grace Mitchell, who is making her mark with a unique sound that employs traces of hip hop, electronica, and classical. "Raceday" asks you to "lace up" as if preparing to run for the race of your life, and it's the perfect metaphor for a time when we're busier than ever. It's impossible to feel the weight of such a stressful world when this dreamlike track whisks you away into a world of carefree confidence and strength. Plus, you can never go wrong with a mesmerizing violin riff.
---
"New Americana" – Halsey
Song Lyrics from "New Americana":
"Viral mess, turned dreams into an empire
Self-made success, now she rolls with Roc-A-Fellas
Survival of the richest, the city's ours until the fall
They're Monaco and Hamptons bound
But we don't feel like outsiders at all
We are the new Americana"

The former YouTuber has come a long way since her Taylor Swift parody days. Halsey's "New Americana" demands the attention of her generation with a bleak yet oddly accurate depiction of today's youth and shout-outs to cultural icons like Biggie Smalls and Nirvana. Its catchy hook will have you singing along and by the end of the track and maybe even waving an America flag with socially conditioned pride. But once you realize the song's hidden call to action, it will inspire a need to do something. Anything.
---
"Rise Up" – Andra Day
Song Lyrics from "Rise Up":
"You're broken down and tired
Of living life on a merry-go-round
And you can't find the fighter
But I see it in you so we gonna walk it out
And move mountains"

From her show-stopping duet with Ellie Goulding at the 2016 GRAMMYs to her performance at a Hillary Clinton benefit concert alongside heavy hitters like Katy Perry and Elton John, soul sensation Andra Day has arrived on the scene in a major way. Her simple yet awe-inspiring song "Rise Up" is a call to action to rise above life's troubles, and Day's killer voice makes the emotional and empowering song all the more moving. Day is a phenomenal talent who deserves every ounce of the hard-earned acclaim she's received, and we can't wait to see what she gets up to next.
---
"Scars To Your Beautiful" – Alessia Cara
Song Lyrics from "Scars To Your Beautiful":
"She don't see her perfect, she don't understand she's worth it
Or that beauty goes deeper than the surface, oh, oh
So to all the girls that's hurting, let me be your mirror
Help you see a little bit clearer the light that shines within"

One of the underlying themes of feminism is self-acceptance and recognizing that physical perfection is an impossible beauty standard. Alessia Cara's infections pop tune reminds you that there's plenty of beauty in simply being content with yourself just the way you are. It's a powerful message, especially for a generation of girls growing up in a world of of Photoshop and Instagram filters. Right on, Alessia.
---
"Stilettos" – Kelsea Ballerini
Song Lyrics from "Stilettos":
"You don't get to get to me…
I'll wear my pain like stilettos
As bad as it may hurt, no, you'll never know
I'll keep walking with my head up, putting on a show"

Back in 2005 Carrie Underwood's brazen country-pop breakup anthem "Before He Cheats" lit a fire under more than just a few ladies and probably even resulted in some smashed headlights. Kelsea Ballerini offers up a similar sentiment but with a more subtle self-empowering approach in "Stilettos". Her calm, soothing voice croons "I'll wear my pain like stilettos" as she calls for the recently jilted to walk away with their heads held high. It might not contain the aggression of Underwood's hit but we're pretty sure insurance companies prefer Ballerini's method of expressing one's pain. Plus, you can never go wrong with a clever shoe reference.
---
"Mirrors" – PVRIS
Song Lyrics from "Mirrors":
"And in the morning I hope I see you by my side
In the sunlight
With my own eyes
And I go searching through reflections for your outline
But it's just mine, but it's just mine"

Paramore and Metric paved the way for the success of hard-hitting groups with female singers and now PVRIS is pushing through to the surface. In this eerie song about losing someone, Lyndsey Gunnulfsen's hauntingly ethereal voice calls out to a lost love. It's not hard to relate—we've all lost someone or something at some point in time—and as PVRIS demonstrates, reflecting on your feelings isn't always a bad thing. Hey, isn't that what music is for?
---
"Poetic" – Seinabo Sey
Song Lyrics from "Poetic":
"I'll lose my breath for you
And I don't want it back
All that I have is yours
Run to the moon and back
So I can prove the fact"

Seinabo Sey's innate ability to speak to real, everyday problems in such a poetic way makes her an artist to watch out for. Vastly different from "Hard Time", this song perfectly encapsulates the difficulty in putting your feelings out there and offering up your heart to someone else. For those lacking the courage to do so, "Poetic" is a charming pep talk set against the soulful sounds of a single piano combined with a lullaby beat. Even if you don't muster up the courage to express yourself outwardly, you'll still feel much better thanks to this wonderfully positive song.
---
The Quick List of Songs
"Conqueror" – AURORA
"I'm In Control" – AlunaGeorge
"Mirrors" – PVRIS
"Hard Time" – Seinabo Sey
"Raceday" – Grace Mitchell
"New Americana" – Halsey
"Rise Up" – Andra Day
"Scars To Your Beautiful" – Alessia Cara
"Stilettos" – Kelsea Ballerini
"Poetic" – Seinabo Sey
---
Have A Listen
Tags