One Of The Herd: The Many Fans Of The Denver Broncos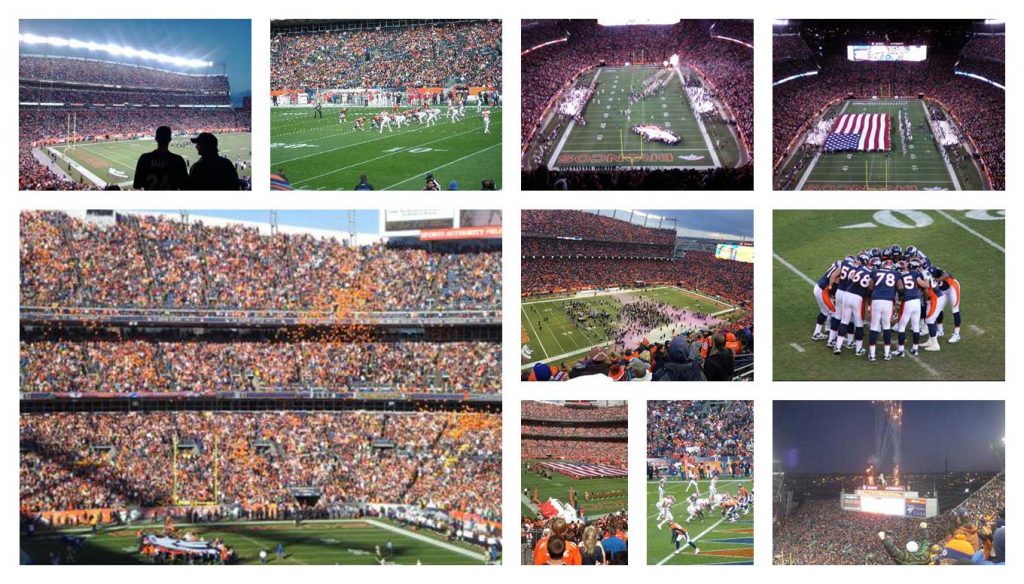 When it comes to achievements, the Denver Broncos just about have it all. Since the team first charged on to the field in 1960, the Broncos' trophy room has grown to include:
Eight conference championships.
Three Super Bowl rings: XXXII, XXXIII, and 50.
Several players in the Pro Football Hall of Fame.
The record for most Super Bowl appearances (tied with the Dallas Cowboys, New England Patriots, and Pittsburgh Steelers).
Though it's not exactly a trophy, there is something else the team has earned over the years: the adulation of fans in Denver and beyond. In turn, the Broncos have done everything to build a real football-centric experience for its herds of followers.
Goats and igloos
In February 2016, just as the Broncos prepared themselves for Super Bowl 50, fans across the Mile High City and beyond found ways to rep their blue and orange. And though there were many popular options – including signs and online postings to forums like Mile High Report and Predominantly Orange – a few fans got creative.
Rebecca Herberg and her family run a farm outside of Montrose, Colorado, and they decided to help out their flock of goats and cheer on the Broncos by knitting sweaters for the wee billy goats. In all, the Herberg clan knitted 150 Broncos sweaters for their goats, which they compared to looking like a packed game at Sports Authority Field at Mile High.
With no access to goats, Lindsay and Cody Schmitt turned to an abundant element in Denver by building a massive Broncos-themed snow sculpture. Standing some seven feet tall, the massive igloo took 23 days to finish and involved 287 blocks of ice. It was worth it to the Schmitts, though, who got to show off just how dedicated they are to all things Broncos.
Leading the technological charge
Apps are a great way to utilize technology to help fans get closer into the game. For Broncos fans, there are a few options available, including the team's official app Broncos 365, which includes everything from photo galleries and the latest team stats to fantasy football and game-day reports. For even more, there's the Broncos' desktop site, a massive content library for team's videos. Fans can download and store highlight reels and other footage, and access it anywhere.
The Broncos also use technology to take fans even further into the action. In January 2016, the team announced the launch of a special new feature at Mile High Stadium. Those fans enjoying the game in a luxury suite can wear smart glasses to enjoy the game like ever before. Beaming footage from special high-performance cameras placed throughout the stadium, fans can get a near 360-degree view of the field, seeing through walls and in angles otherwise inaccessible to the naked eye. Plus, fans can switch their view depending on where they're looking, and access real-time data on players from the Broncos squad.
Big-name Broncos
Even if they don't own goats or build massive igloos, these following Broncos are noteworthy for being among the elite of music, TV, movies, and sports:
Pro golfer Tiger Woods
Actor/comedian Tim Allen
Pro racer Kyle Busch
Actress Kate Hudson
Actor Don Cheadle
Actress Jessica Biel
Trey Parker & Matt Stone (co-creators, "South Park")
Olympic gold skier Lindsey Vonn
Preseason at Mile High
Sports Authority Field at Mile High is already an impressive venue in and of itself. A technological marvel where fans can enjoy Broncos football with plenty of amenities for fans to enjoy. But in August 2016, just in time for the Broncos' first pre-season game, fans got to experience a taste of the Broncos past.
Resting in the parking lot is a one-eighth-sized replica, standing 11 feet tall and covering 3,000 square feet, of the old Mile High Stadium. That stadium served as Broncos' home turf through December 2000, and was where the team won its first two Super Bowl rings. The mini-stadium still holds about 300 fans, who can enjoy a snack bar and to-scale scoreboard. The whole structure is meant to give fans access to Mile High even as the Broncos travel the country.
Tiny stadiums and sweater-wearing goats might seem odd to some folks, but these are just some of the many ways fans and the Broncos demonstrate their continued work in building one of the best organizations around.
Get in the game
Check out the Denver Broncos team schedule and view Ticketmaster NFL and the NFL Ticket Exchange for Denver Broncos tickets.
You Might Like
The Lakers are set for a league-high 43 nationally televised games this season.
The Nashville Predators are growing into their role as a major fixture in the Nashville area and beyond, giving Tennesseans a hockey team of their own to che...
The Florida Panthers hold a unique distinction in hockey, a sport that long relied on cold weather: the team is the southernmost squad in the pro hockey worl...