Conversations with 2020's Cutout Fans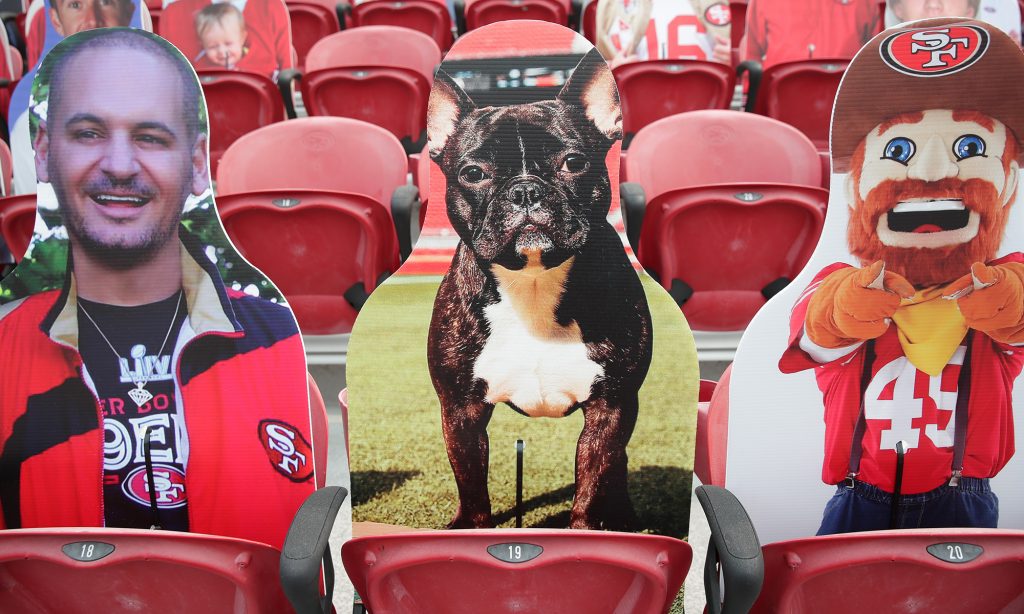 Sporting events in 2020 have been a whole new experience for spectators and athletes alike. From the gridiron to the wrestling ring to the baseball diamond, fans have adapted to seasons where they couldn't pack into venues and cheer en masse for their favorite sports pros. 
But the teams need the fans as much as the fans need the teams, so it didn't take long for the San Francisco 49ers, the Philadelphia Phillies, World Wrestling Entertainment and other entities to start devising ways to bridge the gap, taking cues from leagues that had restarted worldwide. Two of the most popular devices for making that happen: cutouts and livestreams.
The trend of cutout fans began in earnest in Taiwan, when the Chinese Professional Baseball League was able to begin their season in early April. Not all CPBL concepts were universally adopted — such as live cheerleaders and drumming robots in the stands — but the cutouts eventually became a global phenomenon. Many U.S. sports leagues allowed fans to buy a "season pass" for their cutout, and a lot of them donated some or all of the proceeds from cutout sales to Covid relief or other charities. 
Other entities, such as the WWE and the NBA, devised a different solution: using live video to show fans cheering in real time. Within the NBA's renowned playoffs bubble in Orlando, a few hundred fans at a time could be livestreamed onto 17-foot video boards courtside, giving them and the players the much-missed experience of sharing the joys (and sorrows) of every play. The WWE took that idea and ran with it, transforming Orlando's Amway Center into what it fittingly called the Thunderdome. They went all in with state-of-the-art technology by installing video boards that allowed thousands of fans to participate in real time and in a way that enabled the wrestlers to feed off the energy of their cheers and jeers. 
We talked to a couple of fans, as well as the 49ers' director of brand marketing, Allie Dicken — whose responsibilities include the fan experience — about what being a spectator has been like in 2020.
Becoming a 2D spectator
It's tempting to call the cutouts sitting in the stands "cardboard fans," but they're made from a durable material called Coroplast (as in "corrugated plastic"). "The images are applied by a giant inkjet printer and hardened against water and sunlight by a UV curing process," Dicken explains. "Holes are placed in the middle of the cutout to tie down the cutouts in-stadium." 
"It was my first time being a cutout and I'd do it again in a heartbeat," says Kerry Mahoney, a self-described "full-time sports fan and part-time musician" who lives in South Philadelphia, and whose presence graced Phillies home games throughout the season. "When [the Phillies] made the announcement, I jumped at the chance. It only cost $40 [per game] and the proceeds went to [the Phillies Charities], so it was a no-brainer." 
Mahoney had no choice as to where his cutout would be positioned, but lucked out when it appeared in the first row near the visiting team's dugout. He learned of his prime location via a text from a friend who spotted him. "Pretty much every time there was a mound visit you could see my goofy face, smiling in the background… My mind was blown," he says. An added bonus: the experience helped him connect with loved ones when doing so in person was impossible. "All throughout the season I would get random texts here and there, 'Hey! I just saw you at the Phillies game!' It was really cool."
When the opportunity came to be a virtual fan for one night at the WWE Thunderdome, Las Vegas resident and lifelong pro-wrestling fan Ashley Williams pounced on it. "I had seen how the NBA was doing it around the time that WWE had announced it," she says, "and I was like, oh, that's gonna be pretty cool if they did it right." 
The WWE offered streaming "seats" on a first-come, first-served basis, so Williams immediately signed up, and once she was selected, signed a waiver and was emailed instructions along with the time she was supposed to go on during the first Thunderdome taping of Smackdown and 205 Live. "[My friends and family] thought it was pretty awesome," she says. 
Adding the unique twists
Dicken and the 49ers have gotten creative with differentiating the cutout program. "We also create special cutouts and designs for our theme games," says Dicken. "We had [a] Crucial Catch game where, in partnership with American Cancer Society, we had cancer warriors submit photos for cutouts. We put Tackle Cancer shirts in various cancer awareness colors on their cutouts and placed them in the shape of a ribbon in their section, which made for an incredibly powerful visual that was spotlighted on [the October 4 edition of] Sunday Night Football." The 49ers also have hosted cutouts of local athletes and celebrities, including rapper and Niners superfan E-40.
Organizations are also devising different plans for commemorating this experience. "As cutouts are installed, we have our photographers capture a high-resolution photo of each cutout in-stadium, and we send that picture to the purchaser," Dicken says. "We found it important to give fans a piece of proof that their cutout was 'cheering' on the players."
Phillies fan Mahoney was pleasantly surprised with his souvenir from the 2020 season. "They made it clear when I first signed up that they could not guarantee that I'd get the cutout," he says, "but they just sent an email a few days ago that they're available to be picked up… They also gave me two free tickets to a game next season, so that's an awesome added bonus."
No matter what becomes of the LED displays in playoff bubbles or corrugated plastic cutouts in baseball and football stadiums, these innovations turned a tough situation into an opportunity to create new fan experiences — and memories that won't quickly fade away. And they've kept fans engaged and looking forward to attending live events, once it's safe. While Mahoney would like to be at Citizens Bank Park on opening day in 2021, he plans to wait until it's safe to attend indoor events. Until then, he says, "Maybe I'll see if my cutout wants to go."
Photo obtained on 49ers.com
Tags
You Might Like
Social media has kept these sports stars connected with their legions of admirers.
There are some definite upsides to watching a show from a venue that's all yours.
Professional athletes and athletic organizations seize the opportunity to salute our nation's troops.