Welcome to the Dawg Pound: Fandom of the Cleveland Browns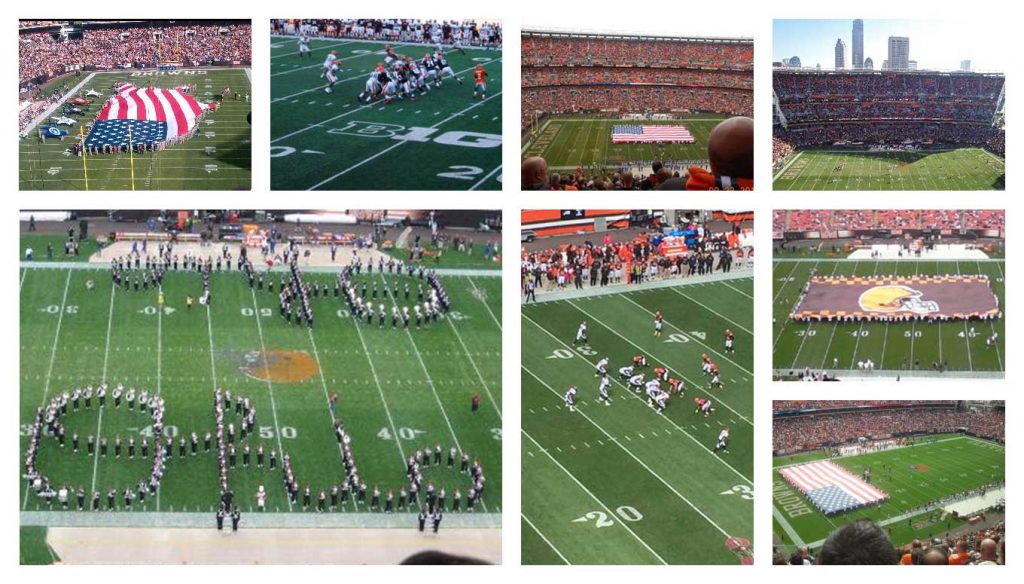 The Cleveland Browns aren't like other football teams. They didn't draw their name from the mighty panther or the graceful eagle, but instead chose to pay homage to the team's first coach, the legendary Paul Brown. (Some believe the name's actually a tribute to boxer Joe "Brown Bomber" Louis.) While putting Paul Brown's visage on the team's helmets as a logo could have been an interesting design choice, the Browns instead decided to forego the usual use of a helmet logo.
Not that they've needed a striking name or emblazoned helmets. Since the team debuted in 1946, they've won eight league championships, nine division titles, and earned many more accolades.
But more than just trophies, the Browns have an especially passionate fanbase, throngs of fans who cheer them on for everything they do for Cleveland. And the Browns recognize the commitment, and the result is a football-crazy town with few peers.
Party galore
Just how do the Browns love their fans? The team throws them their very own festival. Since 2015, families across Ohio have been invited to participate in the annual Cleveland Browns Fan Fest. It's a chance not only to meet everyone in the Browns organization, from mascots like Brownie to players and front office executives, but for people to indulge their love of the game with a slew of activities. That includes autograph sessions, locker room tours, special meals, games for the kids, and watching the rookies during a practice session. Not even heavy rain in 2016 kept fans from attending the festivities, showing just how much the brown and orange means to residents of the Buckeye State.
What better way to reward loyal fans than with great meal options? In recent years, FirstEnergy Stadium has undergone a few renovations, and the updates now including a wide array of dining options. Hungry fans can enjoy everything from Whalen's Great Lakes Cheesesteaks to Symon's B Spot to Sawyer's Sausage & Peppers. There are even Browns-themed meals, like the "Bad to the Bone Bologna," fried bologna made to resemble a "Dawg" bones.
Because great football should always taste this good.
Welcome to the Dawg Pound
This especially loud and boisterous collection of fans called The Dawg Pound has been a calling card for the Browns since their days at Cleveland Municipal Stadium, and became a central focus when the revived team  set up shop at FirstEnergy back in 1999. what was once a loose collection of enthusiastic fans has become an official part of the team, complete with its own logo and unique merchandise and gear.
One of the most famous denizens of the Dawg Pound was John "Big Dawg" Thompson. Even amid a sea of fans in face paint and costumes, Thompson's signature dog mask was a pillar of Browns games, and he was often called the "Canine in Chief." Thompson was so recognizable, in fact, he even appeared on the show "Politically Correct" to celebrate his fandom.
Biggest Browns backers
Even if they don't wear a dog mask like Thompson, the Browns have loads of famous fans, including:
Baseball star Hank Aaron (who used to sit in the Dawg Pound)
Actor/comedian Drew Carey
Former United States Secretary of State Condoleezza Rice
Arsenio Hall
Pro wrestler Jerry "the King" Lawler
Country star Brad Paisley
Boxer Kelly Pavlik
The e-connection
Throughout the Browns organization, technology is a huge part of its success and ability to reach out to fans. Fans regularly use the official app, which features photo galleries, team profiles, a place to buy tickets, a central hub for social media, exclusive wallpapers, and much more. Meanwhile, fans use #DawgPound to share stories, talk shop, and generally psych themselves up for the next big game. And the Browns fandom has spread to other parts of online culture.
Through the Browns' innovative First and Ten program, Browns fans have pledged more than 1 million hours of volunteering toward local, national and global charities to benefit their communities. Fans are able to sign the pledge at www.clevelandbrowns.com/community and can then share their stories of how they #give10 on social media, where they have the opportunity to win special Browns experiences or prizes from the team.
Technology is only one part of the equation. It's the fan festivals, the dog costumes, and much more that, when combined, show just how essential Browns are to their fans, and vice versa.
Get in the game
Check out the Cleveland Browns team schedule and view Ticketmaster NFL and the NFL Ticket Exchange for Cleveland Browns tickets.
Tags
You Might Like
The Lakers are set for a league-high 43 nationally televised games this season.
The Nashville Predators are growing into their role as a major fixture in the Nashville area and beyond, giving Tennesseans a hockey team of their own to che...
The Florida Panthers hold a unique distinction in hockey, a sport that long relied on cold weather: the team is the southernmost squad in the pro hockey worl...