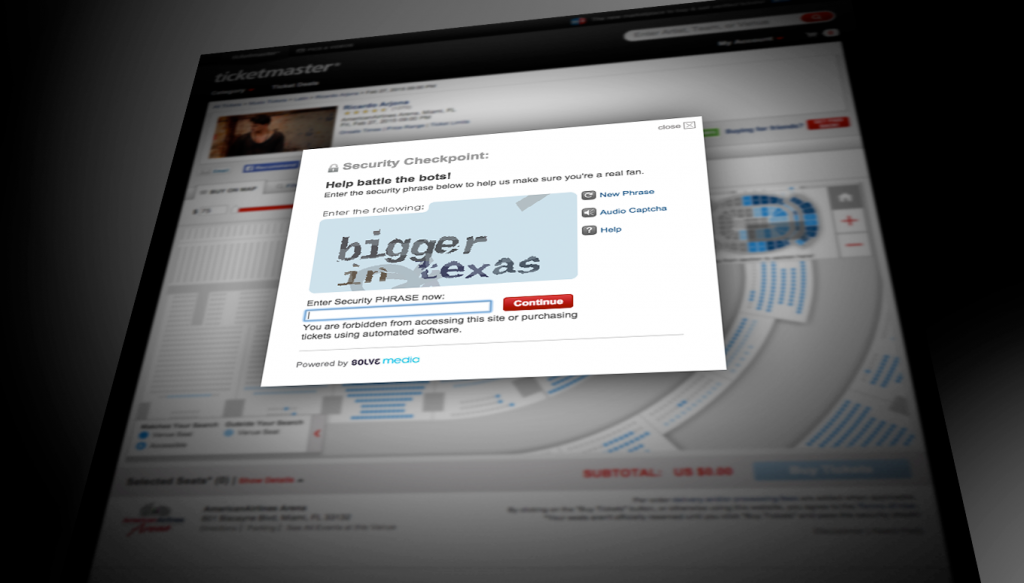 Every day we hear from fans about how much they dislike CAPTCHA (those squiggly lines at checkout). CAPTCHA is one of the things we do to get as many tickets as possible to fans who want to go to the show versus people whose only intent for purchasing is to resell for an astronomical profit. While the current CAPTCHA solution is effective in helping us identify and slow down BOTS (for more info on what BOTS are and what we do to fight them, check out this blog post) that unfairly cut the line, and swoop up some of the best seats to popular shows, it isn't a great fan experience.
I could not be more excited to share with you today that we are dramatically improving this for you, on both Ticketmaster.com and our Ticketmaster mobile App for iPhone (and coming soon to the Android App).  For the past year we have worked and searched for a better, more fan-friendly solution that still is secure and harder for BOTS.
In the Ticketmaster App for mobile, CAPTCHA is going away, poof! When you install the Ticketmaster App, you will be asked to enable "Push Notifications" and once enabled, our system will automatically work with your device to authenticate that you are a fan so you can purchase straight away.
There are also great new companies popping up that are working to develop innovative ways to address the problem online. We are delighted to share that we have implemented something new with Solve Media, a hot New York start up. Solve Media has great, innovative underlying technology that works to predict if you are a person or BOT.
If you are identified as a real person, you will have to type in real words or in some cases, a phrase from an ad presented to you by Solve Media. This won't redirect you any place and your information isn't going to be shared with anyone, the Solve Media solution simply offers our fans a better experience and will make it harder for BOTS used by nefarious brokers.
We will continue to refine our ticket buying process to make it better for real fans and harder for BOTS, in the meantime, give it a try and let us know what you think, email us at fanvoices@ticketmaster.com
Thanks for being a fan!
Tags
You Might Like
All the tips and tricks you need to get the most out of your Ticketmaster account.
Garth Brooks has announced new shows for his Las Vegas Residency, Garth Brooks/Plus ONE at The Colosseum at Caesars Palace in Las Vegas and is using Verified...
Broadway is having a serious moment right now—perennial faves like The Lion King at the Minskoff Theatre, Wicked at the Gershwin Theatre, or Hamilton at the ...