What to Wear to Beyoncé's Formation Tour (Inspired by Lemonade)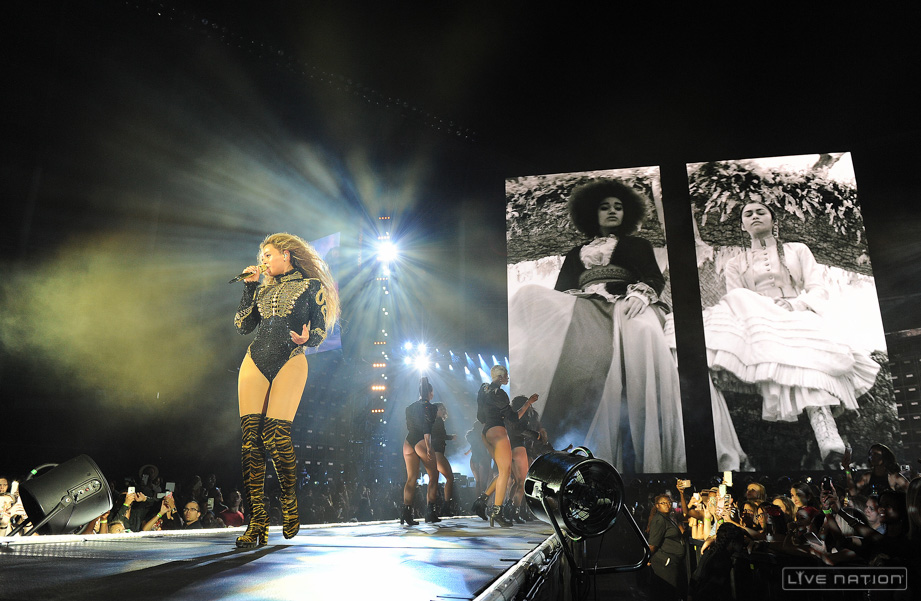 When Beyoncé debuted her latest visual album Lemonade on HBO and Tidal, the world started buzzing—and with good reason. The hour-long film is, in a word, epic. Not your typical music video, Lemonade is an artful cinematic experience that features mesmerizing cinematography, lush imagery, and poignant pieces of poetry and personal home video woven in between her new songs.
The entire thing is raw, fierce, empowered, and downright regal. And the fashion? One word: slay. Stunning African, Antebellum, and Victorian-inspired attire reign supreme throughout the film. And in true Beyoncé form, each sartorial choice flawlessly embodies the spirit of each song.
Below, we break down all the details of her biggest Lemonade songs and fashion moments, and how to copy her looks if you're headed to see Bey live on her just-kicked-off Formation World Tour.
"Hold Up"
In "Hold Up," Beyoncé is all smiles as she's strutting down the street looking like a veritable goddess dressed in a now-iconic canary yellow ruffled dress and platform heels. Even though she's getting a little crazy and jealous smashing car windows with a baseball bat and jumping into a monster truck like a boss, the upbeat feel of the song and the cheerful, bouncy dress perfectly juxtapose the song's darker lyrics about topics such as anger and resentment.
All in all, Beyoncé brought the color yellow back into the spotlight, so we're predicting the sunny hue is about to make a strong comeback. Stay ahead of the curve by donning a sexy yellow dress to her concert. Opt for a shorter version so it's easy to dance in. Then complete the superstar look with a wild crimped mane, dark smoky eyes, gold jewelry, and sultry red nails.
---
"Don't Hurt Yourself"
Beyoncé looks like such a boss during the parking garage scene in "Don't Hurt Yourself." The grey two-piece Yeezy outfit, the bling around her neck, the blonde cornrows, and the badass Hood By Air fur all come together to embody the hardcore swag of the song.
Bring your own swagger to the Formation World Tour with a matching crop top and curve-hugging leggings combo. Throw on a fur vest if you're feeling daring and don't forget to pile on the jewelry.
---
"Sorry"
During "Sorry," Beyoncé flaunts not one, but three stunning looks. One embraces African influences with tribal makeup and adds a modern twist with a camouflage suit, long braids, and a body chain that all together reflect the unapologetic attitude of the song. In another scene, she channels ancient Egyptian queen vibes with a royal braided crown, cone bra, and chandelier earrings.
And in another scene, she further emphasizes her Queen status as she sits in a throne-like chair wearing a dazzling crystal bodysuit with tennis superstar Serena Williams dancing nearby.
Perhaps the most wearable look of the bunch is the aforementioned tribal-inspired outfit. Rock your own version of it with black-and-white printed pants, a black crop top, and layers of statement necklaces.
---
"6 Inch"
Beyoncé burned the house down in "6 Inch" while wearing a stunning white lace bodysuit with big poufs along the sleeves. The ensemble is as hypnotic as the song itself and serves as a heavenly contrast to the blazing fire behind her.
Outside the flaming house, we see Queen Bey dressed in yellow yet again, this time in the form of a suit paired with a mini faux bob.
Unless you're down to rock a bright yellow suit, we suggest copying Beyoncé's white lacy outfit instead. Go for a white lace jumpsuit rather than a bodysuit and go sans statement sleeves to make it more wearable. Finish with a messy updo.
---
"Daddy Lessons"
Beyoncé honors her roots with this catchy country song. The mood of the song is toughness, and Bey appears riding a horse in a white tank top and jeans. For the Formation World Tour, show off some country spirit in a simple white tank top and jeans like Bey. Do your hair up in braids to complete the look.
The real sartorial stunner of "Daddy Issues" is the voluminous Antebellum-style gown she wears while singing and dancing alongside a solo guitarist. The song's biggest daddy lesson is toughness, and the dress not only helps paint the old-school country style, but also maintains the regal and strong image we all associate with Beyoncé.
---
"Freedom"
Lemonade started with images of anger and pain but comes to an end with a strong sense of redemption, healing, and moving forward. During "Freedom" we see Beyoncé on a stage dressed in an ethereal white dress. The song is a powerful anthem that celebrates her heritage while touching on racial and social issues, so it makes sense that the fashion be toned down here to let the song's strong message be the focus.
Channel Beyoncé's "Freedom" vibes at her concert in a billowy white maxi dress. Wear your hair down in loose waves to compliment the feminine, graceful aesthetic of the dress.
---
View Recent Photos of Bey's Formation Tour