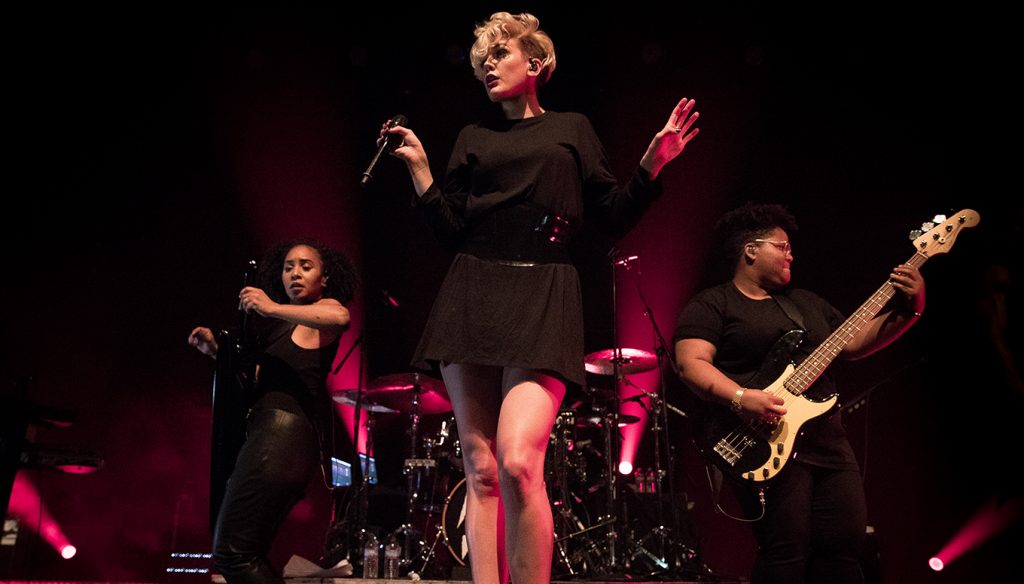 Hometown: Sydney, Australia
Latest Release: Her second studio album The Valley is out now! Download her song "Human Touch."
See Her Live: The second leg of her Party in the Valley Tour kicks off in August.
If You Like: Charli XCX, Robyn, Katy Perry, Carly Rae Jepsen
FYI: She trained as a cellist since age four and attended Boston's prestigious Berklee College of Music.
Some artists make music that gets you angry and ready to take on the world. Some artists make music that brings up emotions you wish you could forget. Betty Who makes music to get your body moving and forget about those troubles because, honestly, who needs that crap? Since her 2013 premiere single "Somebody Loves You" became a viral hit, she's racked up millions of streams and made countless fans with a bouncy modern dance pop sound that also looks back at the pastel-colored 1980s for inspiration.
Betty Who was born Jessica Anne Newham in Sydney, Australia, where she lived until she moved to the United States as a teenager. A cellist since age four, she met future producer Peter Thomas while they were both enrolled at the Berklee College of Music in Boston, and decided to collaborate on pop songs that made people feel good. Following the success of "Somebody Loves You," which was inspired by the late, great Whitney Houston, she inked a deal with RCA Records. Soon she was touring down under with heroes Katy Perry and Kylie Minogue, and tearing up the U.S. dance music charts with three number one records.
Though her sound fits right alongside the current crop of dance pop artists, with unstoppable beats, cheeky production and giant hooks, Betty Who is first and foremost a musician. She counts singer-songwriters Joni Mitchell and Carole King as influences and says her new album, The Valley, was written with the intention that all the songs be easily playable on piano and guitar. But don't expect melancholy ballads or introspective lyrics. Betty Who still wants to "get people moving."
With a million plus Spotify streams of her latest single "Mama Say," it seems a lot of people are moving with Betty Who right now. This summer she plans to hit the road, headlining her own 'Party In The Valley' tour. Put on your dancing shoes when she hits your town and keep an eye out for Ticketmaster Insider exclusives with her as part of our New Music Favorites series.
*Mobile users please visit a desktop computer to download your track
Watch
Tour
Tags
You Might Like
Watch an intimate performance with the rising singer-songwriter.
Our partners at Ones to Watch invited Greyson Chance to perform live. It's a must-watch.
Our partners at Ones to Watch invited Carlie Hanson to perform live. Watch it here.