10 Family-friendly Cirque Du Soleil Shows That Will Wow Your Kids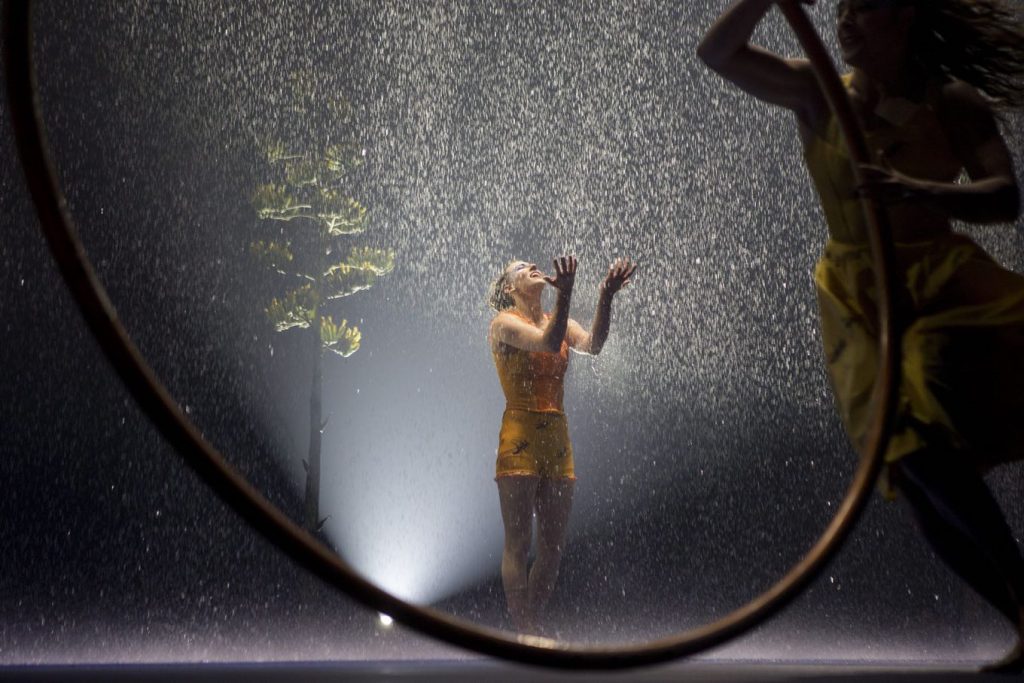 When it comes to family outings, it doesn't get much better than Cirque du Soleil. Wild acrobatics, quirky clowns, mind-boggling illusions, stunning sets – Cirque has it all, and then some.
But with more than a dozen unique productions scattered across the country, you might be wondering which of Cirque's beloved shows are the best for kids.
Most Cirque shows are fun for the entire family, but we've hand-picked 10 that are especially popular with kids: Luzia, Paramour, Toruk, Kurios, La Nouba, OVO, Kà, "O", The Beatles LOVE, and Michael Jackson ONE.
To help you find the right show for you and yours, we've also included some fan reviews from parents who took their kids and had a blast, along with age requirements for certain shows.
Check out the list, and then get ready for the family adventure of a lifetime at a Cirque Du Soleil show near you.
Friends in #Toronto, don't miss the chance to witness #Mexico's culture in @Cirque du Soleil's #Luzia. https://t.co/8KK2bNoj1z

— México (@mexico) August 12, 2016
The Port Lands in Toronto, Canada are abuzz with Cirque Du Soleil's newest production LUZIA, which opens this fall at AT&T Park in San Francisco and then heads to San Jose, California in February 2017. Inspired by the colorful streets of Mexico City, the latest Cirque creation transports audiences to an imaginary Mexico – view this sneak peek video to get a taste of the spectacular show. After you experience LUZIA, write a review to let others know how it went.
---
We may not have water, but we are certainly 10/10 in executing a stage dive! #ParamourBway pic.twitter.com/leMe9lXxoE

— Cirque du Soleil Paramour (@CirqueParamour) August 18, 2016
This Broadway newcomer at the Lyric Theatre in New York City combines show-stopping musical numbers with the jaw-dropping acrobatics Cirque is known for. The whimsical, beautifully staged production is set in Hollywood's Golden Age and tells the story of a poet who must choose between love and art. It's the perfect blend of Broadway glitz, Hollywood glam, and circus thrills – an ideal outing for the whole family.
Pro tip: Paramour is for children of all ages. Children under 2 years old can be admitted for free if they sit on the lap of a parent or guardian.
Fan Reviews for Paramour

"This show is totally worth it! Brought my pre-teen son and he loved it too! So much entertainment with the "Broadway" mixed in! Great for all ages! – Reviewer DsFutureBabyMama

"The gymnastics, acrobatics and the circus acts meet every bit of what we expect from a Cirque du Soleil production. My kids, 12 and 14, could and did not sit still. They kept moving to the music." – Reviewer HBecket

"Paramour was absolutely breathtaking!! I am never disappointed and always amazed with Cirque! I brought my daughter and 13-year-old grandson with me – they thought it was phenomenal and can't wait to go to another one!" – Reviewer ShargyD
---
#TORUKTuesday: Na'vi search for the fire within during a pivotal moment in #TORUK .#Avatar pic.twitter.com/jhPQKh1Cr7

— Cirque du Soleil (@Cirque) July 26, 2016
Cirque's breathtaking spin on James Cameron's intergalactic blockbuster Avatar takes flight this September at Brooklyn New York's Barclays Center. The show's massive state-of-the-art set design, cutting-edge projections, and colorful puppets makes it a total feast for the senses – don't miss it in the Big Apple before it moves on to Milwaukee, Phoenix, and Portland later this year.
Pro tip: There's a mobile app that allows attendees to interact with the show live!
Fan Reviews for TORUK: The First Flight

"My six-year-old grandson loved it. Great show for kids. It inspires their imagination." – Reviewer Murashka

"Awesome show! Loved it all, including the effects and story line. We took our younger kids, as we thought this would keep their attention, and we want them to be exposed to going to shows. They enjoyed it. Our 4yo was a little nervous from a couple of times, but nothing she couldn't quickly get over." – Reviewer cn07
---
See, kids! Told ya I could move like them 😜🤖 @Cirque #kurios #TysonsVA @TAA_PR ahhhh maze! pic.twitter.com/9HHoqV4dpQ

— Meaghan Mooney (@MeaghanMooney1) August 13, 2016
Pro tip: Like most of Cirque du Soleil's shows, KURIOS – Cabinet of Curiosities is suitable for the whole family.
Looking for even more kid-friendly Cirque fun in NYC? Don't miss the Meaghan Mooney-approved Kurios, a steampunk-inspired adventure through the world of an eccentric 19th-century inventor. If you've had the pleasure of seeing Kurios, fire up your memories and write a review.
Fan Reviews for Kurios

"For Kurios we dressed our 5 year old granddaughter up in authentic Steampunk and people thought she was part of the show! What I am trying to say is that Cirque is now part of our family fabric, a tradition which no other venue of any kind inspires us the same way." – Reviewer Granns

"Last year we saw Cirque du Soleil's Kurios and were absolutely mesmerized." – Reviewer Enzo15
---
Flips, twists, and jumps on #LaNouba's power track will take your breath away! pic.twitter.com/7dc9JTYmp1

— Cirque du Soleil (@Cirque) August 13, 2016
Cirque du Soleil's Downtown Disney residency depicts the meeting of two worlds: the fantastical, brightly-colored Cirques and the workaday, monochromatic Urbanites. The show's title comes from a French phrase meaning "to live it up," and the show's epic assortment of acrobats, gymnasts, and illusionists does it total justice.
Pro tip: La Nouba is for children of all ages. Children under 3 years old can be admitted for free if they sit on the lap of a parent or guardian.
Fan Reviews for La Nouba

"Best show I have attended in the last several years. Kept the interest of my four and seven-year-olds the entire time and our whole group enjoyed it immensely!" – Reviewer Melvincricket

"Our eight-year-old girls were on the edge of their seats either laughing hysterically or glued to the next performance. They loved the interaction with the performers as they passed by our seats. We need more family fun humor like this. Keep it up!" – Reviewer Pillwill
---
FYI: #OpeningCeremony artistic director Deborah Colker created #CirqueduSoleil's #OVOCirque! https://t.co/vyEvaV8eN0 pic.twitter.com/wLkAfxHBF6

— Cirque du Soleil (@Cirque) August 6, 2016
Cirque's acclaimed OVO brings the wonderful world of insects to life this September at Orlando's Amway Center, where it kicks off a Florida run that includes shows in Estero and Jacksonville. The main theme of the show is movement, and its dazzling array of crawling, leaping, and flying characters set to Brazilian-inspired music is a total blast. The show enters a cocoon in the fall, but reemerges in December with dates in Detroit, MI and Kingston, Ontario.
Fan Reviews for OVO

"Truly magical! Went with kids ages two and five. They were completely mesmerized. Imaginative costumes. Integration of performances with the theme was highly creative." – Reviewer River8

"Such an amazing show for all ages! The performers were unbelievable! My kids are five and eight and they were in awe! Must see!" – Reviewer Dmags724

"The whole show was amazing. My kids are five and nine. I was a little worried they would lose interest, but they were enthralled by the performances. We were still talking about it the next morning." – Reviewer Netter2
---
.@Metallica bass player, @RobertTrujillo and his family, saw #KA perform last night! pic.twitter.com/NeVq9lYXDt

— Cirque du Soleil (@Cirque) June 21, 2016
This Las Vegas favorite at the MGM Grand tells the story of a pair of lovers through their encounter with the duality of Kà, the fire that can "unite or separate, destroy or illuminate." The Los Angeles Times called it the most lavish production in the history of Western theater, and it delivers in typical Vegas style with larger-than-life performances, dazzling sets, and insane pyrotechnics.
Pro tip: Children under the age of 5 are NOT permitted into the KÀ theater. Guests under the age of 12 must be accompanied by an adult.
Fan Reviews for Kà

"I've seen many Cirque shows, this one was one of the best. The storyline pulled it together and made it flow There were less astounding "circus" events than some other shows. Stage and theater were very impressive. It was the teenagers favorite part of our big western trip" — Reviewer Pico100

"Spring break vacation with my husband and two children ages seven and 14. I have to say I caught my seven-year-old several times with his mouth open and in amazement. It was a fantastic show, especially for families with [younger] children. It was worth every penny." – Reviewer Jackiealan

"The show is just must see! Great show for any ages." – Reviewer LAD48

"The show was amazing! I recommended for everyone!!! My daughter loved it and she is just 10." — Anonymous Reviewer
---
Lead singer of @Imaginedragons, @DanReynolds, saw #O for the first time on Friday! See you next splash, Dan! pic.twitter.com/GjUfZ4nnlo

— Cirque du Soleil (@Cirque) August 15, 2016
The O Theater at The Bellagio is pretty unbelievable – its centerpiece is a 1.5 million gallon pool of water that becomes the stage for synchronized swimmers, aerialists, and imaginative watercraft that only the people at Cirque could have dreamed up. It's one of the most unique shows on the strip, and a must-see during your Vegas family trip.
Pro tip: The minimum age to attend "O" is 5 years old.
Fan Reviews for "O"

"Fantastic show. Extremely unusual concept with with acrobatics in a pool." – Reviewer Cheripoo

"ABSOLUTELY AMAZING. I thoroughly enjoyed every minute of this show. My children, 12 and 9 year old boys, were entranced throughout. We sat in the upper loggia seating off to the side. These were great seats. You could see everything. The stage was impressive. Definitely a must see in Vegas." – Reviewer HLB40

"Amazing show ! Thrilled and amazed from beginning to end, great entertainment and the performers are simply superb. The whole stage is alive and always entertaining, never a dull moment, some of the greatest athletic performers and what they are able to do is amazing, the water sequences just enhance the great performers. This is a MUST SEE…great for families too. Just plain GREAT!" – Reviewer BillVa2
---
Roxton with a blue meanie at #cirquedusoleil ~ Beatles LOVE was amazing last night! 💙 #beatleslove pic.twitter.com/nlAZnUnrxX

— Geri Tscherne (@geri_tscherne) August 6, 2016
Ready for more fun on The Strip? If your fam loves the Fab Four, don't miss the chance to run through strawberry fields forever with The Beatles LOVE at The Mirage Hotel and Casino's Love Theatre.
Fan Reviews for The Beatles LOVE
"My whole family went ages six through 46. Everyone loved this show! We would really love to see it again. Our seats allowed for the actors to interact with us…Huge bonus for the kids!!" – Reviewer Ablessedmomma

"We took my parents and three kids (ages 12, 18, and 21) and everyone loved it. Highly recommended for all age groups. Everyone's feet were tapping when the first song started to play and continued until the curtain dropped at the end of the show. Great music and wonderful performance." – Reviewer Dontgetoutmuchmomma

"My first Cirque du Soleil show and I also LOVE the BEATLES, but even if you don't like Beatles music (which I can't understand why you wouldn't?) you will still enjoy this! Even my Grandsons, ages seven and 12, totally enjoyed this!! Great Show! Great Seats!" – Reviewer bikerjer
---
We're just days away from Michael's birthday celebration with MJ ONE in Las Vegas. https://t.co/SF4KAWTmDP pic.twitter.com/rnTSWODSvQ

— Michael Jackson (@michaeljackson) August 12, 2016
This musical tribute show is a must-see for MJ fans and their families alike. 2016 marks the 4th annual Michael Jackson ONE celebration, and fans will celebrate the King of Pop's birthday on August 29 with the public unveiling of the 10-foot original Michael Jackson 'HIStory' statue in the lobby of the Mandalay Bay Resort & Casino.
Fan Reviews for Michael Jackson ONE

"I am usually not a fan on Cirque shows. My family loves them and we have seen most all of them, but this is by far my favorite…it's so entertaining and spectacular. If you love the music of Michael Jackson, you will LOVE this. My husband who was never an MJ fan and did not want to attend also loved it. Kids will love it…can't say enough about what an awesome show!" – Reviewer ANAHA

"Absolutely fantastic show from start to finish! Would highly recommend it for anyone, any age." – Reviewer Lanpov
---
For more information about the age appropriateness of any event, we suggest checking out Ticketmaster, fan reviews, and the event's official website, mobile app, and social media accounts. View all Cirque du Soleil shows.

Tags