5 Bands Your Parents Listen To That You Should Too (And Vice Versa)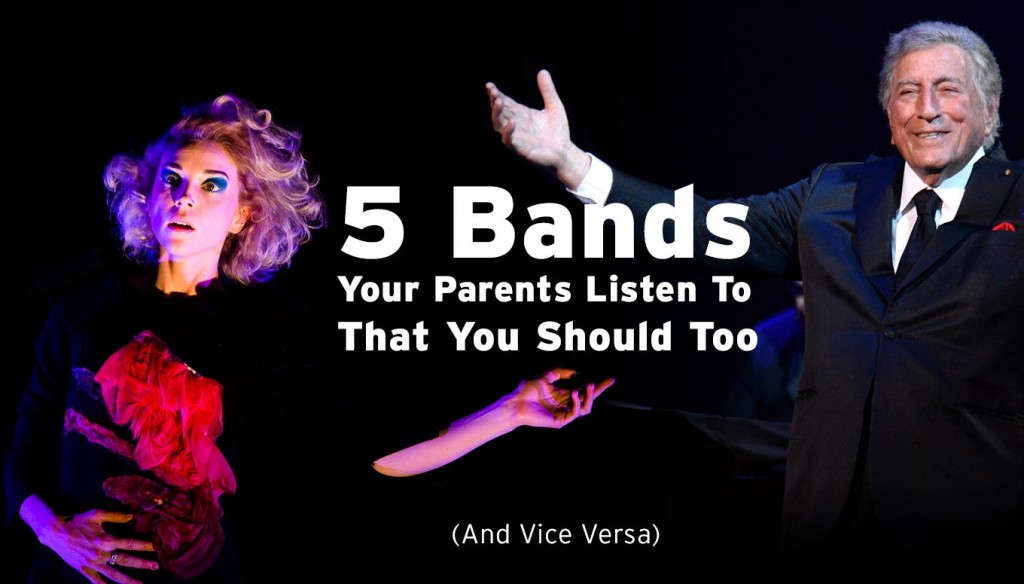 While young listeners influence the new sounds that saturate the radio waves, their parents often cling to what was theirs in the ole days — and the two don't always see eye-to-eye on what exactly "good music" is. What both age groups sometimes overlook is the inevitable and necessary influence that classic and contemporary tunes have on one another — the music of the past shapes and inspires contemporary artists, and new music pays homage to and provides new ways of understanding the sounds of yore. When it comes to music, the past and the present are in dialog, not in conflict. So why not make a generational band exchange, if you will, and see what your kids or parents are listening to these days — you might be surprised by what you find.
To get the conversation started, here are five current bands to get parents up to speed on what's new and now, as well as five classic bands that kids should finally heed their parents' advice on. Don't worry, it won't hurt too badly.
For the parents
She's been churning out inventive, shredding alt-rock for almost a decade now, but only recently has the spotlight truly found and appreciated Annie Clark's genius. Clarke's band St. Vincent recently nabbed a Grammy for Best Alternative Album, and she's been hailed as our generation's David Bowie for her quirky androgyny and otherworldly guitar riffs. If that declaration wasn't enough to perk up your parents' ears, perhaps the fact that she recently toured with iconic Talking Heads front man David Byrne will get them listening. St. Vincent is currently on tour in support of their award-winning album Digital Witness, so there's no excuse not to check out a show and see for yourself.

Indie folk darlings Fleet Foxes have taken a bit of a hiatus to focus on some new recordings, but lucky for us, their oddball drummer Jay Tillman has filled the void with his smashing folk rock solo persona Father John Misty. His 2012 studio debut Fear Fun proved that this dude can do more than merely bang on drums. His live shows are full of melancholy, humor, and even moves like Jagger. With his 2015 sophomore album I Love You, Honeybear earning stellar reviews from everyone, you and your parents would be remiss to miss out on his tour this season.
For parents who considered the late '70s and '80s punk scene as their heyday, all-girl punk group Sleater-Kinney ought to bring back plenty of nostalgia. While still melodic enough to attract mainstream fans, the girls know how to let it rip with enough oomph to please punk purists. After taking an almost decade-long hiatus, they're out touring with their highly anticipated new album No Cities to Love. Oh, and did we mention that the leading lady is none other than Portlandia comedic darling Carrie Brownstein? Gold.

After releasing several solid albums over the past few years, indie-rock jewel The War on Drugs finally hit the big time in 2014 with Lost in the Dream, hailed by many critics as the best album of the year. Originally helmed by folk rock darling Kurt Vile, who departed shortly after the group's founding to focus on his solo career, the band takes its inspiration from Americana rock icons like Bob Dylan to Bruce Springsteen, resulting in melodies that are grounded yet sweepingly romantic. Catch them at one of their highly anticipated shows or festival appearances this spring for an unforgettable live experience.

A lot of complaints older generations lodge about newer music tends to focus on the "electronic," but if there is one thing that the new electropop duo Sylvan Esso has proven, it's that electronic can be timeless and beautiful. The pairing of a capella vocalist Amelia Meath (of Mountain Man) with electronic keyboardist Nick Sanborn (of Megafaun) results in a seamless, ethereal sound that is flawlessly enchanting. They've been on the road the past year in support of their critically acclaimed self-titled debut, wowing fans across the country with their electrifying live shows. So take this as a perfect opportunity to ease your parents into the world of electronic music, and show them it doesn't have to be so scary.

For the kids
I don't think either generation expected the brilliant pairing of show tunes master Tony Bennet and art pop icon Lady Gaga, but here they are, and the collaboration is the perfect opportunity for youngsters to get in touch with their jazzier sides. Now that Ms. Gaga has teamed up with Bennett, both sides of the generational divide can experience the ongoing interplay of the new and the old — and hopefully get a little enlightenment out of it all!

Rock, soft rock, pop rock, blues—however you want to classify Fleetwood Mac, you can't deny the impact they've had on generations of younger musicians. Stevie Nicks and company have carved out an enduring place in rock n roll history during their half-century reign, and they continue to show fans both young and old precisely how it's done on tour. They haven't released a new album in over a decade, but they continue to winner over subsequent generations of fans with their classic tunes and timeless performances. If you're a Fleetwood Mac newbie, now's the chance to get indoctrinated — check them out on their incredibly popular On with the Show Tour.
AC/DC – "Back in Black"
If you don't know AC/DC by name, you most likely know them by sound. The hard rock heroes have shaken the pillars of mainstream rock since the '70s, managing to saturate the every corner of pop culture with their music. From TV to movies to commercials, AC/DC has conquered it all, and they aren't even close to stopping. They proved they rock as hard as ever in 2014 with their album Rock or Bust, and now they're on the road to blow minds once again.

STEVIE WONDER – "I Just Called To Say I Love You"
The world would be a much less soulful place without the great influence Stevie Wonder. The piano, the sunglasses, and that instantly recognizable voice have earned Mr. Wonder more Grammys than any other solo artist. Hits like "Superstition" and "For Once in My Life" don't ever seem to lose their appeal, no matter how much time passes.

Activist, author, and country music trailblazer Willie Nelson remains a treasure of American music more than five decades after his debut. Diverging from the typical country sounds of his day, Nelson acquired his own unique take on what the genre could be. The result was an expansive repertoire of ballads and playfully gallivanting tracks that have made him an enduring country music icon. Now in his eighties, Nelson shows no signs of slowing down, churning out full studio albums with the same gumption that made us fall in love with him way back when.

Tags