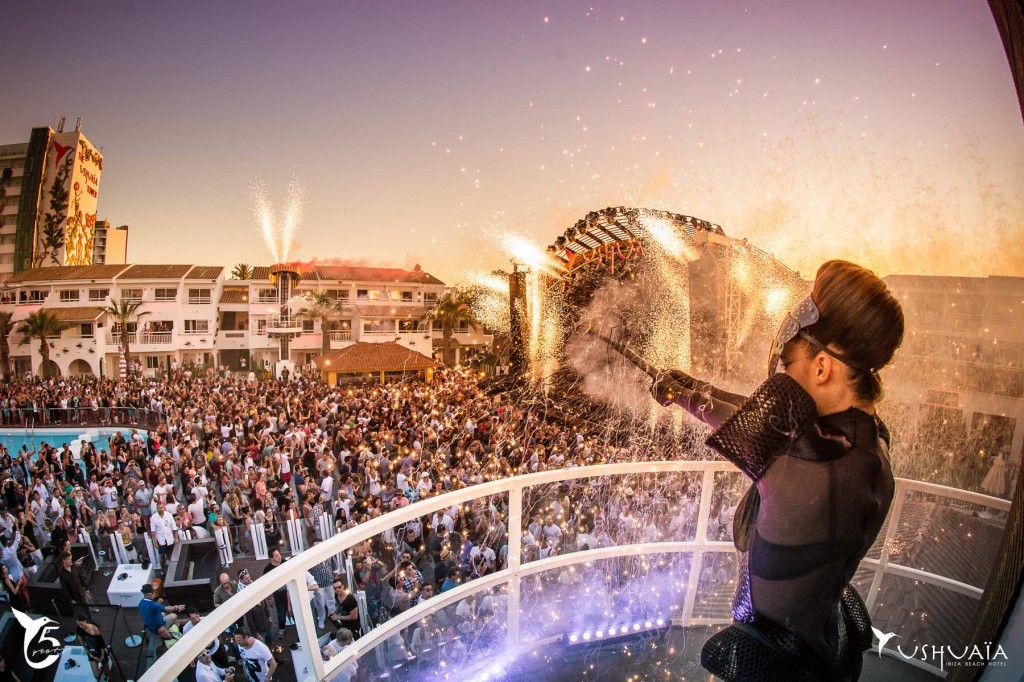 Gorgeous beaches. Legendary clubs. Wild pool parties. There's a reason why Ibiza, Spain, is considered one of the top places to party in the world. Ibiza is Spain's party island that attracts dance music fans from around the world every summer for its epic array of clubs and underground parties. Picture the best club you've ever been to, add world-famous DJs from around the globe, set it to the backdrop of a stunning Mediterranean isle with Phoenician ruins sprinkled in and you can see why Ibiza is the best island to party on.
And with the International Music Summit returning in April 2022 following a two-year hiatus due to the COVID-19 pandemic, Ibiza is set to have its longest summer season to date. From the opening parties to the closing festivities, Ticketmaster has your ticket to all the live action happening in Ibiza this season.
Read on for our first-timer's guide to everything you need to know before planning your trip to Ibiza.

When to Go To Ibiza for the Best EDM Parties
This year, from April to October is festival season where you can see the best DJs in the world perform in some of the hottest clubs in Ibiza. As far as weather goes, you'll never have to find an escape from the heat in Ibiza because the temperature climate brings glorious warm (but not too hot) weather for the entire season. The airport is located just outside of Ibiza Town, the main city where many of the island's clubs and accommodations are located. 

Where to Party When in Ibiza
It's not considered the "party capital of the world" for nothing — you'll never find a shortage of thumping nightclubs popping off all night long and all throughout the season in Ibiza. From the hottest beach clubs to revolutionary EDM clubs, the party doesn't stop in Ibiza. Here are the best EDM clubs to visit in Ibiza on your next trip.

Ushuaïa 
Located on the sandy stretch of Playa d'en Bossa within the luxury Ushuaïa Ibiza Beach Hotel, Ushuaïa is the number one outdoor club in Ibiza. It also boasts the most famous stage on the island, having hosted some of the world's best DJs, including Martin Garrix, Dimitri Vegas and Like Mike, The Chainsmokers, and many more. This year, Dutch DJ/producer Garrix will return to Ushuaïa Ibiza for what is sure to be one of the standout residencies of the season. Garrix will play a total of 10 weekly events every Thursday from July 7 through September 8. He'll be joined by a world-class selection of DJs from across the globe, including Calvin Harris, who makes his highly anticipated return to Ushuaïa for an exciting residency that'll see him taking the stage at the EDM club in Ibiza on Fridays starting June 3 through September 2. Other artists who will call Ushuaïa Ibiza home this season are electronic duo CAMELPHAT, who will play every Tuesday from June 14 to September 27, and Dimitri Vegas and Like Mike, who will turn the famous poolside stage at the number one outdoor club in Ibiza into a Tomorrowland party, supported by other artists all season — from June 15 to September 21.
Hï Ibiza
This high-octane venue is known for its cutting-edge electronic music and star DJs who take the stage every year. In 2022, American house duo The Martinez Brothers will make their first-ever headline residency in Ibiza. Catch them at Hï Ibiza every Tuesday from June 14 to September 27 as they light up the club's iconic Theatre room with their cutting-edge sets and high energy. Grammy-nominated Australian superstar FISHER will also return to Ibiza for a headlining residency featuring a curated selection of guest DJs — every Wednesday from June 15 to September 28. Also, every Thursday night you can catch world-renowned DJ and production duo Tale of Us in their acclaimed series Afterlife. Hï Ibiza will also play host to Grammy-winning superstar Black Coffee, who will headline the Hï Ibiza Theatre every Saturday from May 14 to October 1.

Glitterbox
Jaw-dropping production, the best talent in house and disco and so much more — you're not going to want to miss Glitterbox, returning to Hï Ibiza for a 22-date residency this season. Happening every Sunday from May 8 to October 2, Glitterbox will feature an incredible lineup of dance music favorites, up-and-coming house and disco talent, plus underground artists, drag queens, and more. Ibiza partygoers eager to make up for lost time on the island will get the experience of a lifetime at the Glitterbox residency this season at Hï Ibiza.
Who to See When in Ibiza
Dance music lovers from across the globe travel to Ibiza every year not just for the beautiful beaches and all-night parties, but also for the world-renowned DJs and artists who perform residencies on the island. The best DJs in the world perform in Ibiza, and for the 2022 season, there will be plenty of superstars to see live. Below are some of the can't-miss acts that will be playing Ibiza this year.
Martin Garrix at Ushuaïa 
Ranked No. 1 on DJ Mag's Top 100 DJs list for three consecutive years, from 2016 to 2018, Dutch DJ/producer Martin Garrix will return to the famous stage at Ushuaïa Ibiza for a 10-week residency. Catch him live every Thursday from July 7 through September 8. One of the most explosive performers on the scene, Garrix will return to Ibiza for the first time since his much talked-about residency in 2019. Mixing progressive, electro and deep house styles, Garrix never fails to get the party going with his high-energy sets. Be there live to hear hits like "Won't Let You Go" with John Martin & Matisse and Sadko, and "Diamonds" with Julian Jordan and Tinie Tempah, plus huge hits like "In the Name of Love" and "Scared to Be Lonely." With Garrix's adventurous music selections coupled with the high-impact production and powerful sound system of one of Ibiza's most popular clubs, this is a residency you won't want to miss.
Black Coffee at Hï Ibiza
Saturday nights at Hï Ibiza are guaranteed to be one of the season's most in-demand tickets. Grammy-winning dance/electronic artist Black Coffee will return to the island to headline the famous Hï Ibiza Theatre every Saturday from May 14 to October 1. Hailing from South Africa, Black Coffee's weekly party is one of the most popular parties in Ibiza. Known for his cutting-edge soundtrack that mixes underground with tracks by pioneering and influential artists, the club will be pumping when Black Coffee takes the stage. Be there live to experience this incredible residency and get lost in the immersive visuals and stunning decor that will make for a night to remember.

Afterlife at Hï Ibiza
If you're looking for the ultimate party adventure in Ibiza, don't miss Afterlife — the popular series from world-renowned DJ and production duo Tale of Us. The duo will return to Hï Ibiza to kick off their third season at the famous Ibiza club. From musical journeys from some of the world's most famous DJs and live acts, to cutting-edge production, immersive visuals and laser installations — this famous duo will make it an unforgettable experience. The Afterlife series is known for its impressive lineup of underground and upcoming artists, plus debuts from tons of exciting rising talent. Taking place across two rooms at Hï Ibiza, there won't be any shortage of incredible music and art to experience.
Looking to plan your trip to the White Isle this summer? Get tickets to some of the hottest events happening in Ibiza at Ticketmaster.