10 Epic Versions of The Rolling Stones Tongue Logo + Fan Art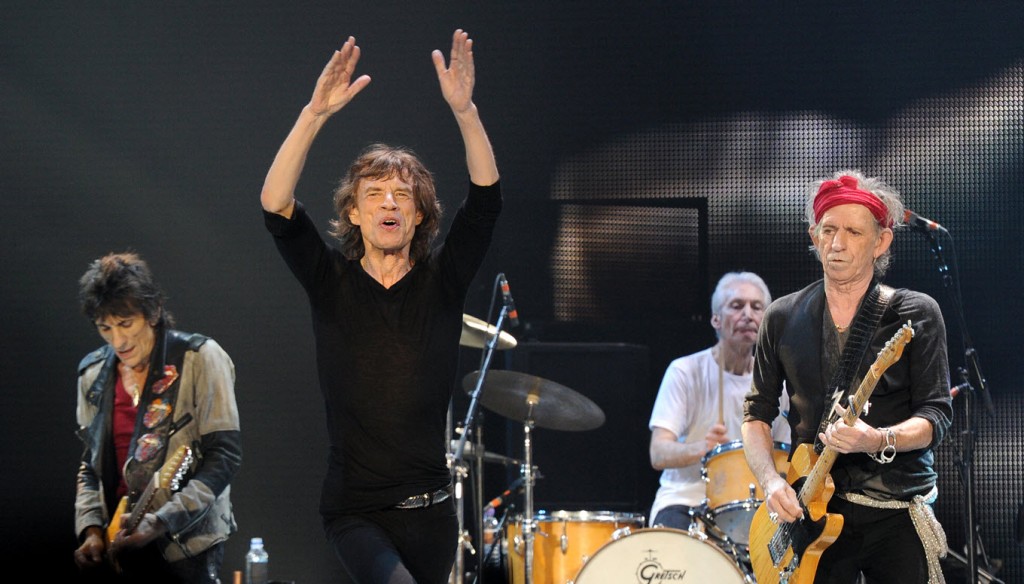 Today The Rolling Stones announced their Zip Code tour, which will stop at 15 stadiums across North America in the summer of 2015.
Their first stadium tour in over a decade also coincides with a remastered version of Sticky Fingers just in time for the album's 45th birthday. That means that another piece of Stones' memorabilia is also turning 45: the iconic tongue and lips logo that the band first featured on Sticky Fingers. We thought we'd show you some of the most interesting things that have been done with this indelible image, easily the most recognizable logo in rock.
Ernie Cefalu Original, 1971
Hang time at studio of @ErnieCefalu legendary LP cover artist. #RollingStones lips & tongue http://t.co/dTv6nm7OVZ pic.twitter.com/Lh2PVKIMzf

— Norman Kelsey (@NormanKelsey) May 27, 2014
This flatter, slightly tamer version of the classic design is the basis for all the others. Though it was used for much of the merchandising and touring that surrounded Sticky Fingers, it's not the version that actually appears on the album cover.
John Pasche Classic, 1971
The logo that will live forever. John Pasche at the great @GraphicsRCA FiftyYears exhibition pic.twitter.com/6LMoWXndAf

— Tony Ennis (@ennis_tony) November 24, 2014
For his version, John Pasche added some additional white highlights to give the lips a little more plumpness. These simple flourishes (based on Mick Jagger's actual lips) helped make it the iconic symbol of the band and the most recognizable emblem in all of rock 'n' roll.
National Flag Tongues
Think I wanna get a Rolling Stones tattoo with the Colombian flag on the tongue pic.twitter.com/ZWVgszUBkF

— SOUND PLUS VISION (@AronNumbaNine) August 11, 2014
Since The Rolling Stones are one of the hugest international bands of all time, it makes sense that one of the most popular variations is to draw your country's flag on the tongues. Now whenever The Stones visit U.S., Japan, Argentina, Denmark, or anywhere else in the world they have a legion of fans to make them feel right at home.
No Security Tour Striped Tongue, 1999
Happy 71st Birthday @MickJagger! Put on a @RollingStones No Security Tour '99 T to celebrate! Stella! pic.twitter.com/X8HzE5od0h

— Timothy Batke (@TimmyB707) July 26, 2014
After the Bridges to Babylon tour in which the band played hundreds of large open-air venues, The Rolling Stones wanted to bring a scaled-back sound to their fans. The yellow and black striped tongue encapsulates the "enter at your own risk" feeling of these more intimate shows.
40 Licks Rainbow Tongue, 2002
#nowplaying Angie – 40 Licks – Rolling Stones pic.twitter.com/eXHy6SyxMb

— Elena (@ThePenna) December 14, 2014
On their 40th anniversary The Rolling Stones released a career-spanning double CD compilation of their greatest material. This panchromatic rendition of the classic tongue hints at how many different styles The Stones managed to make their own during their illustrious career.
A Bigger Bang Tour Exploding Tongue, 2005
A Bigger Bang 2005/2006/2007, el 3º Tour que los trajo a Argentina, habrá un 4º? pic.twitter.com/fsxULTvHSy

— Exile on Argentina (@Exile_on_Arg) November 6, 2013
After releasing their first new album in almost a decade, The Stones were ready to hit the road. This exploding version of the tongue is a perfect representation of the ensuing tour's success over 144 shows in a two-year period.
Super Bowl Half-time Stage Tongue, 2006
Amazing aerial photo of the 2006 #SuperBowl halftime show featuring the @RollingStones at Ford Field, Detroit, MI. pic.twitter.com/p6lQh7vnjv

— StadiumPix (@stadiumpix) February 2, 2015
This brilliant reimagining of the classic logo was perfect for the larger-than-life spectacle of the Super Bowl. It's OK to be a little bit jealous of the fans that were lucky enough to rock out in the middle of the classic tongue logo once the band started it up on stage.
Shepard Fairey 50th Anniversary Tongue, 2012
Today in 1971 @RollingStones released "Brown Sugar." Also in '71 they started using their famous tongue & lips logo. pic.twitter.com/A5c8JXBi9B

— Absolute Radio 70s (@AbsoluteRadio70) April 16, 2013
When the mastermind behind the Obey graphics was approached by his musical heroes to work on their 50th Anniversary artwork, his main goal was to let the classic logo speak for itself. He did incorporate the number 50 in a very interesting way to add a little of his own flair.
GRRR! Tongue, 2012
#nowplaying The Rolling Stones – Sympathy For The Devil / GRRR! (Deluxe Version) pic.twitter.com/v2pdmS6J4Q

— sadama (@sadasadao) November 6, 2014
The tongue got another subtle redesign for the group's 50th birthday on the cover of their greatest hits album "GRRR!" Designer Walton Ford played up the group's dangerous and wild side by adding fangs to the classic image.
BONUS! Fan Art Featuring The Rolling Stones Logo
I made this rolling stones tongue out of recycled wood! #Rollingstones #recycledwood #reclaimed #homedecor #art pic.twitter.com/4zUltSUDfp

— Christopher Knight (@CKnightcreation) February 6, 2014
#LEGO http://t.co/egGXa50PQK pic.twitter.com/emFbKRuU0p

— Brick Loft (@BrickLoftOrg) February 27, 2015
@RollingStones love these toilets #rollingstones #lips pic.twitter.com/0QTIyTVvX6

— Aaron Harrison (@aaron_hcfc) August 18, 2013
@RollingStones The @OhioState marching band did the Tongue and Lips at halftime! How cool is that?!!! pic.twitter.com/TheCye7xtw

— Bryan Carte (@BryanCarte) October 18, 2014
This Strawberrydaifuku looks like Stones Tongue. #RollingStones #Tongue #strawberry #いちご大福 #札幌雪だるま pic.twitter.com/7wFklBSWVu

— LIGHTRUCKITTEN (@LIGHTRUCKITTEN) April 10, 2014
The @fox6now news team is busy tonight! RT: @AshleySears6 Rolling Stones tongue in the snow. pic.twitter.com/N81ddsluiP

— Ben Handelman (@BenHandelman) December 14, 2013
Like the tree @RonnieWood found in #Barcelona, the @RollingStones will always be a work of art! HT @MabelTradu pic.twitter.com/Y55yd032Go

— Earl E. Appleby, Jr. (@Conde_Maca) March 15, 2015
Wonderful graffiti from @orangefeeling – @RollingStones #paintitblack #satisfaction #art #design #mural #rf14 pic.twitter.com/edidUhKJL3

— StPaulsLifestyle (@StPaulsLifestyl) July 6, 2014
Tags