Arizona Coyotes Fans Howl Support for their Team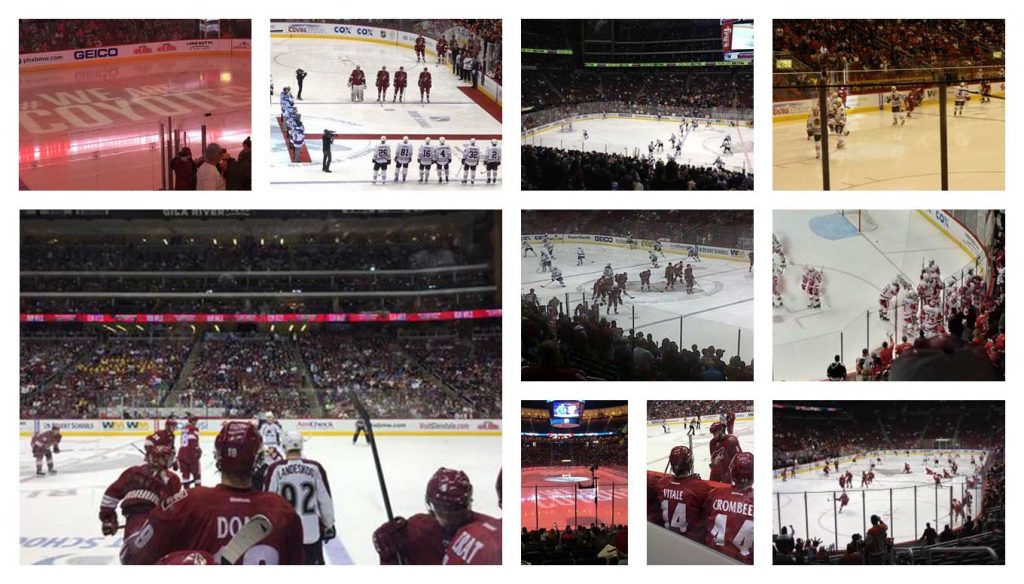 The Arizona Coyotes are celebrating their 20th year in the Valley of the Sun.
The franchise relocated to Phoenix in 1996 and was named the Phoenix Coyotes. In 2014, the franchise was renamed the Arizona Coyotes to include all of the Grand Canyon State.
On the ice, the Coyotes are led by the NHL's longest serving captain Shane Doan, along with assistant captain Oliver Ekman-Larsson, forward max Domi and goaltender Mike Smith.
Off the ice, the team has strong leadership with Majority Owner, Chairman and Governor Andrew Barroway, President and CEO Anthony LeBlanc, General Manager John Chayka and Head Coach Dave Tippett.
A visit to the Gila River Arena means fun, food for everyone
The Coyotes home ice at Gila River Arena in Glendale, Arizona, offers plenty of amenities for fans traveling from near and far to see their Coyotes play.
Built in 2003, the arena has a wide range of food options to keep fans fueled when cheering for the Coyotes. Dining and snack options include traditional items like popcorn, hot dogs, peanuts, and pizza, along with more diverse items like deli sandwiches, tamales, Italian grinders, and much more.
The official team store, the Coyotes Den, is also located in the arena, and offers a variety of Coyotes gear across 3,500 square feet of floor space – meaning every fan can find that special item to show their pack pride.
Keeping the pack together
The Coyotes love when fans bring passion to each home game, and they also recognize the importance of meaningful community involvement.
To that end, the team supports a number of initiatives, including a telethon that benefits Phoenix Children's Hospital and features Coyotes alumni and celebrities from the area.
Current players contribute to local causes in many ways, too, including the Celebrity Waiters Gala, the team's annual golf tournament, and a variety of other appearances as speakers and guests at events throughout the year.
School involvement, like the STEM-focused Future Goals-Hockey Scholars effort and the team reading program, supports local students.
The Coyotes make a concentrated effort to connect casually to fans as well with an app and social media involvement.
The team has accounts on Facebook, Twitter, Instagram, and Tumblr, among others, ensuring fans can keep current with the team.
Get in the game
Check out the Arizona Coyotes team schedule and view Ticketmaster NHL and the NHL Ticket Exchange for Arizona Coyotes verified tickets.
Tags
You Might Like
The Lakers are set for a league-high 43 nationally televised games this season.
The Nashville Predators are growing into their role as a major fixture in the Nashville area and beyond, giving Tennesseans a hockey team of their own to che...
The Florida Panthers hold a unique distinction in hockey, a sport that long relied on cold weather: the team is the southernmost squad in the pro hockey worl...