8 Classic Metallica Concerts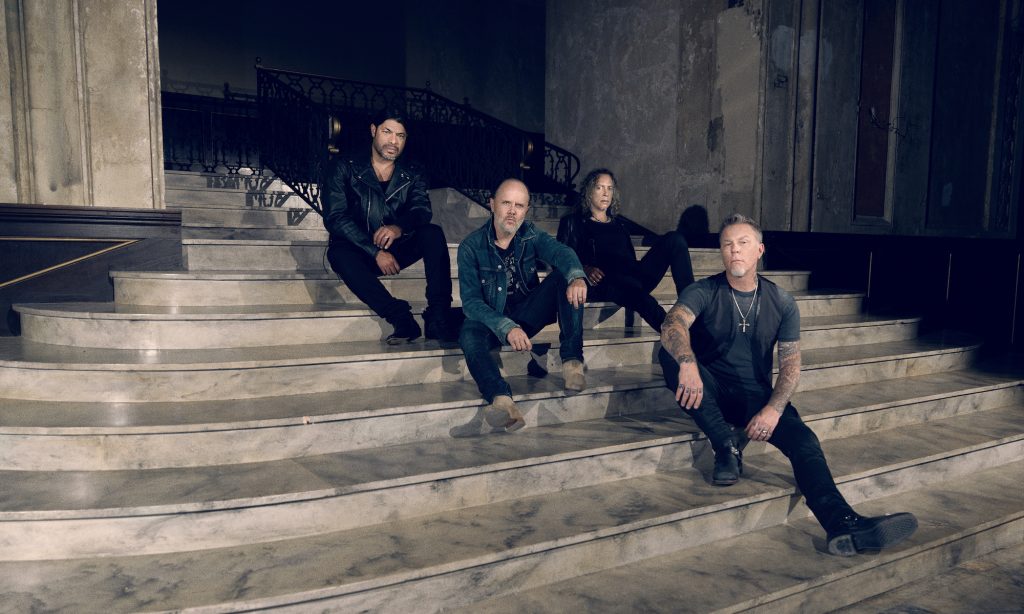 Metallica have always been excellent live-music stewards. Not only do the metal legends sell audio downloads of their concerts via a dedicated website, but they're also serious archivists. In fact, since March, Metallica have held a weekly streaming event dubbed #MetallicaMondays, which involves the premiere of a new, full-length concert video that doubles as a fundraiser for the band's charitable arm, the All Within My Hands Foundation. And they're keeping the heat under their commitment to bringing music performance to their fans with Encore Drive-In Nights presents Metallica on August 29, when drive-in theaters around the country will feature a concert film the quartet recorded recently. (Ticket holders are also entitled to four digital downloads of S&M2, a concert Metallica recorded with the San Francisco Symphony Orchestra that's being released on August 28.)
Metallica are about to enter their fifth decade as a band, and they and their fans are as tireless as ever. According to Pollstar, they've sold more than 22 million tickets since 1982, making them one of the biggest touring bands in history. It's a little tough to pick out the definitive best moments from a concert archive that massive, but it's pretty satisfying to take a look back at these eight other times Metallica shows blew fans' minds.
1. The Metro, Chicago, August 12, 1983
After coalescing in 1981, Metallica spent much of the next year honing their craft and destroying stages all over California. By 1983, the young band were already a well-oiled thrashing machine, as evidenced by video captured in Chicago on their first U.S. tour, Kill 'Em All for One. Playing in support of their 1983 debut, Kill 'Em All, Metallica sound raw and ferocious as they rip through a set of early material at cozy club the Metro, in front of a fist-pumping, headbanging crowd. 
2. Day on the Green, Oakland, California, August 31, 1985

By 1985, Metallica were popular enough to be flirting with the big time. Two weeks after playing England's Monsters of Rock Festival alongside Bon Jovi and Ratt, the group returned to the Bay Area and performed at an annual event called Day on the Green alongside acts such as Scorpions and Y&T. Video from the concert illustrates Metallica's concentrated power and musicianship — such as the gnarly bass solo that opened "For Whom the Bell Tolls," played by the late Cliff Burton.
3. Monsters of Rock, Moscow, September 28, 1991
Weeks after the release of Metallica (a.k.a. The Black Album), the band played one of their most unique (and biggest) gigs ever: The Monsters of Rock concert in Moscow, alongside AC/DC and Pantera. Although exact crowd size estimates vary — some say 1.5 million people attended, although others suspect the number is more likely in the hundreds of thousands — what's certain is that Metallica turned in a confident, firing-on-all-cylinders performance. 
4. Lemmy's Birthday Party, Whisky a Go Go, December 14, 1995
When the late Motörhead frontman Lemmy turned 50, he celebrated with a big birthday party at legendary L.A. club the Whisky a Go Go. Metallica naturally played the event and raced through a set of Motörhead covers. Amusingly, however, the band did so under the moniker "The Lemmys," while dressed in character as Lemmy himself.
5. Yankee Stadium, The Bronx, September 14, 2011

In the early 2010s, the thrash metal bands colloquially known as the Big 4 — Metallica, Slayer, Anthrax and Megadeth — performed several concerts together, including one at Yankee Stadium. The tour naturally brought out the competitive edge of each of the four bands — especially on the tour's final night, which found Metallica on fire as they roared through "Master of Puppets" and jammed on Motörhead's "Overkill" with members of the other bands.
6. The Fillmore, San Francisco, December 5, 7, 9 and 10, 2011
Metallica went all-out for the band's 30th anniversary, which culminated with four gigs for fan-club members at the legendary Fillmore in San Francisco. Each night featured a different setlist, rare song performances and once-in-a-lifetime special guests, including former lead guitarist Dave Mustaine and bassist Jason Newsted.
7. Antarctica, December 8, 2013
That location isn't a typo: In 2013, Metallica secured a world record by playing shows on all seven continents in less than a year. The concert was dubbed Freeze 'Em All — a cheeky nod to the band's Kill 'Em All — and took place in a geodesic dome, where Metallica played in the round surrounded by a crowd of dedicated, pogoing fans. Despite the obvious chill in the air, the 70-minute set was fiery and ended with an appropriately propulsive "Seek & Destroy." 
8. Slane Castle, Meath, Ireland, June 8, 2019
For bands, performing at historic Slane Castle is a milestone. Incredibly enough, Metallica first performed at the venue in 2019, as part of the WorldWired tour. The career-spanning set was worth the wait — and was, of course, highlighted by their cover of Thin Lizzy's "Whiskey in the Jar," one of Ireland's most beloved songs. 
Image Courtesy of Herring & Herring
Tags
You Might Like
Social media has kept these sports stars connected with their legions of admirers.
There are some definite upsides to watching a show from a venue that's all yours.
Professional athletes and athletic organizations seize the opportunity to salute our nation's troops.