10 Garth Brooks Songs for the Country Music Fan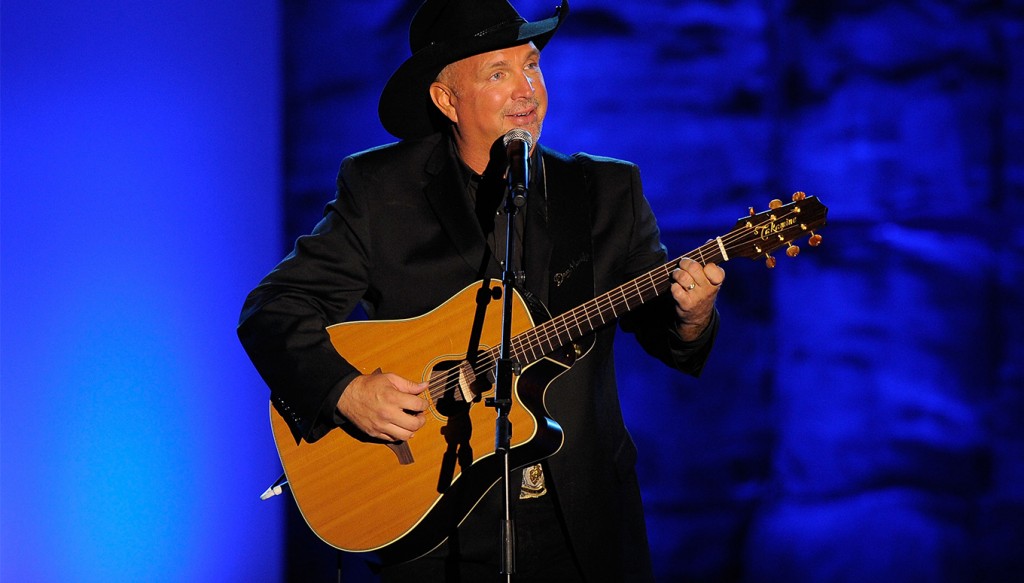 Garth Brooks fans rejoice as America's most powerful concert force returns with select dates across the United States. Taking a look all the way back to 1990, we compiled his biggest Number 1 hits according to Billboard and top downloaded songs on iTunes, to create the ultimate playlist of Garth's fan favorites.
1. "Friends in Low Places"
It only took this single eight weeks to reach #1, where it remained for four whole weeks. The song went on to win single of the year at both the Academy of Country Music Awards and Country Music Awards of 1990. Although the song has a sad subject matter and talks about drinking your troubles away, the melody adds an uplifting quality.
2. "Unanswered Prayers"
This tune comes from his 1990 hit album "No Fences." In it, Garth sings about running into his high school flame. He reminisces about how when he was younger he wished and prayed that they were together. Thinking of his wife, he realizes that some of the greatest gifts from God result from unanswered prayers. Brooks reassures that just because a prayer goes unanswered, it doesn't mean God doesn't care or that he's not listening. In the end, the best blessing may be the one for which you didn't even ask. The song's message was so powerful that it inspired a 2010 made-for-television movie by the Lifetime Television Network.
3. "The Dance"
Widely considered Garth Brooks' signature song, this touchingly poetic song chronicles a man whose relationship ended before he expected. He considers if he had known beforehand that it was going to end so soon. All in all, he's glad he didn't know because he was able to share something special with her—the dance. Despite all the pain suffered, it was worth the dance. In interviews, Brooks states that the song is about life and fighting for something you believe in. The powerful music video includes clips of John F. Kennedy, Martin Luther King Jr., and other social activists.
4. "If Tomorrow Never Comes"
This melancholy masterpiece was Garth Brooks' first #1 single on the Billboard Country Singles chart, a distinguished accomplishment that became the first of many throughout his career. In the song, Brooks lies in bed with his sleeping wife and contemplates the possibility of not waking up in the morning. He emphasizes the importance of telling her each day how much he loves her in case his vision were to become a reality. He beautifully conveys his hope that the love he gave her will be enough to last her were he to be gone. The important message, to show your loved ones how much you care, helped the tune to be named the favorite country single in the American Music Awards of 1991.
5. "I Don't Need Your Rockin' Chair"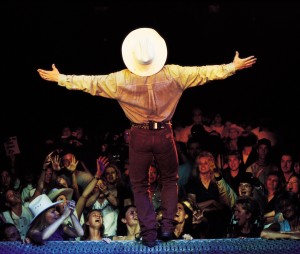 Brooks is featured in this cheery tune by George Jones. In addition to these two greats, the song has an all star lineup, including Vince Gill, Mark Chesnutt, and Clint Black. In the song, Jones affirms his vivacity by rejecting a rocking chair. Despite growing older, he claims, he still feels young and has no need for the hallmarks of old age such as Medicare, retirement, and, of course, a rocking chair.
6. "In Another's Eyes"
This beautiful harmony describes two lovers who, despite each having significant others who see them as infallible, would rather be together, flaws included. For this song, Garth Brooks teamed up with Trisha Yearwood. Although Brooks was still married to college sweetheart songwriter Sandy Mahl in 1997 when the song was released, Brooks and Yearwood married in 2005. The subject matter of the song and eventual nuptials of the singers begs one to question the lyrics asking, fact or fiction?
7. "What She's Doing Now"
For this tune, Garth Brooks turns to the theme of love that is lost but not forgotten. Wondering where the old flame is now, Brooks channels the universal curiosity to know the whereabouts of someone with whom you've lost touch. Considering the relatable message, it's not surprising that this song remained #1 on Billboard's Hot Country Songs chart for four weeks.
8. "Whatcha Gonna Do With a Cowboy"
Brooks appeared as the guest singer in this duet with long-time pal Chris LeDoux. The title track of LeDoux's album reached #7 on the Hot Country Songs chart in the U.S. and #5 in Canada. The song touches on the challenges of being in a relationship with a cowboy, citing "muddy boots" and "beer buddies" that just won't leave.
9. "Where Your Road Leads"
This duet by Trisha Yearwood and husband Garth Brooks sounds like beautifully written, and sung, marriage vows between the two. In the song, the couple sings to each other about always being by the other's side, especially when times get tough. Seeing the performance live makes the love the two share almost palpable.
10. "Burnin' the Roadhouse Down"
A fun, folksy song, "Burning the Roadhouse Down" evokes the merriment of being out on the town on a Saturday night without a concern for the consequences on Sunday morning. For this song, Brooks teamed up with Steve Wariner to record the title track of Wariner's album. Be sure to add the hit to your weekend pregame playlist.
To buy concert tickets to Garth Brooks, select from the dates below.