24 WWE NXT Superstars You Must Follow On Instagram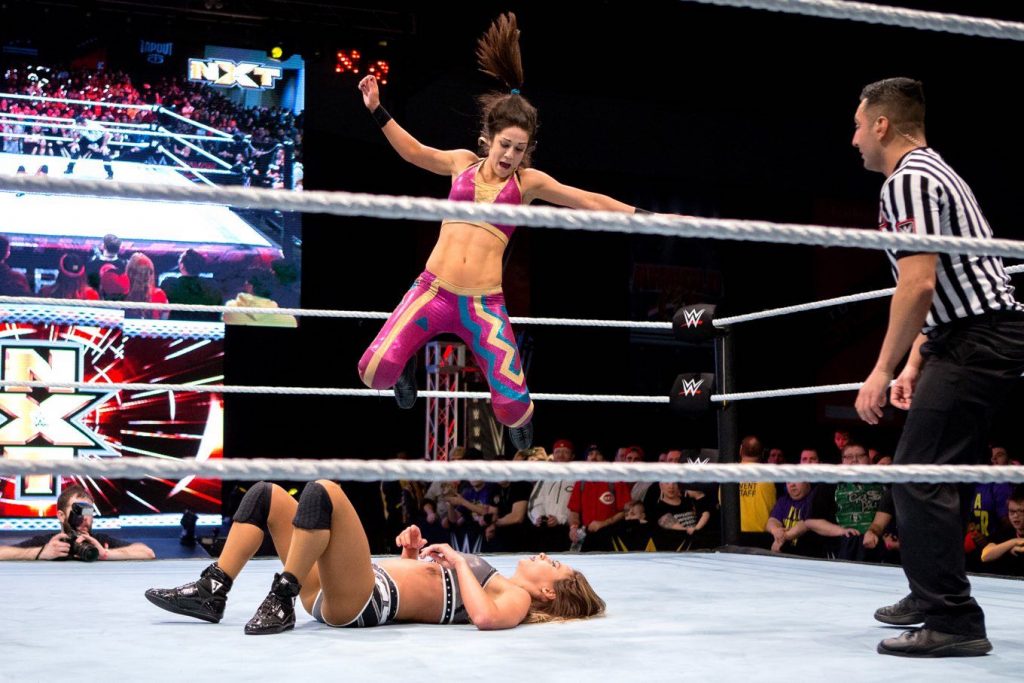 On paper, WWE NXT is the equivalent of the minor leagues in the sense that it's meant to develop talent for the "big leagues." But fans of NXT know that it is so much more. While it's true the division consists primarily of up and coming talent, NXT's characters and storylines hold their own.
So whether you're a NXT n00b looking to learn more or a big fan who is old enough to remember Florida Championship Wrestling aka the FCW, follow these 24 wrestlers on Instagram to go behind-the-scenes, see their workouts and fitness routines, and tap into how these superstars-in-the-making cut loose with family and friends.
Asuka
IG: @wwe_asuka
Formerly known as Kana, this Japanese superstar currently reigns as NXT's Women's Champion.
---
Liv Morgan
IG: @yaonlylivvonce
New Jersey native Liv Morgan's first encounter with wresting was in a homemade ring she built with her brothers in her backyard. Now she's one of the biggest stars of NXT.
---
Buddy Murphy
IG: @wwe_murphy
Formerly the NXT Tag-Team Champion with Wesley Blake, Australian Buddy Murphy is currently making a name for himself fighting solo.
---
Shinsuke Nakamura
IG: @shinsukenakamura
Japan's Shinsuke Nakamura is the current NXT Champion. He's also a mixed martial artist and a three-time IWGP Heavyweight Champion for New Japan Pro Wrestling.
---
Peyton Royce
IG: @peytonroycewwe
Aside from her time with NXT, Australian Peyton Royce is also known for her modeling work.
---
Tye Dillinger
IG: @wwedillinger
Canada's Tye Dilinger is best known for referring to himself as "The Perfect 10" and throwing all ten fingers into the air (technically, eight fingers and two thumbs) to taunt opponents. His finishing move is also known as The Perfect 10 (a single-knee facebreaker).
Andrade "Cien" Almas
IG: @andradealmas
A former Mexican luchador known as La Sombra, Andrade "Cien" Almas has been making a name for himself with NXT since 2015, defeating the likes of Tye Dillinger and Riddick Moss.
---
Austin Aries
IG: @austinhealyaries
A native of Milwaukee, Wisconsin, Austin Aries is a former TNA World Heavyweight Champion who is currently signed with NXT.
---
Mandy Rose
IG: @mandysacs
After appearing on WWE Tough Enough in 2015, Rose joined NXT. She also currently appears on the E! reality television show Total Divas.
---
Billie Kay
IG: @billiekaywwe
Billie Kay began wrestling in her native Australia back in 2007. After performing with various other organizations, she took part in a try out for NXT in 2015 and was asked to join.
---
Wesley Blake
IG: @thewweblake
A former NXT Tag Team Champion with Buddy Murphy, Texas native Wesley Blake recently returned to the ring after a knee injury forced him to undergo surgery.
---
Johnny Gargano
IG: @thejohnnygargano
Cleveland native Johnny Gargano got his start with Cleveland All–Pro Wrestling, and eventually worked his way up to TNA before landing some gigs with the WWE. Earlier this year, he signed a contract with NXT.
---
No Way Jose
IG: @nowayjosewwe
Originally from the Dominican Republic, Levis Valenzuela Jr. currently wrestles with NXT under the name No Way Jose. Previously, he wrestled in the Independent circuit as Manny Garcia.
---
Scott Dawson
IG: @scottdawsonwwe
Originally from North Carolina, Scott Dawson makes up half of the popular NXT tag-team duo known as The Revival.
---
Dash Wilder
IG: @dashwilderwwe
As the second half of The Revival, North Carolina native Dash Wilder (along with Dawson) are currently the reigning NXT Tag Team Champions.
---
Ember Moon
IG: @wwe_embermoon
A Texas native who previously wrestled on the independent circuit as Athena, Ember Moon currently wrestles for NXT and recently defeated Billie Kay at NXT TakeOver: Brooklyn II.
---
Samoa Joe
IG: @samoajoe_wwe
Originally from Orange County, CA, Samoa Joe's Instagram profile reads, "I kick people for money. It's a pretty sweet gig." If that doesn't make you want to follow him, I'm not sure what will.
---
Daria Berenato
IG: @toughdaria
Better known simply as Daria, this former WWE Tough Enough contestant recently took part in a six-woman tag-team match. Along with her teammates Mandy Rose and Alexa Bliss, she was defeated by Carmella, Liv Morgan, and Nikki Glencross.
---
Aliyah
IG: @aliyahwwe
Originally from Toronto, Canada, Aliyah, is known for her two finishing moves, the Arabian Night and the Magic Carpet Ride, both of which pay homage to her heritage.
---
Riddick Moss
IG: @riddickmoss
Minnesota native Riddick Moss bills himself as NXT's next bad boy. He reportedly caught a lot of people's attention at the recent WWE Performance Center Combine.
---
Steve Cutler
IG: @stevecutler_wwe
New Jersey native Thomas "Tommy" Maclin, currently known as Steve Cutler, served in the United States Marine Corps before joining NXT in 2014.
---
Oney Lorcan
IG: @wwestardestroyer
Formerly known as Biff Busick, Boston Native Oney Lorcan recently took down Tye Dillinger on an episode of NXT.
---
Tommaso Ciampa
IG: @projectciampa
Another Boston native, Tommaso Ciampa joined NXT in 2015. It was recently announced that Ciampa is joining the WWE's upcoming Cruiserweight division.
---
Snag WWE NXT tickets and follow the WWE NXT Instagram to stay in the ring with the next generation of potential WWE superstars on the come up.
You Might Like
San Francisco and the surrounding areas may not be covered in snow come the end of December, but they still have plenty of that magical, winter wonderland feel.
Got that Black Friday itch? Round out your holiday shopping with these great live events – we've got something for every type of fan on your gift list....
Now that football season is in full swing, your calendar is likely filled with game day activities. Whether you're rounding up your squad and heading to the ...