27 Brilliant Things To Do for the Holidays in San Francisco, California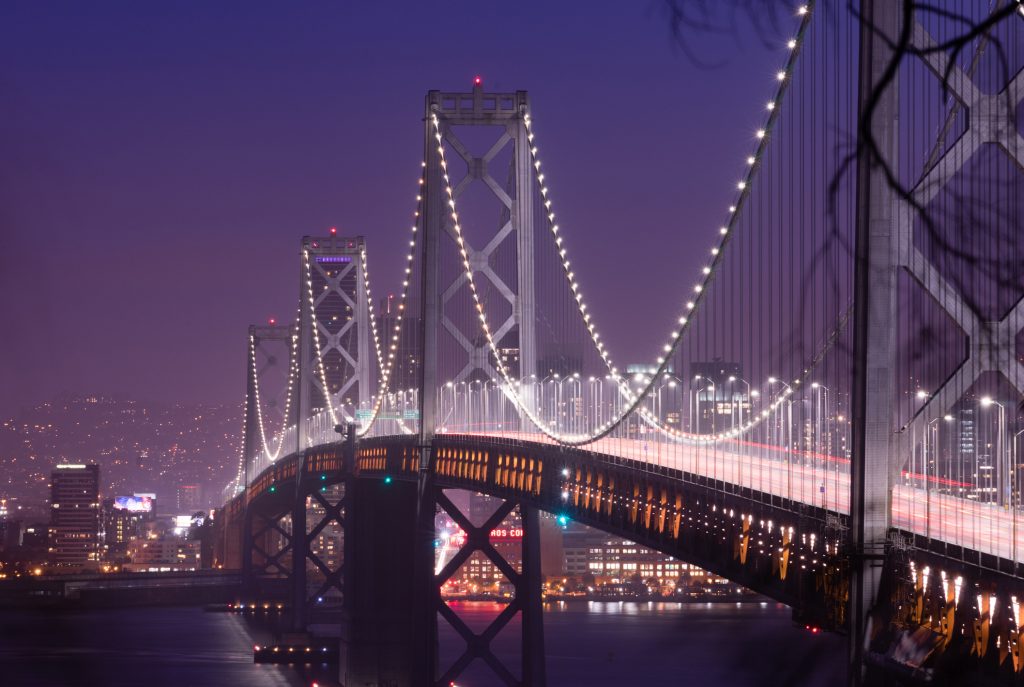 San Francisco and the surrounding areas may not be covered in snow come the end of December, but they still have plenty of that magical, winter wonderland feel.
Get into the holiday spirit with tons of light art around The Bay Area, unique places to grab a cuppa hot cocoa (perhaps cappuccino, egg nog, or tea, if that's your thing), and some of these awesome holiday events, Christmas events, and things to do in December near San Francisco, California.
Jump to a location: San Francisco, Sacramento, and San Jose.
Things To Do Near San Francisco
See a show, catch brilliant holiday light art, or dress up—the season is just getting started. San Francisco celebrates the season with ice skating, light art installations, and a citywide Santa Claus dress-up party guaranteed to get you in the festive mood.
1. The Nutcracker
Add a bit more twinkle to your holiday with a holiday-themed activity like The San Francisco Ballet performing The Nutcracker at War Memorial Opera House (December 10-29).
---
2. Light Art
If you are mesmerized by light art, neon and holiday lights, we recommend scoping out Illuminate SF to see incredible light art installations and artists, which is going on from Thanksgiving to New Years.
---
3. Chris Tomlin
Oakland's Paramount Theatre features singer-songwriter Chris Tomlin specializes in Christian music for the modern age, and he brings his ADORE Christmas Tour to the East Bay city (December 9, tickets). If you can't make Tomlin's Oakland show, he's performing again at the Bob Hope Theatre in Stockton–BARTable from San Francisco's Embarcadero station, but the trip will take you two and a half hours (December 10, tickets).
---
4. Downtown Stockton
Make a day of it and explore Stockton's downtown, and be sure to stop at Freedom Coffee Company for one of the café's to-die-for homemade cinnamon scones and an artfully made latte.
---
5. Tierra Mia Coffee
Down the street from the Paramount (right next to the 19th Street BART station), you'll find Tierra Mia Coffee, a little joint specializing in Latin-inspired cups of joe that will warm up those cold winter nights (we're grateful they're open till 9 p.m.).
---
6. Farley's East
If classic Italian sips are more your speed, try nearby Farley's East, also open late. Farley's serves espresso drinks and your standard coffee and tea, as well as a tasty cup of hot chocolate or egg nog.
---
7. San Francisco's Union Square
Back in the Bay, enjoy exploring the multitude of holiday events. Go shopping and ice skating in San Francisco's Union Square, and see the classic trolleys, massive Christmas tree, and the 25-foot-tall menorah.
---
8. SantaCon
Take to the streets in your best imitation Santa costume during SantaCon (December 10), when bars throughout the city have special deals for those in red and white.
---
9. Jack London Square
In Oakland, head to Jack London Square, which is the epicenter of all things holiday cheer. There, the annual tree lighting festival includes live reindeer, holiday-themed boat adventures, music performed by local kids, and over 5,000 holiday lights. Or, stop by the city's Chabad Jewish Center to see the menorah.
---
10. G-Eazy
In your free time, catch some other shows in the area including hometown hero G-Eazy at the Oracle Arena in Oakland (December 14, tickets).
---
11. Lindsey Stirling & More Concerts
Check out One Starry Night 2016 with Lindsey Stirling, Andy Grammer, Gavin DeGraw, Walking On Cars (December 9, tickets) and PartyNextDoor or The Masonic in San Francisco (December 11, tickets).
---
12. Mymy
For breakfast or lunch nearby The Masonic, check out Mymy. The café is full of vintage San Francisco spirit, and their brunch—think French toast and mimosas—is a necessary complement to coffee both before and after a night out.)
---
A complete list of #SpokenWord tour dates & ticket info: https://t.co/2u4yfN3Pjb pic.twitter.com/O5361yl1rC

— henryrollins (@henryrollins) August 4, 2016
13. Henry Rollins
Another must-see act? KCRW radio host and former Black Flag frontman Henry Rollins will be bringing his Spoken Word tour to the Herbst Theater on (December 29, tickets).
---
14. Philz Coffee
When in the city, you must stop by the local chain Philz Coffee, and Herbst is just a five-minute walk down Van Ness Avenue away. For something sweet and incredibly refreshing, order the Iced Mint Mojito, an iced version of their Ecstatic blend with a minty flair. Take a sip, meander through the city streets, and listen for great music—the holidays have arrived.
---
Things To Do Near Sacramento
From plays that light up the night to holiday-themed rock operas, Sacramento has you covered on holiday cheer. Sacramento has a rich history: From the Gold Rush days to being known as the "wettest city in the nation" during prohibition, California's capital city is more than just government suits. In the wintertime, you'll be able to catch free outdoor performances and stroll down streets done up in lights and decorations. This is one city that takes its holidays seriously: you won't be able to go far before you stumble upon something that screams "'tis the season."
15. Museum of Wonder and Delight
For one thing, there's the Museum of Wonder and Delight, a place that is truly as festive as it sounds. The museum is known for its collections of holiday-themed dolls and other toys in galleries named things like Once Upon and Time and Christmas Dreams.
---
16. Old Sacramento
There's also Old Sacramento, which lights up—literally—during the holiday season. From Thanksgiving to New Years, holiday lights will be covering every building façade and balcony of the historic district at K Street and Front. Throughout the winter season, actors will perform renditions of 'Twas the Night Before Christmas outside in the same area (check back on their website for dates).
---
17. Trans-Siberian Orchestra
While you're in town, don't miss beloved rock opera group the Trans-Siberian Orchestra performing at Sacramento's Golden 1 Center (December 28, tickets). The 34-piece band has sold over 10 million albums since its debut in the '90s, and the combination of rock n' roll vocals, electric guitars, violins, and keyboards, as well as a priority on storytelling, have set TSO into a category all its own.
---
18. Chocolate Fish Coffee
Before you head to Golden 1 Center, try the small-batch brews of Chocolate Fish Coffee (just a 10-minute walk and one turn away—stroll down 4th and hang a right on P Street). The café sources its beans from places like Ethiopia, Costa Rica, and Guatemala—veritable leaders in the coffee growing game. Plus, if coffee's not your thing, Chocolate Fish sells a variety of loose-leaf teas in mouth-watering flavors like mango apple rooibos and "kandy" black.
---
19. Dive Bar
Once you've warmed up, the cheekily named Dive Bar (head back towards the venue and take L Street till you hit 10th—about a 20-minute walk) is the place for pre-show drinks. Inside, women dressed as mermaids swim in tanks mounted above the bar. Spend some time walking the streets of Old Sac ahead of the concert; the festivities take place less than a 10-minute walk from Golden 1.
---
20. Stevie Nicks
If you're in the mood for a more music, mark your calendar to hit the Golden 1 Center when Stevie Nicks takes over the stage (December 13, tickets). You can also see Stevie Nicks in concert at San Jose's SAP Center (December 14, tickets).
---
Things To Do Near San Jose
From great music to great eats, shopping, and more, there are plenty of reasons to divert a NorCal holiday trip to Silicon Valley. The South Bay Area—including cities like San Jose and Cupertino—is a warmer extension of the tech capital San Francisco. During the holiday season, expect some rain but generally mild temperatures—perfect for strolling tree-lined streets while sipping coffee or hot cocoa and enjoying a snow-less winter.
21. Christmas in the Park
Kickstart the holidays with San Jose's Christmas in the Park, which starts on Thanksgiving and runs through the New Year. The festival takes place in the two-acre Plaza de Cesar Chavez Park, which takes on over 40 lit-up and animated attractions as well as a giant tree. The fest is free, and on some days (check their calendar), the organization will host events including live music and breakfast with Santa. As the holidays are all about giving, Christmas in the Park has many events centered around good causes, too. Think a Habitat for Humanity playhouse build and "Santa paws" (which brings adoptable animals to the public).
---
Are you loving the holiday music that's in the air? Come celebrate with us at Pops' Family Christmas concert on… https://t.co/ewVyVCQIRE

— California Pops Orch (@CalPopsOrch) December 3, 2016
22. California Pops Orchestra
Once you're all parked out, both San Jose and Cupertino have holiday shows that are must-sees for the season. First, head to Cupertino's Flint Center for Pops Family Christmas presented by the California Pops Orchestra (December 18, tickets). The Pops orchestra performs a mix of Broadway, Hollywood, and Big Band-era music—sure to make you cheery anytime of year. For the holidays, though, they're turning that cheer up a notch by adding Christmas tunes, sleigh bells, and toy trumpets to the mix.
---
23. Coffee Society
Across the street, Coffee Society serves coffee from around the world till 11 p.m., making it the ideal spot for a pick-me-up before the show.
---
24. Dave Koz
Later on in the month, head to the City National Civic Center in San Jose for Dave Koz, a saxophone god who traffics in smooth jazz that will definitely make your spirits bright (December 22, tickets).
---
25. Bijan Bakery and Café
Come early and enjoy Christmas in the Park (the venue borders Plaza de Cesar Chavez Park), then cross the grass and land on the corner of Market Street and Paseo de San Antonio Walk. To your right you'll see Bijan Bakery and Café, a lovely spot to stop and sip on a coffee (or a juice from the juice bar) while snacking on a sandwich or a pastry.
---
26. Bijan Wine Bar
Across the street, spy the Bijan Wine Bar tucked inside the Fairmont San Jose Hotel—where you'll want to go as showtime approaches. Sip on a glass of red to match the winter vibes outside and Zen out before a soulful evening ahead.
---
27. Legend of Zelda Symphony of the Goddesses
While you're in town, it's also prime time to catch a one-of-a-kind performance of the Legend of Zelda Symphony of the Goddesses at City National Civic (December 10, tickets) near the famous outdoor shopping mall Santana Row, where you'll be able to find gifts for everyone on your list (we suggest driving—you'll want the trunk space for present storage!).
---
However you decide to celebrate and spend your holiday leisure time, remember to take time to relax and enjoy the season—after all, the magical spirit that accompanies winter only comes once a year.
You Might Like
Whether you're a long-time local or just in town for a quick trip, the entertainment experts at Ticketmaster have you covered!
Whether you're a die-hard basketball fan, enthusiastic concertgoer or simply looking for something extraordinary to do, the Vivint Arena in Salt Lake City, U...
The Mile-High City hosts thrilling sports, music and other entertainment events in its stadium.