The Ultimate Guide: What to Wear to a Football Game This Season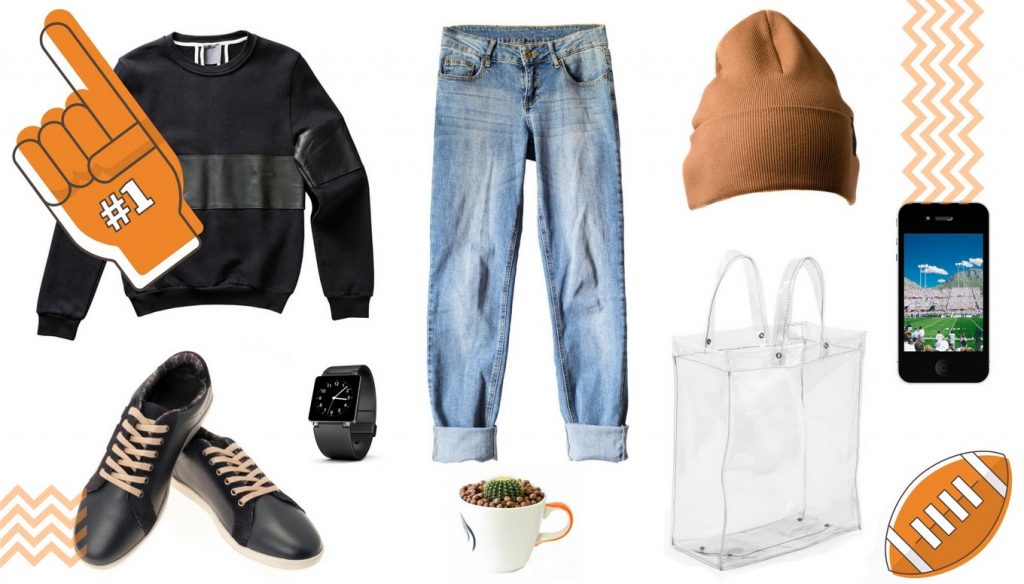 Now that football season is in full swing, your calendar is likely filled with game day activities. Whether you're rounding up your squad and heading to the stadium to see the game IRL or throwing a viewing barbecue bash at home, wearing the right gear is essential for looking cool, feeling comfortable, and showing off your team spirit.
From beanies to keep your head warm on a chilly night to see-through bags that adhere to the new stadium bag policy, here's your ultimate head-to-toe guide of what to wear to your next football game.
A Cute Jersey
As an alternative to the official jersey for your favorite team (which never gets old!), a versatile black-and-white jersey ($39.99) is one you can wear at the game and beyond. It's got a subtle sporty vibe that can be dressed up and down with a change of shoes. Pair it with jeans for maximum comfort.
A Stylish Sweatshirt
Sitting in the stands can get chilly, which is why a sweatshirt is so essential. A simple gray hoodie ($17.99) like this one will go with any team's colors and the cropped cut gives it a cooler look.
Comfy Jeans
You can never go wrong with a good pair of blue jeans at a football game. They're comfortable and go with whatever you pair them with. We especially dig these jeans ($70) because of their distressed details and unique front lace-up closure.
A Cozy Beanie
Like we mentioned, games can get pretty chilly. Keep yourself warm and cozy with this neutral-colored cable-knit beanie ($160). The pom-pom at the top is a nice detail that will make you stand out in the crowd. But you can also opt for something slouchier sans pom-pom.
Cool Shoes
With pre-game tailgating sessions and all those stairs you have to walk up to get to your seat, you're going to want a pair of shoes that's comfortable and looks cool. These go-with-everything black-and-white Nike sneakers ($90) fit the bill.
A Clear Backpack
In case you didn't already know, there's a new all clear bag policy at stadiums (read all the details here). Luckily, clear bags look pretty cool especially when they have your team's logo on it. Check out this drawstring backpack ($9.99). Tote and messenger bags are also available if backpacks aren't your style.
A Military Inspired Sweater
If you don't want to wear your team's jersey to the game, opt for a timeless sweater instead. We love this one ($745) because it's made out of super soft cotton and features stars and stripes on the sleeves for a subtle patriotic punch.
A Rad Watch
Wearing a rad watch or a smartwatch is an easy way to take your game day outfit to the next level without looking like you're trying too hard. This all-black stunner ($100) is just what you need.