10 Things You May Not Know About Vans Warped Tour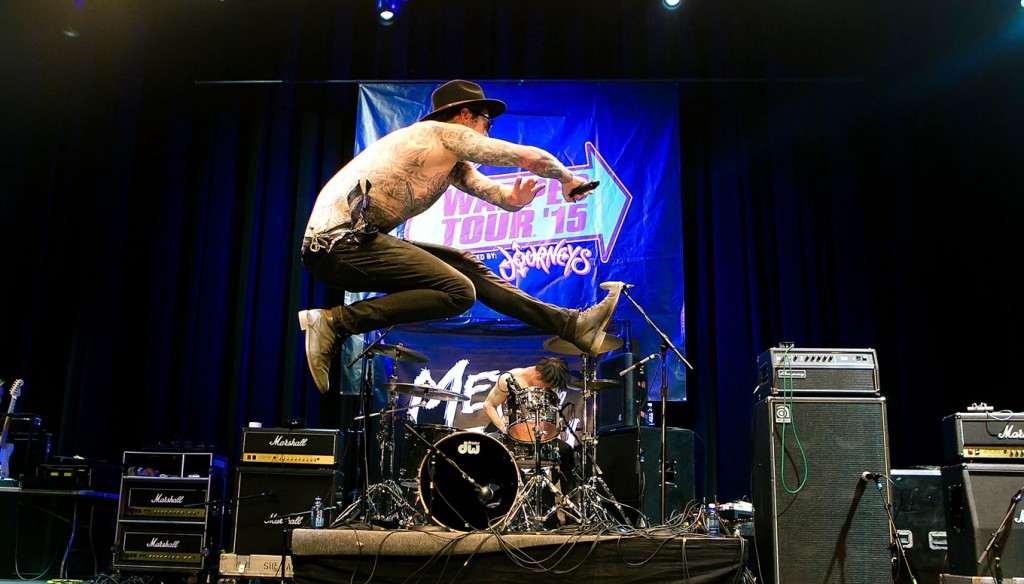 Vans Warped Tour is one of the most popular summer festival tours in the country, drawing out hundreds of bands and thousands of fans each year for an adrenaline-filled series of hard-hitting shows. Over the years it has grown from a scrappy festival upstart to a massive and well-oiled production, but it has always maintained its DIY spirit, punk rock edge, and commitment to showcasing emerging bands.
This year's tour promises festivalgoers an unforgettable day of high-octane performances by big names like Black Veil Brides, Asking Alexandria, Never Shout Never, and Escape the Fate, as well as smaller acts like Silverstein, Attila, and Memphis May Fire. In anticipation of the 2015 tour we've compiled 10 things you probably didn't know about Warped Tour — check it out below and impress all your friends with your vast Vans Warped Tour knowledge on concert day.
1. Warped Tour has been around a while
The first Vans Warped Tour took place in 1995, making it the longest running touring music festival in North America. While the festival initially only featured punk and alternative artists, it has since expanded to include emo, folk, rap, hip hop, EDM, and many other musical styles.
2. It supports amazing charities
Warped Tour partners with a seriously impressive array of charities and non-profits including MusiCares, PETA2, and Farm Animal Rights Movement. Check out the full list of participating organizations here.
3. For some bands it's a "full circle" experience
Pierce the Vale got their first taste of Warped Tour as attendees, but now they're a featured act performing their post-hardcore tunes to the masses. Talk about an inspirational punk rock success story.
4. You can skip the line by doing some good
Want the quickest access to the festival? Make sure to check out the Feed Our Children NOW! tent, which will be handing out Skip The Line wristbands to concertgoers who provide three canned goods (cannot be dented or expired cans), a $5 donation, or a used cell phone. The tent is located near the Skip the Line flag at the main gate, and proceeds benefit child hunger and the organization's youth empowerment program. This year Feed Our Children NOW! will also be accepting iPods (with or without charger) to support the charity Music & Memory.
5. The "BBQ Band" for the 2015 tour is pop rock outfit Boy Meets World
Yes, this is a real thing. The Warped Tour has a pretty sweet tradition — in exchange for a spot on the tour, the BBQ Band has to grill up a feast after each show for the bands and crew. This year Boy Meets World will join an impressive list of BBQ Band alumni that includes Dropkick Murphys and Art of Shock.
6. Warped Tour puts out an annual compilation CD
Each year the festival puts out a mix CD featuring songs from artists on the tour. It's become somewhat of a collectable item, and it's a great way to commemorate the experience.
7. Parents and legal guardians can get in free! And there's reverse daycare for parents
Reverse Day Care for parents? That's right kids, you can send your parents to daycare while you catch your favorite bands. The ultimate perk for parents, the Reverse Daycare Tent is an air-conditioned chill zone for parents who escort their teens to the concert but crave a break from the heat and music. Warped Tour also offers one complimentary, non-transferrable ticket to parents and guardians accompanying a minor (under 18) who has purchased a ticket to a 2015 Warped Tour show. Learn more about both parent-friendly programs here.
8. It's not just punk and alternative music
While punk and alternative still form the backbone of the Warped Tour lineup, the festival has grown over the years to encompass a diverse range of genres including hip hop, indie rock, and even mainstream pop. Noteworthy appearances over the years include Sublime (1995), Beck (1996), Eminem (1999), The Black Eyed Peas (1999), Talib Kweli (2000), Katy Perry (2008), and G-Eazy (2012).
9. Warped Tour has a sweet Tumblr
Stay up to date with news, videos, and exclusive behind-the-scenes content over at the slick Vans Warped Tour Tumblr.
10. Set times are not announced until the morning of the show
The Vans Warped tour lineup was released with tons of great bands and artists, but set times don't come out until the morning of the show. Get to the festival early and head to the big inflatable blow-up board at the main Vans tent where the schedule will be displayed in all its glory. And check out the Vans Warped Tour playlist below, lovingly curated by Ticketmaster staff.
You Might Like
Gorgeous beaches. Legendary clubs. Wild pool parties. There's a reason why Ibiza, Spain, is considered one of the top places to party in the world. Ibiza is ...
As we prepare for Lollapalooza's virtual 2020 installment, let's look back at the moments that made the festival iconic.
Headed to Voodoo? Here's everything you'll need.