Step Inside: Yankee Stadium – Home of the Yankees & NYCFC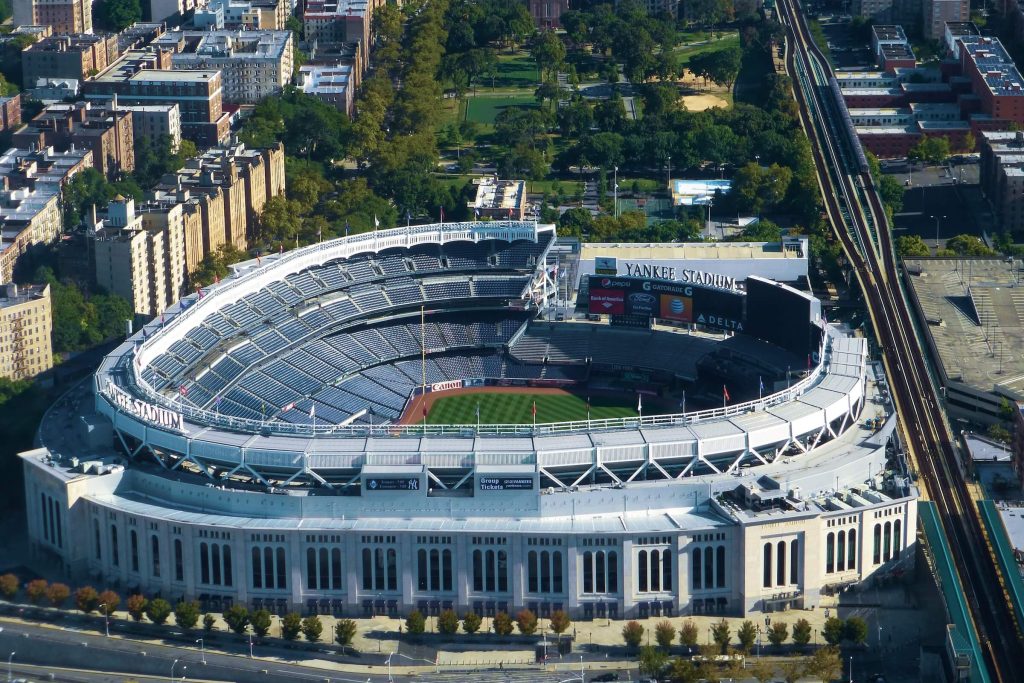 Stadium History | Parking & Admission | Seating & Capacity | Food & Concessions
When it comes to sporting venues, few are on the same tier as Yankee Stadium. Home of the 27-time world champion New York Yankees and 2021 MLS Champions New York City FC, the pedigree of these winning franchises is front and center as soon as you step inside the gates.
The stadium opened in April 2009 and is located on 161st street in the Bronx, New York City. When it opened, it replaced the original Yankee Stadium, which was in operation from 1923 to 2008. With how iconic the House that Ruth Built was, the new stadium was built to replicate several design elements from the original stadium — most notably the design of the original facade. This remodel allowed the venue to expand and add modern amenities that the original Yankee Stadium couldn't accommodate.
What events are coming up at Yankee Stadium?
See upcoming events and buy tickets for Yankee Stadium right here on Ticketmaster.
Yankee Stadium History
The campaign to build a new Yankee Stadium began in the 1980s and was led by Yankees owner, George Steinbrenner. Despite a recent remodel, Steinbrenner was concerned that the Yankee Stadium facility didn't offer amenities for the modern sports fan. Throughout the '80s and '90s, Yankee ownership explored moves to the Meadowlands Sports Complex in New Jersey and the West Side Yard on the West Side of Manhattan. Ultimately, the team was able to settle on the site of Macombs Dam Park, just one block north of the original Yankee Stadium.
Construction began on August 16, 2006, 58 years after Yankee legend, Babe Ruth, passed away. At a cost of $2.3 billion, it is one of the most expensive sporting venues ever built.
Opening in April 2009, the Yankees went on to win the World Series in their first season at the new Yankee Stadium with a 4-2 series win over the Philadelphia Phillies.
The new stadium was built with an emphasis on preserving elements of the original stadium. The exterior resembles the original look of Yankee Stadium, which, when it was built in 1923, used more than 11,000 pieces of Indiana limestone. The interior is designed with a modern ballpark in mind and has more space and improved amenities than the previous iteration. The interior design also celebrates the iconic franchise with displays and exhibits that celebrate past players and teams.
One of the most iconic pieces of the new Yankee Stadium is Monument Park, a collection of plaques and monuments that celebrate distinguished Yankee players of the past. Monument Park is located in center field under the sports bar. Monument Park opens when the gates open and closes 45 minutes to one hour before the game starts.
In 2015, New York City FC became the 20th Major League Soccer expansion team and have called Yankee Stadium home ever since. NYCFC plays 17 home MLS matches each season, in addition to friendlies, and competition in the CCL and Leagues Cup.
As one of the premier outdoor venues in New York City, Yankee Stadium is also a very popular destination for concerts. The first concert at Yankee Stadium was a two-night event headlined by Jay-Z and Eminem on September 13 and 14, 2010. Since then, many other well-known artists have performed at Yankee Stadium.
Other events held at the stadium include the annual Pinstripe Bowl, a college football bowl game held between teams from the ACC and Big Ten. The NHL® has also hosted games at Yankee Stadium as part of the league's Stadium Series™ with the New York Rangers® playing the New York Islanders® and New Jersey Devils® in 2014.
Parking and Admission at Yankee Stadium
The Yankees do not control or operate parking around the stadium, as those rights were granted to New York City. Despite that, Yankee Stadium offers several parking options, and for a regular season game, you can expect to pay between $25 and $35. Lots open two to three hours before game time. Additional parking garages are expected to be built and completed in future seasons.
Other transportation options include the New York City Subway, bus and train, with convenient stops close to the stadium for all three options. The New York City subway's No. 4 train and D train both stop at the Yankee Stadium station, right by the ballpark, and the stadium is accessible by Metro North and New York City bus.
There are some Yankee Stadium rules and policies to be aware of. Yankee Stadium recommends arriving early to any event as all guests must be screened via metal detectors before entering the stadium. Guests must empty pockets of cell phones, cameras and any large metal objects. Per stadium policy, bags must be soft-sided and 16″ by 16″ by 8″ or smaller. All bags will be inspected prior to entry. Cans, thermoses, glass bottles, professional cameras and large umbrellas are among the Stadium's prohibited items.
All guests, including children, must be screened and toddlers and infants may be carried through. If the metal detectors are alerted of any other devices, an additional screening is required by a handheld metal detector, or by physical pat down. Once screening has been completed, guests will be able to have their tickets scanned and entry will be permitted to the stadium.
Yankee Stadium Capacity & Seating Options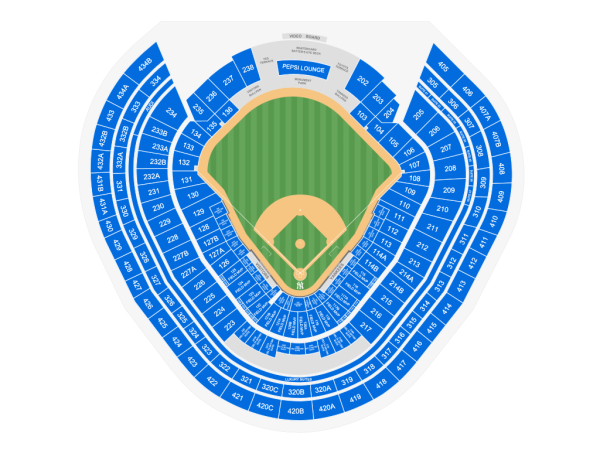 Yankee Stadium is the third largest venue in Major League Baseball, behind the Oakland Coliseum and Dodger Stadium. Yankee Stadium seating capacity varies depending on the sport. Baseball capacity is 46,537, soccer capacity is 28,743 but can expand up to 47,309, and football capacity is 54,251.
The stadium holds 4,300 club or VIP seats and 68 luxury suites. Approximately two-thirds of the stadium's seating is located in the lower bowl. The new stadium allows for wider seats with more legroom. Compared to the original Yankee Stadium, seat width increased from 18″ to 22″ wide to 19″ to 24″ inches wide, and legroom increased from 29.5″ to 33″ to 39″ — a much more comfortable setup for a modern sports venue.
Wheelchair-accessible and designated aisle-transfer seats are available, as are options for enhanced accessibility for guests with hearing loss or low vision. For additional information, contact the team's Disabled Services department at (718) 579-4510 (voice), (718) 579-4595 (TTY), or disabledservices@yankees.com.
What are the best seats at Yankee Stadium?
The best seats at Yankee Stadium vary depending on the event and personal preferences. Check out Yankee Stadium seating charts and find your favorite seat today.
Food & Beverage Options at Yankee Stadium
Yankee Stadium offers several food and beverage choices with 137 options for concessions — 25 fixed concessions and 112 moving concessions. Popular chain restaurants located in the stadium include Hard Rock Cafe, Benihana and Jersey Mike's Subs. One of the most popular options is NYY Steak, which is located behind left field.
Some of the newest dining offerings include New York traditions Streetbird by Marcus Samuelsson and The Halal Guys. These are joined by 2021 additions, which include Applegate Naturals, Bobby's Burgers, Chickie's & Pete's, Oatly, Sumo Dog, and Wings of New York.
Vegan, vegetarian and gluten-free options are also available throughout the stadium.