Step Inside Lumen Field: Home of the Seattle Seahawks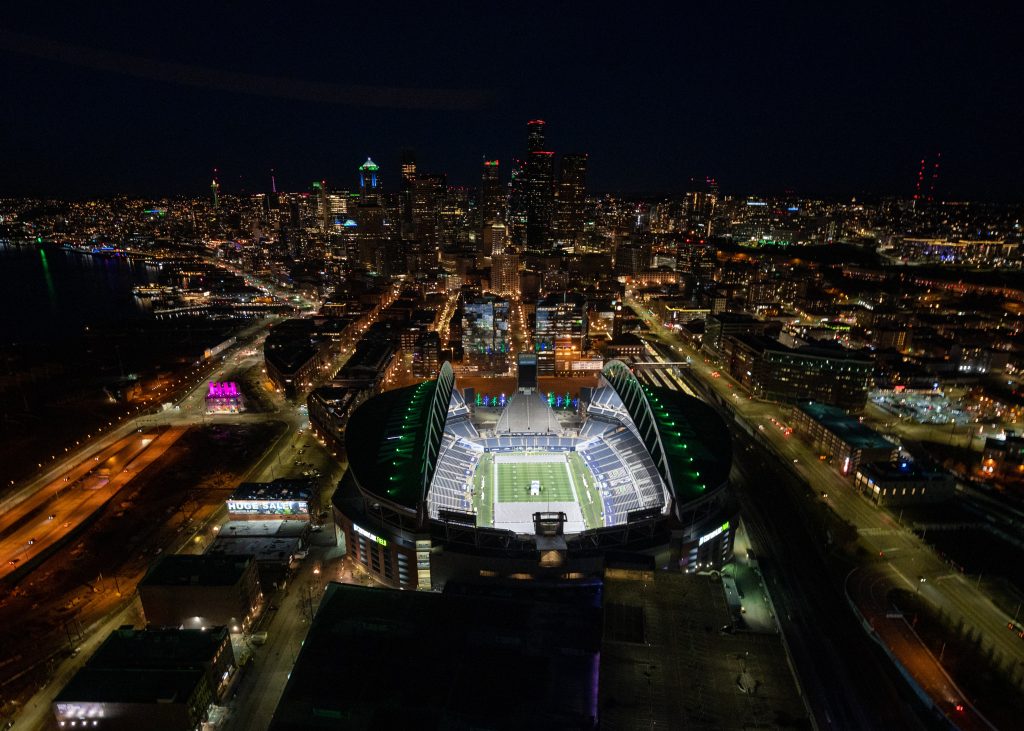 Stadium History | Parking & Admission | Seating & Capacity | Food & Concessions
Venue Quick Facts
Venue Name
Lumen Field
Location
Seattle, WA
Address
800 Occidental Ave S, Seattle, WA 98134
Phone #

(206) 381-7555

Capacity
68,740
Opened
July 28, 2002
Architect
Ellerbe Becket, LMN Architects, Streeter & Associates
Website
https://www.lumenfield.com/
Named the best NFL stadium by USA Today in 2023, Lumen Field is located in Seattle's industrial SoDo neighborhood, just over a mile from downtown Seattle. Known for its breathtaking views of Seattle and the Puget Sound, it has a reputation for being a true locals' stadium with terrific local food and beverage options and easily accessible by several freeways and public transportation. And be sure to make time to explore the Lumen Link Field's public art program, a collection of works from artists all over the country valued at upwards of $1.75 million. Pieces include an installation on the stadium's north tower – a series of painted steel discs depicting man's deep connection to the earth.
Lumen Field's address is 800 Occidental Ave S, Seattle, WA 98134.
What events are coming up at Lumen Field?
See upcoming events and buy tickets for Lumen Field right here on Ticketmaster.
Lumen Field History
Lumen Field is a multi-purpose stadium that's home to the NFL's Seattle Seahawks, XFL minor league football team Seattle Sea Dragons, the Seattle Sounders FC of Major League Soccer, and National Women's Soccer League's OL Reign.
When it originally opened in 2002, it was known as Seahawks Stadium, but was renamed Qwest Field in June 2004 when the telecommunications company acquired the naming rights. Later known as CenturyLink Field after Qwest was acquired by CenturyLink, it was nicknamed "The Clink." It became known as Lumen Field in November 2020 when CenturyLink rebranded to Lumen Technologies.
In addition to hosting NFL and other football games, it also hosts MLS matches, trade shows, and an array of concerts from major talents including Beyoncé, Metallica, Taylor Swift, Katy Perry, The Weeknd and more.
In 1996, late Microsoft cofounder and philanthropist Paul G. Allen purchased the Seattle Seahawks and launched a successful campaign to win public support for a new world-class football/soccer stadium and exhibition center. His dream came true when the stadium opened in 2002. Allen was actively involved in the design of the stadium and emphasized the importance of an open-air venue that still felt intimate.
The stadium was the first NFL venue to install a FieldTurf artificial surface. The Lumen Field stadium complex also includes the Lumen Field Event Center and WAMU Theater, which makes it one of the busiest venues in the Pacific Northwest. There's a distinctive 13-story tower at the north end of the stadium that features a vertically oriented scoreboard — the first of its kind in the NFL.
Lumen Field's intimidation factor cannot be denied. With the help of the 12s, the stadium continues to set records for false start penalties by an opposing team and once held the world record for the loudest crowd roar at a sports stadium. In 2013, a cheering crowd of Seahawks fans peaked at 137.6 decibels, which is equivalent to the sound of a jet engine preparing for takeoff.
To celebrate their diehard fans, the Seahawks retired the number '12' jersey in 1984. In 2003, the team started the tradition of raising the '12' flag at Lumen Field before every home game as a call to fans to bring the noise and defend their home turf. To be asked to raise the '12' flag is considered an honor and is usually reserved for owner Paul Allen, former players, and select Seattle celebrities.
View this post on Instagram
Parking and Admission at Lumen Field
If you're making your way to Lumen Field, consider packing earplugs. Seattle fans are among the loudest and most passionate in the NFL, originally earning them the nickname "the 12th Man" (now shortened to "12s") for the decisive edge they bring to every home game. Although the stadium is technically one of the smallest in the league, the 'Hawks make up for it with a field that was designed to be loud. Its clamshell roofs, built from 5,700 tons of steel, are designed to trap noise inside the stadium, making it incredibly loud when the opposing offense is on the field.
There are two official parking lots connected to Lumen Field. Lumen Field Parking Garage is located south of the stadium and is attached to the Lumen Field Event Center. The North Lot Parking is located north of the stadium. The lots open at 6 a.m. on event days and close approximately two hours after the event ends. Parking fees vary depending on the event.
There's also an array of public transportation options that serve the stadium, including Link Light Rail, King County Metro, the Sounder train and more. Fans are encouraged to take public transportation to avoid traffic delays.
Bags that are clear plastic, vinyl or PVC and don't exceed 12″ x 6″ x 12″ will be allowed into the stadium as well as one-gallon clear plastic freezer bags and clear backpacks within those dimensions and no more than two pockets. Small clutch bags no larger than 4.5″ x 6.5″ may be carried into the stadium along with one of the clear bag options.
Any bags larger than 12″ x 6″ x 12″, diaper bags, fanny packs and computer bags will not be permitted inside the stadium. Outside food may be brought into the stadium but must be inside a bag that meets the allowable criteria.
Lumen Field Capacity & Seating Options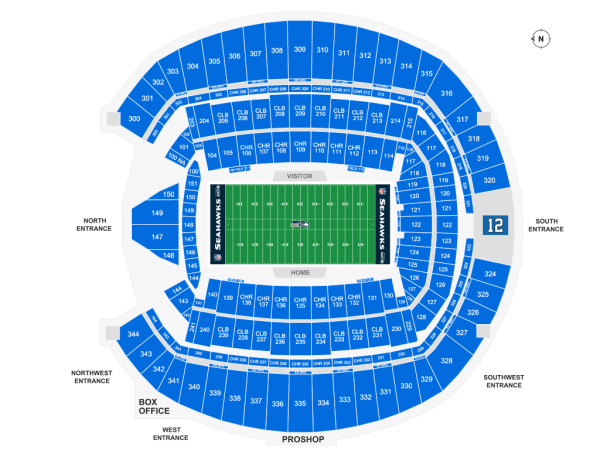 With a capacity of 68,740 and views of downtown Seattle and the Puget Sound, Lumen Field is one of the most exciting sports venues for seeing a game or a concert. Shaped like a U, at the base of the stadium is bleacher seating for 3,000 called the "Hawks' Nest." There are also field-level luxury suites located directly behind the north end zone, which is the first of its kind in an NFL stadium. There are 68,000 fixed seats throughout the stadium, approximately 1,400 seats for people with disabilities and their companions, and 70 percent of the stadium's seats are protected by a roof. Lumen Field also has 127 luxury suites on three levels including the Suite Level, Club Level and Red Zone.
What are the best seats at Lumen Field?
The best seats at Lumen Field vary depending on the event and personal preferences. Check out Lumen Field seating charts and find your favorite seat today.
Food & Beverage Options at Lumen Field
View this post on Instagram

Lumen Field has some of the most diverse and interesting eateries of any NFL stadium. With a mission to foster community connection by teaming up with local restaurants, more than 25 of the restaurants featured at Lumen Field in 2023 are located within five miles of the stadium in surrounding neighborhoods including the Chinatown/International District, Pioneer Square and SoDo.
Food options include Maria Luisa Empanadas, chicken or tofu bahn mi sandwiches at Saigon Drip Cafe, the Hall of Fame Hot Chicken Sandwich at Big Walt's Kitchen inspired by Seahawks legend Walter Jones, vegan nachos, vegan mac and cheese and vegan curry at Cook T's Kitchen, fish 'n chips and clam chowder at Ivar's, and much m ore. You'll also find craft beer and wine at Craft House and Starbucks coffee served throughout the stadium. Please note that Lumen Field is a cashless venue and vendors only accept credit cards and contactless payment.