Step Inside: Wrigley Field – Home of the Chicago Cubs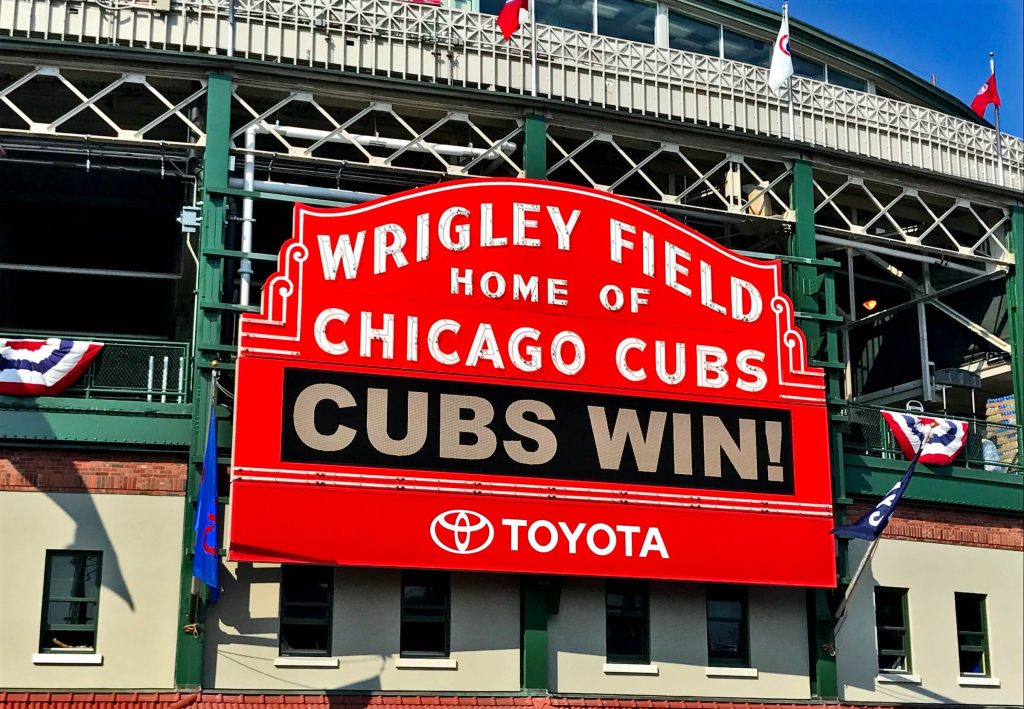 Stadium History | Parking & Admission | Seating & Capacity | Food & Concessions
Home of the Chicago Cubs, Wrigley Field is located on the north side of Chicago in a residential neighborhood. It's just over a mile from Lake Michigan shore. Built in 1914, Wrigley Field is the second oldest MLB park. The stadium is one of the best preserved time capsules across the history of baseball. Wrigley Field stands out with its outfield wall covered in Boston Ivy, the red marquee at the entrance gates, and its hand-turned score board.
What events are coming up at Wrigley Field?
See upcoming events and buy tickets for Wrigley Field right here on Ticketmaster.
Wrigley Field History
Wrigley Field, nicknamed "The Friendly Confines," was built in 1914 and is the second oldest MLB stadium behind Fenway Park. In 2020, the park was designated a National Historic Landmark. Fans who attend Wrigley Park don't just experience the delights and excitement of a ballgame. They also get to relive some of baseball's most nostalgic traditions. Some of these include hearing live organ music and singing "Take Me Out to the Ballgame" in the middle of the seventh inning.
Baseball history and heritage is woven into the stadium itself. The ivy on Wrigley Field's outfield wall makes Wrigley the only MLB field without padded walls. As the seasons change, the tough Boston Ivy changes from bare vines to green leaves that turn red in the fall. On Sheffield Avenue, chalk messages from fans fill the brick walls dated as early as the 1920s. Wrigley Field's jewel box park design dates back to baseball's early 1900s era. The stadium's character is only added to by Chicago's gusts of wind strong enough to knock singles and home runs alike off course.
In addition to being the home of the Chicago Cubs, Wrigley Field has hosted football, soccer and hockey games. The stadium has also served as the venue for concerts by musicians including Elton John, Billy Joel and Paul McCartney.

Parking and Admission at Wrigley Field
Wrigley Field has limited parking near the field that can be reserved in advance. Fans can also reserve private parking in the neighborhood through SpotHero.  While it varies, parking at Wrigley Field typically costs $45 to $60 for game days and concerts. Prices can fluctuate significantly depending on the season, event and proximity to the stadium.
When possible, the Cubs encourage fans to use public transportation. There are several public transit options available to fans. These include Chicago Transit Authority (CTA) trains and buses, Metra Trains and Pace shuttle buses. For night and weekend games, the Cubs offer free remote parking at 3900 N. Rockwell Street, along with a free shuttle to the field.
For patrons with disabilities, the stadium provides accessible parking in the Toyota Camry lot. To ensure availability, accessible parking spots need to be reserved in advance. The stadium provides a golf cart shuttle from the Toyota Camry lot to the field, which is 2.5 blocks away. The golf cart shuttle can accommodate patrons who are traveling with portable wheelchairs and foldable walkers.
Wrigley Field policy allows for patrons to bring bags that are 16″ X 16″ X 8″ or smaller. Hard-sided coolers are not allowed.
Wrigley Field Capacity and Seating Options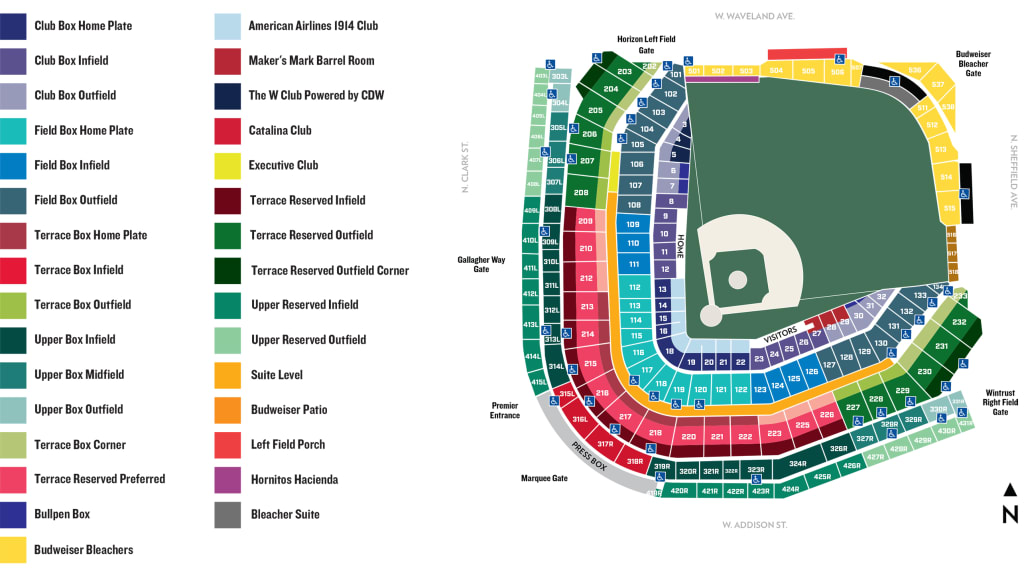 Wrigley Field seating capacity is 41,649. The field offers three core seating levels: lower level, upper level and the outfield bleachers. The lower level includes club box and field box seats, the Budweiser bleachers and the terrace seats. The upper level consists of reserved seats, upper deck box seats and several private club and luxury suite options.
For VIP seating at Wrigley Field, the stadium offers a variety of unique and luxury experiences. Private clubs at Wrigley Field, such as the American Airlines 1914 club, come with features such as padded seating, private entrance, private restrooms, early access, and club-specific benefits.
Other Wrigley Field VIP options include areas such as the Fannie May Bleacher Sweet, the Budweiser Patio and the stadium's luxury suites. These areas allow for group reservations. Luxury suites have a 15 to 55 guest capacity at Wrigley Field. They also provide furnished and climate-controlled indoor areas, a limited number of parking passes, HD televisions, catered food and beverage packages, and other benefits.
What are the best seats at Wrigley Field?
The best seats at Wrigley Field vary depending on the event and personal preferences. Check out Wrigley Field seating charts and find your favorite seat today.
Food and Beverage Options at Wrigley Field
View this post on Instagram

Wrigley Field vendors provide an impressive variety of Chicago classics. Some of these include hot dogs, pizzas and sandwiches. Hot dogs at Wrigley Field range from nostalgic smokies to fully dressed Chicago dogs to the all-natural bison frank from High Plains Bison. For pizza and sandwiches, the stadium has partnered with vendors like Home Run Inn Pizza, Chick-Ago Sandwich, Big W Burger, and Grown-Up Grilled Cheese. Other fan-favorites include Italian beef nachos, soft pretzels and garlic fries. For fans ready to satisfy a sweet tooth, Wrigley Field offers confections like Prairie City Cookies, Edy's Ice Cream and Garrett's gourmet popcorn.
Wrigley Field also provides gluten-free, kosher and vegan options. Some of these include gluten-free dogs and burgers, gluten-free Redbridge beer, the all-kosher DanZtand, vegan sloppy jane sandwiches, Impossible burgers at Big W Burger, Beyond sausage, and Oatly's ice cream.
Beverages at Wrigley Field include popular drinks like Jack Daniel's, ginger ale, sparkling wines, frozen margaritas, and local brews. For locally sourced beverages, fans can choose from a variety of Goose Island ales and brews. Some of the stadium's specialty drinks include the rum-based Bob Chinn's Mai Tai, Barefoot Pinot Grigio and the Chicago Dog Bloody Mary. And as an MLB first, Wrigley Field is selling CBD beverages from local Chicago-based company MYND DRINKS.
You Might Like
It's the hunt for October! Learn about the MLB playoff structure and how the seeding system works as teams compete for the Major League Baseball World Series.
If you're looking to travel outside of your hometown for a game, we've compiled a list of the best MLB stadiums to help you plan accordingly. Check out our t...
Baseball has always been a sport rich in tradition and history, and one of the most fascinating aspects of the game is the intense rivalries that have develo...