Wrigley Field: History and Facts of an Iconic Chicago Venue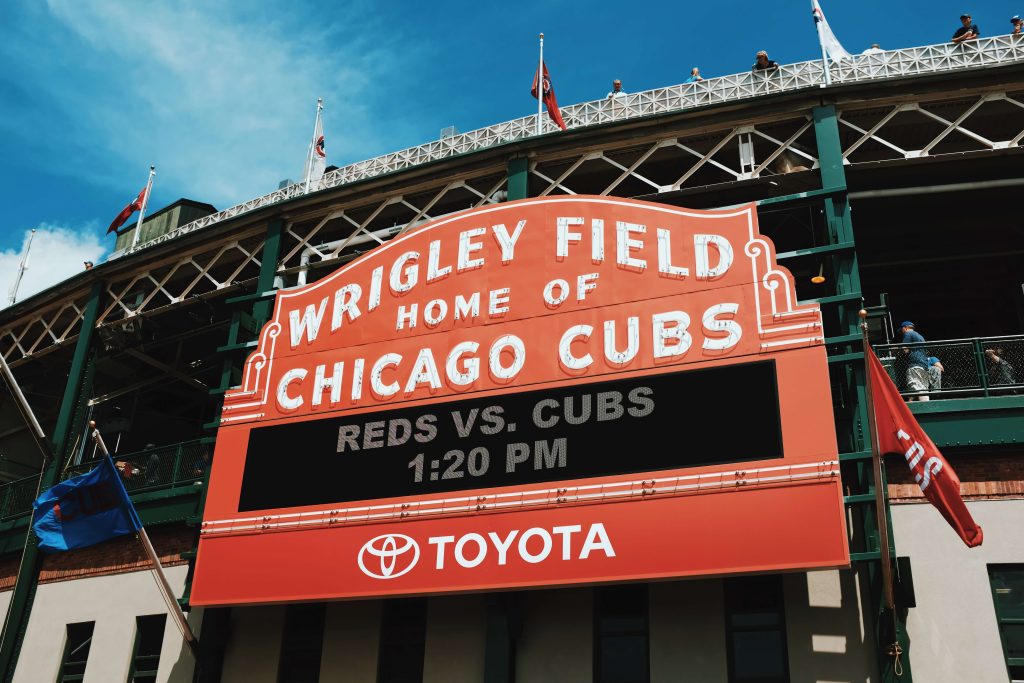 Home to the Chicago Cubs, Wrigley Field is a Major League Baseball stadium located on Chicago's North Side.
Wrigley Field Quick Facts
Wrigley Field is the oldest ballpark in the United States that's home to a National League team.
The Chicago Bears called Wrigley Field home from 1921 to 1970.
Wrigley Field was the last major league ballpark to have lights installed for playing after dark in 1988.
The scoreboard and Wrigley Field dates back to 1937 and continues to be manually operated by hand.
Wrigley Field used to be named Weeghman Park.
On April 26, 1941, Wrigley Field became the first majorleague ballpark to introduce live organ music.
The Cubs played their first home game at Wrigley Park on April 20, 1916, defeating the Cincinnati Reds 7–6 in 11 innings.
Wrigley Field became an official national landmark in 2020.
Several movies have been shot at Wrigley Field, including Ferris Bueller's Day Off, The Blues Brothers and The Break-Up.
In 1982, radio and TV broadcaster Harry Caray became the announcer for the Cubs and started a tradition of singing "Take Me Out To The Ballgame" in the middle of the seventh inning. After Caray's death in 1998, it became a tradition for guest conductors to sing "Take Me Out To The Ballgame." Everyone from former baseball players, other sports stars, actors, to other celebrities have been invited to sing during the Seventh Inning Stretch. Some of the best-known guests have included Bill Murray, former Bears coach Mike Ditka, former Cubs second baseman Ryne Sandberg, former pitcher Mike Krukow, former Cubs first baseman Mark Grace, former Houston Rockets player Tracy McGrady, Chicago Blackhawks® forwards Jonathan Toews and Patrick Kane, Chicago Bears quarterback Jay Cutler, Jay Leno, NASCAR's Jeff Gordon, Ozzy Osbourne and Eddie Vedder, former Chicago lead singer Peter Cetera, Mr. T, Gary Sinise, Tom Arnold, James Belushi, WWE wrestler/Chicago native CM Punk, Vince Vaughn, Melissa McCarthy, and Brett Eldredge.
How Old Is Wrigley Field?
Wrigley Field first opened in 1914 and celebrated its centennial celebration in 2014.
What Is Wrigley Field Named After?
Upon opening in 1914, Wrigley Field was called Weeghman Park after Charles Weeghman's Chicago Whales, which folded after the 1915 baseball season. After chewing gum magnate William Wrigley Jr. (of the Wrigley Company) bought the Cubs in 1921, the venue's name  changed to "Cubs Park" from 1920 to 1926. In 1927, it was renamed Wrigley Field.
What Is Wrigley Field Known For?
The Ivy Wall
Inside Wrigley Field, ivy lines the outfield wall. No other major-league field has this feature. The bleacher seats behind the wall are said to be a great place to watch the game, and baseballs have gone missing within the ivy. Players have also injured themselves smashing into the ivy, as all that lies behind it is a brick wall.
The Wrigley Field Marquee Sign
Positioned over the main entrance outside the park, the marquee sign is the first thing you'll see heading in. It bears the words "Wrigley Field Home Of Chicago Cubs" and "Cubs Win."
The Wrigley Field Rooftops
On 16 surrounding buildings, there are rooftop bleachers surrounding the park along the outfield wall on Waveland and Sheffield avenues. Cubs owner Thomas Ricketts owns 10 of the 16 rooftops.
Hand-Turned Scoreboard
Installed in 1937, the field's scoreboard is famously hand-turned and has only seen minor technical and cosmetic modifications in the many decades since.
Writing On The Wall
During the 2016 postseason, a fan wrote a message in chalk on the outer brick wall of Wrigley Field along Waveland and Sheffield Avenues. This created a domino effect; additional fans began to scrawl their own chalk messages on the wall. After a while, chalk messages took over so much of the wall that fans had to get step ladders to write their own messages. The Cubs encouraged this activity, even supplying chalk and adding security for the wall.
Win Flags
Beginning in 1937, after every Cubs game, Wrigley Field would fly a flag bearing a "W" or an "L," indicating how the day's game went. The flags were replaced in the early 1980s, and fans are known to bring win flags with them to home and away games. The ballpark also sells flags to fans. Since 2015, the park has added Daktronics video screens, which display a large "W" in the "Wintrust" logo on the left field video screen in the event of a Cubs win.
Historic Sports Highlights at Wrigley Field
On April 20, 1916, Wrigley Field held its first Cubs game.
On May 12, 1970, Ernie "Mr. Cub" Banks hit his 500th home run at Wrigley Field, the ninth player in history to do so.
After Wrigley Field installed lights, the Cubs hosted their first night game against the Phillies on August 8, 1988.
On May 6, 1998, future Rookie Of The Year and Cubs pitcher Kerry Wood tied a Major League Baseball record with 20 strikeouts in a nine-inning game.
Famous Musical Moments at Wrigley Field
Wrigley Field hosted its first concert in 2005, with Jimmy Buffet's A Salty Piece Of Land Tour. Since then, the following bands have performed at the park: The Police; Elton John and Billy Joel; Rascal Flatts with Dierks Bentley and Darius Rucker; Dave Matthews Band with Jason Mraz; Paul McCartney; Brad Paisley with Miranda Lambert, Chris Young, The Band Perry, and Jerrod Niemann; Bruce Springsteen and The E Street Band; Pearl Jam; Jason Aldean; Blake Shelton; Zac Brown Band; Foo Fighters; AC/DC; Phish; James Taylor; Luke Bryan; Tom Petty & The Heartbreakers; Dead & Company; Florida Georgia Line; Lady Gaga; Def Leppard; Journey; The Pretenders; Fall Out Boy; Green Day; Weezer; and Guns N' Roses, among others.
You Might Like
Stadium History | Parking & Admission | Seating & Capacity | Food & Concessions Venue Quick Facts Venue Name Oracle Park Location San Francisco, ...
Stadium History | Parking & Admission | Seating & Capacity | Food & Concessions Venue Quick Facts Venue Name Dodger Stadium Location Los Angeles,...
Step inside Citi Field, home of the New York Mets, and learn more about this New York City staple for sports and entertainment.