Step Inside: Toyota Center – Home of the Houston Rockets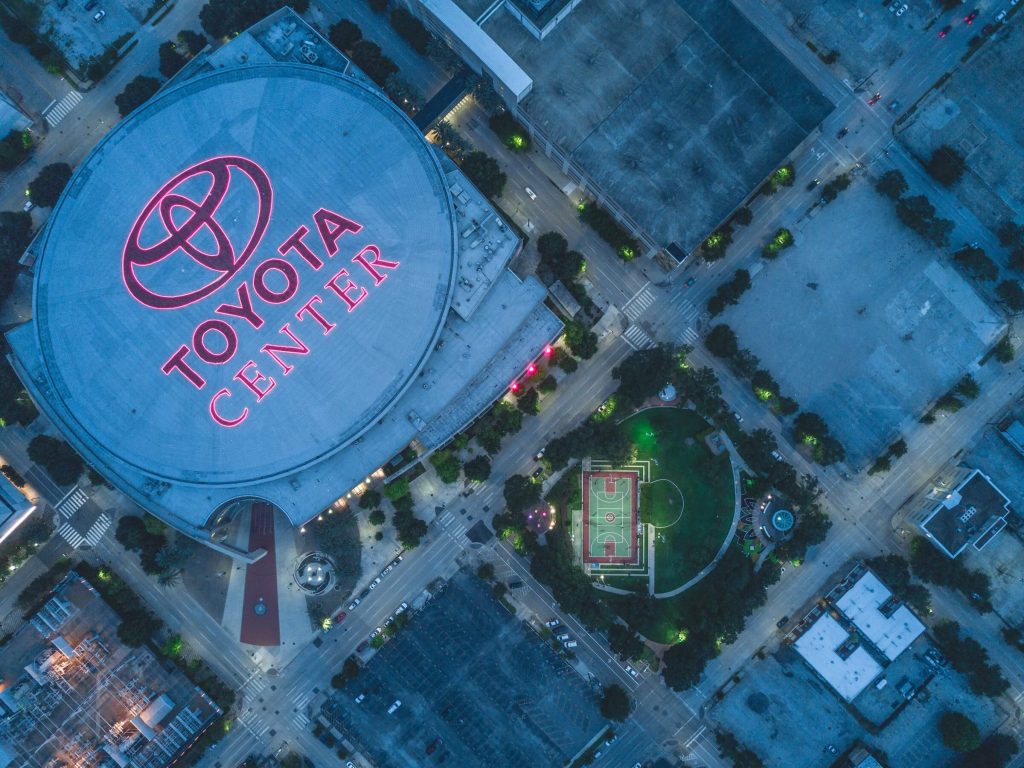 Stadium History | Parking & Admission | Seating & Capacity | Food & Concessions
Right in the heart of downtown Houston, Texas, lies the extravagant Toyota Center. Home to the NBA's Houston Rockets, this venue is one of the top cultural hubs in Houston, hosting millions of guests each year for a number of different sporting events, concerts and specialty shows.
Toyota Center History
Toyota Center opened in October of 2003 with an exhilarating performance by Fleetwood Mac. Since the debut performance, this spectacular venue has not only hosted Houston Rockets home games, but also the top concerts, sporting events and shows in the world, including Bon Jovi, Taylor Swift, the Rolling Stones, Bruno Mars, Red Hot Chili Peppers, Britney Spears, WWE events, multiple UFC showcases, the 2006 and 2013 NBA All-Star Games, and the 2008 Latin Grammy Awards.
With a total construction cost of $235 million, this venue features large windows, 450 flat-screen TVs and extremely comfortable seats. With a playing surface 32 feet below street level, Toyota Center has the largest lower-level bowl of any stadium in the country. Toyota Center became the first professional sports arena in Texas to earn the Silver Certification for Leadership in Energy and Environmental Design in 2010 and has partnered with the Houston Clean Initiative to ensure a healthy and safe experience for all guests. Toyota Center hosted more than 1.5 million guests during its first year and has been the home to millions more over 20+ years of operation.
Parking and Admission at Toyota Center
Parking is extremely easy at Toyota Center thanks to the on-site 2,500-space, seven-story Toyota Tundra Garage. This garage also features a private sky bridge entrance for VIP ticket holders. There are more than 10,000 parking spots within walking distance of Toyota Center. Parking at Toyota Center can range anywhere from $15-$100 depending on the spot and event.
Toyota Center asks fans to not bring bags to the venue. However, they allow bags smaller than 14″ x 14″ x 6″ but those bags will have to go through an extra screening process and can result in a longer wait. Diaper bags and medical bags are allowed and are also subject to additional screening.
For weekday Rockets games, doors open 60 minutes before tip off and 90 minutes for weekend games. For all other events, gates open 60 minutes before the start of the event.
Fans are prohibited from bringing items including, but not limited to, outside food or drinks, professional camera equipment, laptops, projectiles, weapons of any kind, basketballs, baby seats and carriers, noisemakers, selfie sticks, GoPros, coolers, glitter, personalized motorized transporters (hoverboards), or inflatables. Banners and signs are allowed if they are no larger than three feet in height.
Toyota Center Capacity & Seating Options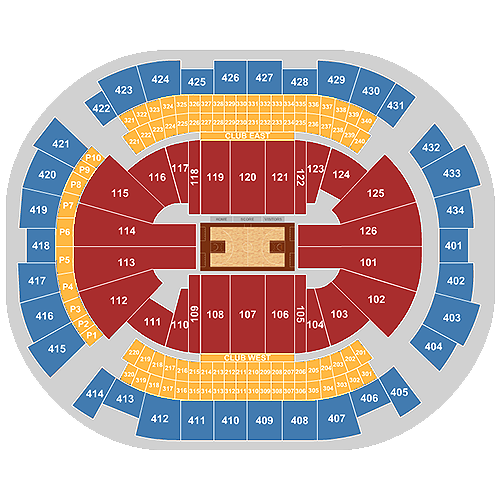 Toyota Center has a capacity of 18,300 for basketball games and up to 19,000 for concerts and other events. With thousands of general seating options, Toyota Center also features a number of high-end luxury suites, lounges and clubs.
The Sire Spirits Social Club is a brand-new club on the lower level and features hardwood floors, a beautiful display kitchen and excellent views to all the live event action. Open during Houston Rockets games, guests can enjoy a "Chef's Table" buffet, premium drink options and an elevated lounge experience. The Sire Spirits Social Club opens 90 minutes before tip off and closes at the beginning of the third quarter.
Club Seats are also available for fans who want to experience the game in luxury. Featuring 2,900 extra-wide and comfortable seats along the basketball baseline, these seats include premium drinks and food options, VIP parking and private sky bridge access, extra wide seats with plenty of legroom, as well as access to Frost East Club, Frost West Club and Red and White Wine Bistro.
The Lexus Lounge is an exclusive club underneath the West lower bowl. This lounge features 14 Courtside Suites that offer premium entertainment and hospitality services. Other suite options include the Executive Suites for 15 guests, Party Suites for 40 guests, Loft Suites for 35 guests, and the Sky Box for 100 guests. All suites come with multiple VIP parking passes, exclusive food and beverage options, excellent views of events, and a private Toyota Center experience.
Food & Beverage Options at Toyota Center
View this post on Instagram

Toyota Center offers an excellent variety of food and beverage options throughout the venue. Notable food options include Pizza Hut, Big Dawgs, Fork and Knife Dog, Cadillac Nachos, Bill's Burger, Courtside Creamery, and Dippin' Dots Ice Cream. With domestic beers available at most concessions, imported and premium drink options can be found at the Corona Beach House Bar and Patio located behind section 113 and is open for all guests at the stadium. Guests who have access to premium seating can find the Jack Daniel's Bar located underneath section 116.