Step Inside: State Farm Arena – Home of the Atlanta Hawks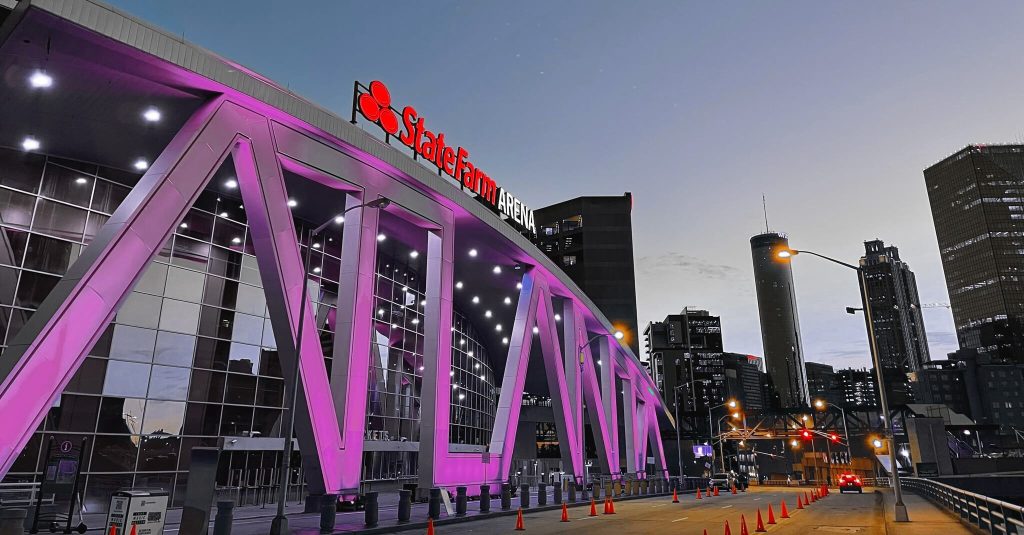 Stadium History | Parking & Admission | Seating & Capacity | Food & Concessions
Located in the heart of downtown Atlanta, the State Farm Arena is an extravagant venue to view sports, concerts and other live events. This newly renovated, 680,000-square-foot indoor stadium has features such as superb sightlines, luxury suites and Topgolf simulators. As one of the most environmentally sustainable stadiums in the country, the State Farm Arena is the perfect location for fans of all natures.
What events are coming up at State Farm Arena?
See upcoming events and buy tickets for State Farm Arena right here on Ticketmaster.

State Farm Arena History
The State Farm Arena in Atlanta, Georgia, is home to the NBA's Atlanta Hawks, as well as the former home of the NHL®'s Atlanta Thrashers and the WNBA's Atlanta Dream. This beautiful coliseum also hosts events such as concerts, MMA fights, WWE matches, and other speciality events. Originally built as the Phillips Arena in 1999, it was renamed the State Farm Arena after the 2017/2018 $192.5 million renovation. Nicknamed the "Highlight Factory," this Atlanta venue features state-of-the-art technology, including free high-speed WiFi, a 360-degree, 4,477-square-foot center-hung scoreboard that measures 80 feet around and 27 feet high, a massive amount of LED TVs, and a superb audio experience.
Throughout its lifetime, the State Farm Arena has hosted a number of UFC events, WWE 's Royal Rumble and Survivor Series, the 2003 Men's NBA All-Star Game, the 2004 NHL® All-Star Game, the 2013 Men's NCAA Division II and Division III National Championship games, as well concerts by iconic artists such as Elton John, Bon Jovi, Pink, and Lady Gaga.
The State Farm Arena proudly boasts their sustainability practices, receiving a TRUE Platinum Certification from the Green Business Certification, Inc. They also received the LEED Gold Certification in 2009. These certifications mean 90% of all disposed material during sporting or live events must be diverted from the landfills. In 2022, the State Farm Arena continued to prove its superior sustainability practices by hosting Billie Eilish for the first "Zero Waste" sold-out event.
Parking and Admission at State Farm Arena
It is always better to plan ahead when parking at the State Farm Arena. This venue recommends using ParkMobile before heading to any event to avoid premium fees and chaotic traffic. If ordering online is not a possibility, guests may choose from one of the eight parking lots surrounding the venue, including the CNN Deck, Sapphire Deck, State Farm Deck, Lot B, Diamond Deck, 101 Marietta Deck, Red Deck, and the Ruby Lot.
Admission is an easy and straightforward process. All guests older than 2 years old must have a ticket. Children under the age of 2 may enter the arena with a parent/guardian without a ticket and must sit on the lap of their parent/guardian. All bags larger than 14″ x 14″ x 6″ are prohibited from entering the arena. This includes briefcases, purses, luggage, and diaper bags. Backpacks of any kind are not allowed in the arena. Guests with large bags may check their bag at the bag check located by Gate 2. Banners and signs are allowed as long as they are smaller than 11″ x 17″ and do not obstruct the view of guests or advertisements. Other prohibited items include cameras with detachable lenses, weapons, aerosol cans, hard-sided bags, noise makers, vapes, laser pointers, selfie-sticks, monopod/tripods, drones, and clothing with explicit language or profanity.
State Farm Arena Capacity & Seating Options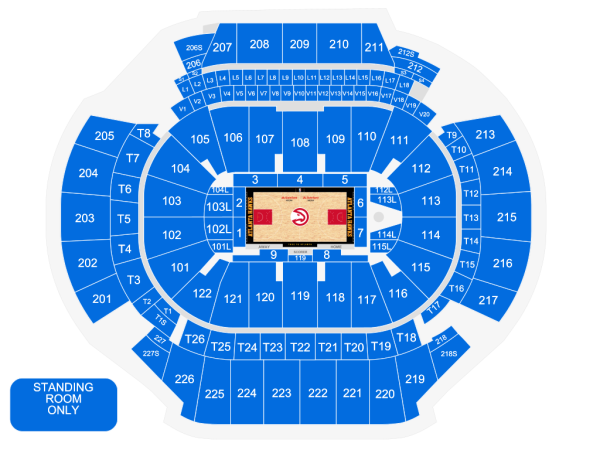 With thousands of general seating options and a capacity of 16,888 for basketball games and 15,590-plus for concerts, there is a perfect seat for all guests. VIP seating is a terrific option for fans who want a luxury experience. The options for VIP clubs and suites at the State Farm Arena are the Atlanta Social, Concert Club, Delta SKY360° Club, Harrah's Cherokee Casinos Club, Players Club, Loft Suites, and Veranda Suites. Right for every occasion, these suites and clubs offer high-end dining and drink options, amazing views and an overall premium experience. The State Farm Arena also offers Topgolf Swing Suites, which allows guests to participate in a Topgolf simulator before, during and after the event, all while experiencing the luxury of a suite.
What are the best seats at State Farm Arena?
The best seats at State Farm Arena vary depending on the event and personal preferences. Check out State Farm Arena seating charts and find your favorite seat today.
Food & Beverage Options at State Farm Arena
Being located in Atlanta, the State Farm Arena knows the importance of good food and beverage options. With all food overseen by the award-winning executive chef, Joe Schafer, the food options vary from hometown favorites to reimagined menus. As an NBA first, the State Farm Arena offers excellent value for their food, featuring $1 chips, $3.50 hot dogs and nachos, $5 bottomless popcorn, and $6 beer. Some standout restaurants and bars within the State Farm Arena include the Hawk Walk Market, Front Porch, A-Town Eats, Bryan Furman BBQ, Chick-fil-A, J.R. Crickets, Old Lady Gang, and Blaze Steak & Seafood. Premium seating also offers a wide variety of fine-dining food and drink choices.