Fan Guide for Taking Babies & Little Ones to Their First NBA Game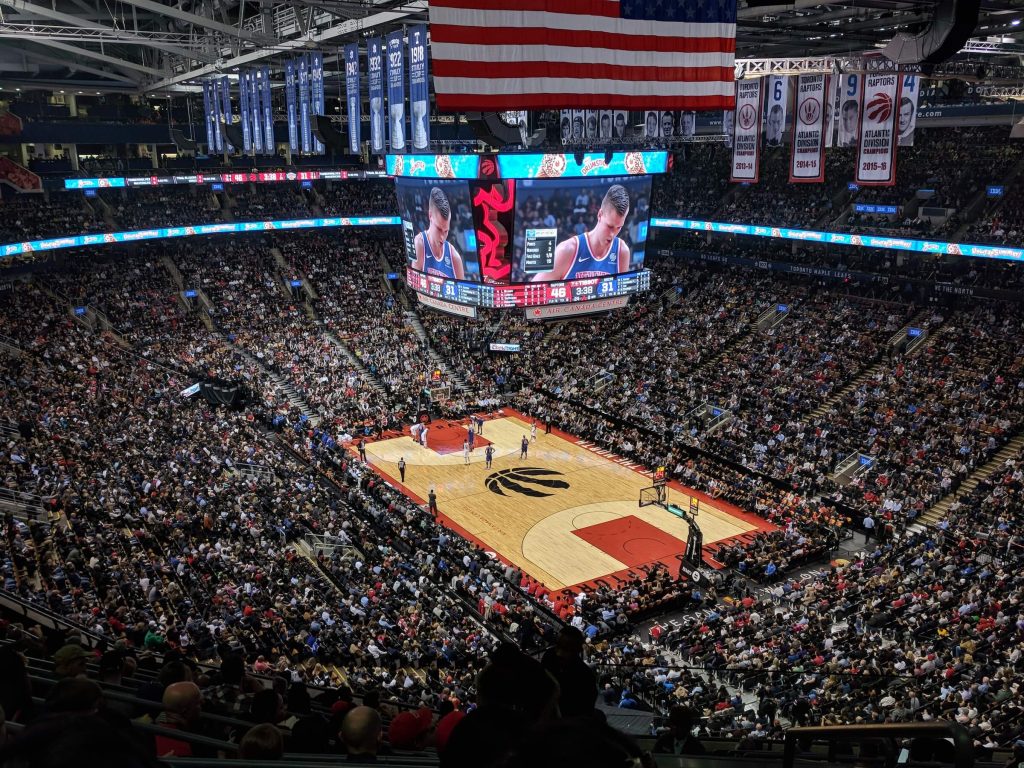 What to Pack | Getting to the Arena | Entering & Admission | During the Game | Getting Home
While the idea of taking your baby or kiddos to an NBA game might seem a bit daunting, it doesn't have to be. With a little bit of pre-game planning, preparation and some creativity, it can be hassle-free and your child can last from tip off until the final buzzer sounds and have a great time in the process.
What to Pack
As any parent knows, making sure kids are fed, comfortable and engaged is the key to any successful outing, and basketball games are no exception.
Snacks
Many sports arenas allow you to bring snacks to a game, but policies vary depending on the location. Bag policies also vary from venue to venue, so make sure to check the website of the arena you're attending before game day so you can come prepared.
While it's often fun for kids (and adults!) to buy food from concession stands, it's also good to have some healthy snacks at the ready to avoid sugar highs and subsequent crashes or hangry mood swings.
Ear Protection
Kids' ears are more sensitive than adults', so make sure to bring ear protection such as earplugs or noise-canceling headphones for your little one to avoid damaging their ears or overstimulation.
Entertainment
Depending on how little your kiddo is, the action on the court might not be as exciting for them as it is for you. Keeping this in mind, pack two or three of their favorite toys to keep them occupied and engaged during the game.
Getting to the Arena
Public Transportation
Taking public transportation to a game can be an eco-friendly and fun way for the whole family to travel, but it may not make sense if it's raining or an incredibly hot day, or if the arena isn't easily serviced by your local line.
By Car
If you're driving, doing a little bit of advanced research into the parking situation can go a long way. Some stadiums have their own parking lots and structures, while others have parking on the streets surrounding them. Look at a map to get a sense of the neighborhood and how far you'll need to walk with your little one. This will help ensure that it's a reasonable distance, safe, and will allow you to determine whether it'll be necessary to grab a stroller. Also, some parking lots only take cash, so you'll want to have enough cash on hand when the time comes to avoid any annoying last-minute ATM runs.
If you're feeling adventurous, try out an e-parking app and make reservations in advance of the game. This allows you to secure a guaranteed parking spot before arrival and to pay with a credit card instead of cash.
Entering & Admission
NBA Child Ticket Policy
Families often wonder whether they'll need to buy a ticket or if there's an age limit for their child to attend a game. Every NBA team and venue sets its own policies, so you'll want to check out the rules for the venue you'll be attending. Several teams and venues don't require a ticket for children under two years of age as long as they sit on their guardian's lap, and others have maximum height limits to qualify. We've compiled each NBA team's child ticket policy below for easy reference.
During the Game
If you've ever been to any type of sporting event where you didn't know the rules of the game or the names of any of the players, you know how hard it can be to care about the game or feel invested in the outcome. Kids feel the same way. If they don't already know them, explain the rules of basketball to your kiddo — perhaps in advance of the game so as not to disturb your neighbor — and use the team roster to pick out four or five of your favorite players to cheer on from your seat.
Before you buy NBA tickets, find out how important it is for them to be seated close to the court. Some will just enjoy soaking up the atmosphere of the game and the arena, so it may not matter to them as much where they sit during the game.
You may want to pick up a souvenir or two to help them remember the game long after it's over, but make sure it's something they'll want to use again that won't just get buried in a closet. Several NBA teams offer Kids Club memberships, which are usually free and include access to special and discounted souvenirs, free prizes, competitions, and a newsletter to keep up-to-date on your favorite teams.
Take Breaks
It's not easy for kids to sit still for the duration of an entire game, and nature will inevitably call, so be sure to plan breaks wisely and perhaps try to time them to avoid the half-time crowds.
Getting Home
While it's tempting to rush out of the arena as soon as the final buzzer sounds, take your time to avoid the stress of navigating through intense crowds all leaving at once. Instead, relax, sit back, and check out what's happening on the court after the game — you'd be surprised at what you might see. Also, if they're old enough, take the opportunity to ask your kids to recount their favorite moments of the game and perhaps even suggest they reenact them. It will be as fun and memorable for you as it is for them!

You Might Like
Recently, the NBA made some changes to their playoff format to increase the excitement, and now 20 of the 30 franchises compete in postseason play. Learn more!
When Do the Boston Celtics and the Philadelphia 76ers Play Next? Philadelphia 76ers tickets and Boston Celtics tickets can be found on their respective team ...
Right in the heart of downtown Houston, Texas, lies the extravagant Toyota Center. Home to the NBA's Houston Rockets, this venue is one of the top cultural h...