Local Guide: The Best Concert Venues for Live Music in Atlanta, GA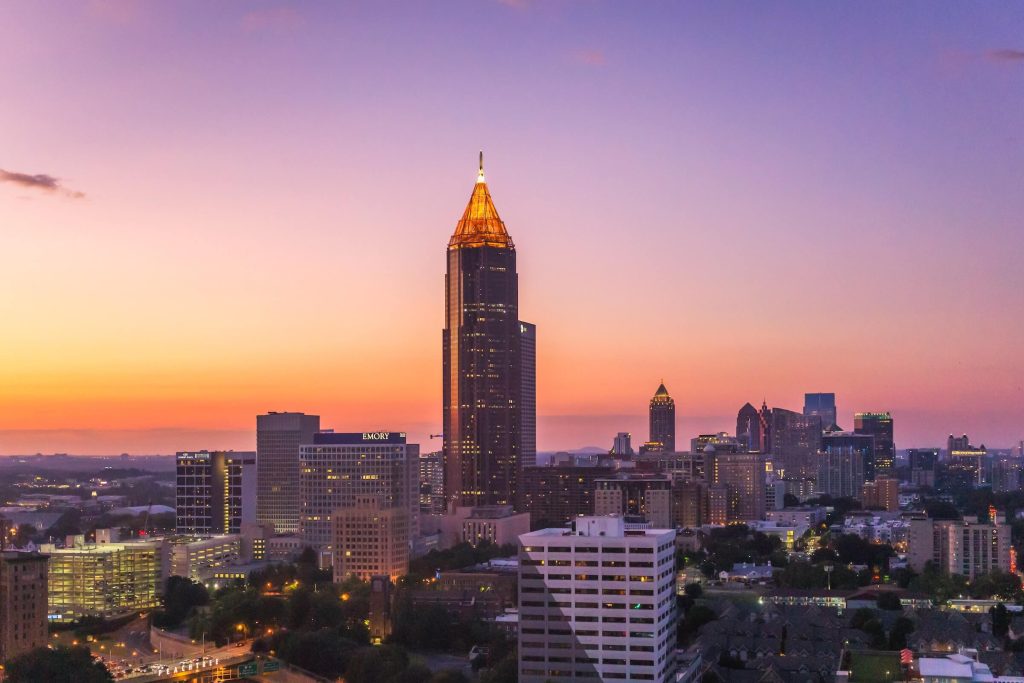 Coca-Cola Roxy | Tabernacle | Buckhead Theatre | Cadence Bank Amphitheater at Chastain Park | Center Stage Theater | The Masquerade
There's no shortage of incredible live concert venues in Atlanta. Whether it's a night out with friends or date night with your sweetie, you can choose from an array of state-of-the-art venues, many of which are housed in gorgeous historic buildings that play host to top acts in rock, pop, country, blues, rap, R&B, and electronic music — you name it.
Coca-Cola Roxy
View this post on Instagram

This two-story venue is located in The Battery Atlanta entertainment complex, which is also home to the Atlanta Braves. With its impressive chandeliers, a general admission floor and balcony seating, it's the perfect spot to watch your favorite artists in a comfortable setting with 3,600 of your closest friends. Maren Morris, Tim McGraw and Elvis Costello have all performed here and its concert calendar is packed with some of the biggest names in music. If you're hungry you can order from the bar or grab a bite at one of the many restaurants nearby.
Learn more:
Find tickets for Coca-Cola Roxy
Coca-Cola Roxy parking & bag policy
Tabernacle
View this post on Instagram

Originally a Baptist church when it first opened in 1911, someone had the good sense to turn this gorgeous building into a concert venue in 1996. Since then, the majestic brick building with stately columns that was originally a House of Blues has featured performances by some of the best in the business, including musicians Adele, James Brown, Prince, and Kendrick Lamar, as well as comedians Dave Chappelle, Bob Saget and Conan O'Brien. Located in downtown Atlanta's Centennial Olympic Park District, it's an ideal spot for music worshipers of all types to enjoy a show and a night on the town.
Learn more:
Tabernacle parking & bag policy
Buckhead Theatre
View this post on Instagram

This historic venue is located in a distinctive, Spanish-baroque style building in the heart of Buckhead in northern Atlanta. It's a favorite destination for locals to see concerts from a wide array of artists including Dua Lipa, Robyn and Spoon as well as Broadway plays and comedy shows. The building has changed names several times over the years; it was once known as the Capri Theatre, Buckhead Cinema & Drafthouse and the Roxy until it finally returned to its original name, the Buckhead Theatre. Don't let the retro appearance of the building fool you, the Buckhead Theatre offers a modern, state-of-the-art sound system and event-going experience.
Learn more:
Find tickets for Buckhead Theatre
Buckhead Theatre parking & bag policy
Cadence Bank Amphitheater at Chastain Park
View this post on Instagram

There's plenty to love about Atlanta's oldest outdoor music venue, not least of which is its illustrious history as a stage graced by countless legendary musicians over the years, including Bob Dylan, Santana, Al Green, and Aretha Franklin. You can pack a picnic under the stars or choose from several dining options — from burgers and deep-dish pizza to baby back ribs and seafood tacos — while catching a show. The venue is located in the Buckhead neighborhood of northern Atlanta, known for its upscale malls and art galleries. Formerly known as North Fulton Park Amphitheater, Delta Classic Chastain Park Amphitheater and State Bank Amphitheatre, one thing remains the same — this is one of the best outdoor venues for seeing live music in the Southeast.
Learn more:
Find tickets for Cadence Bank Amphitheatre at Chastain Park
Cadence Bank Amphitheatre parking & bag policy
Center Stage Theater
View this post on Instagram

Atlanta's beloved Center State Theater is actually three venues in one: Vinyl, with a capacity of of 300, making it the smallest in the complex; The Loft with a capacity of 650, and Center Stage, which is the largest of the three with a 1,050 capacity that has hosted notable acts including Lady Gaga, Katy Perry, Queens of the Stone Age, and Duran Duran. Built in 1966 as a memorial to Helen Lee Cartledge by her family after she and several other Atlanta arts patrons tragically died in a plane crash, the family continues to preserve the theater as a home to performing arts. Fun fact: Elton John recorded his 2006 album, The Captain & the Kid, in a studio at Center Stage.
Learn more:
Find tickets for Center Stage Theater
The Masquerade
View this post on Instagram

Boasting three separate indoor venues with capacities ranging from 300 to 1,500, The Masquerade has something for everyone. Creatively named Heaven, Hell and Purgatory, each stage has its own unique charms. Rock royalty from Radiohead and Nine Inch Nails to Foo Fighters and Soundgarden have performed here, as well as electronic, metal and punk acts. The Masquerade moved from Ponce de Leon Avenue to Kenny's Alley in Underground Atlanta, which is conveniently located near the State Capitol, Georgia State University and Centennial Olympic Park.
Learn more:
Find tickets for The Masquerade – Heaven
Find tickets for The Masquerade – Hell
You Might Like
Step inside Crypto.com Arena, home of the Los Angeles Lakers & LA Clippers, and learn more about this SoCal staple for sports and entertainment.
Step inside EverBank Stadium, home of the Jacksonville Jaguars, and learn more about this Florida staple for sports and entertainment.
Step inside Paycor Stadium, home of the Cincinnati Bengals, and learn more about this Ohio staple for sports and entertainment.