A Sports Fan's Guide to Chicago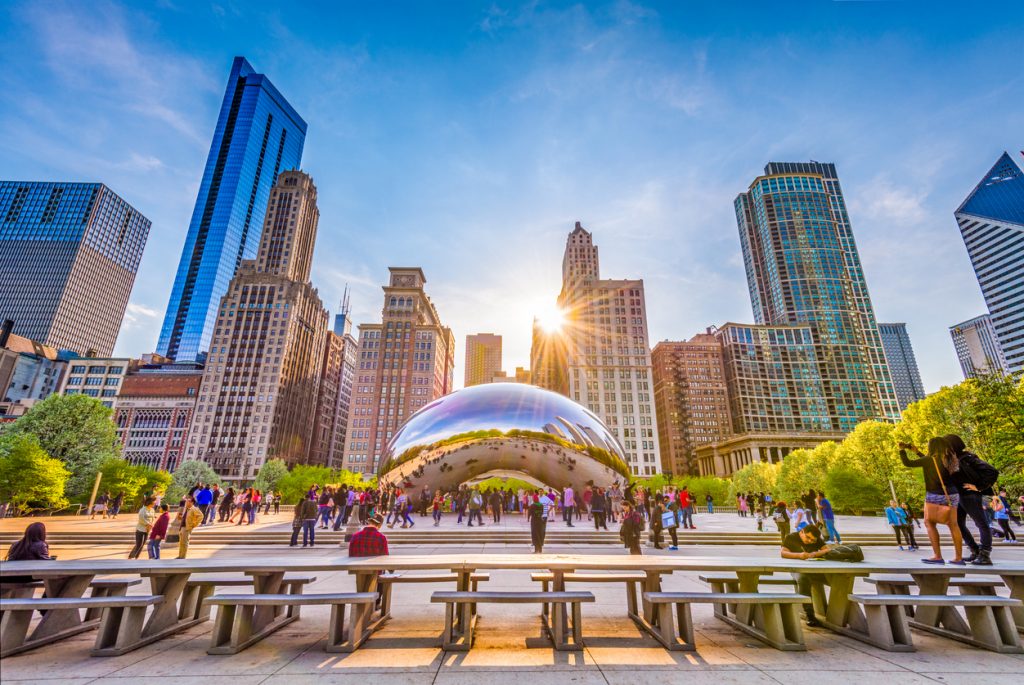 Chicago is many things: a Midwestern metropolis, a foodie's paradise, a music lover's destination and much more. But ask anyone in the city about the Bulls, Bears, Cubs, Blackhawks or White Sox, and one thing is crystal clear: Chicago is a sports town through and through, with ride-or-die fans for every team. Below, we've rounded up all the venues a sports fan should visit in the city as well as all the attractions, bars and restaurants to visit if you're catching a game.
Things to Do Near Soldier Field
If you're headed to Soldier Field to catch a Bears game, you're in for an action-packed day of football right on beautiful Lake Michigan in downtown Chicago. But if you have some extra time and want to enjoy all that the area has to offer before and after the game, here is a list of places you should try to check off your Chicago bucket list.
If you're feeling especially academic, you are right next to three of the country's best museums. The Field Museum (1400 S Lake Shore Dr.), the Shedd Aquarium (1200 S Lake Shore Dr.) and the Adler Planetarium (1300 S. Lake Shore Dr.) all offer world class exhibits right next door the Bears home field.
If you are looking for a quick bite or beer before the game but don't want to venture too far, DMK Burger Bar and Beverley Brewhouse (1410 Museum Campus Dr.) are right in the stadium and serve up everything a hungry Chicagoan could ever want.
For those looking to explore the area a bit more, grab a a craft beer at Motor Row Brewing (2337 S Michigan Ave.), enjoy The Scout Waterhouse + Kitchen's (1301 S Wabash Ave.) elevated sports bar vibe or head to the Weather Mark Tavern (1503 S Michigan Ave) for unfussy bar food and an amusing nautical theme.
Things To Do Near the United Center
Headed toward Chicago's NBA and NHL hub at the United Center? The hallowed home of the Bulls, Blackhawks and many collective championships is west of downtown's main attractions, but there are still gems to discover.
The United Center is surrounded by ample parking lots, which is a boon for drivers but can mean finding super-close food is a challenge. However, there are some tasty options within a half-mile radius, starting with the arena's own Queenie's Supper Club, which boasts a well-curated menu of wine, cocktails, appetizers, and entrees.
Head directly east from the venue and you'll land at the laid-back Billy Goat Tavern (1535 W Madison St.), whose hearty sandwiches are highlighted by the world-renowned "cheezborger" and food-focused sports bar The Ogden (1659 Ogden Ave.)
If you're just looking for a pint or two, go north and pop in at the craft brew emporium Goose Island Beer Company (1800 W. Fulton St.)
Things to Do Near Guaranteed Rate Field
White Sox fans headed to Guaranteed Rate Field, just off the Dan Ryan expressway have a few options to explore before and after catching a ball game at the stadium.
Have a hankering for some soul food? Pearl's Place Restaurant (3901 S Michigan Ave) offers everything from fried chicken and catfish to jerk turkey and smothered short ribs.
If you're looking for some casual authentic Chinese food just south of Chicago's Chinatown, head to Potsticker House (3139 S Halsted St) for dumplings or Happiness (3313 S Halsted St) for fried rice, lo mein and much more.
If you're looking for some refreshments near the stadium, head to Cork & Kerry at the Park (3259 S Princeton Ave) on the north side of Armour (Philip) Square Park for a low-key watering hole.
Things to Do Near Wrigley Field
Wrigley Field and Wrigleyville are historically fundamental aspects of Chicago's sports identity. The baseball stadium was originally built in 1914, and since then the area has become a mecca of Cubs fandom, sports bars and culture. Below are a few places to check out if you find yourself near Chicago's original baseball stadium.
No trip to Wrigleyville is complete without a beer at the Cubby Bear (1059 W Addison St.) after the Cubs game. The post-game mainstay sits right across the street from Wrigley Field and invites a rambunctious crowd of sports fans to celebrate or commiserate together at any time.
Keep the bar crawl going with a pit stop at Murphy's Bleachers (3655 N Sheffield Ave), which has been an institution for over 80 years.
If you're looking for something more than a Chicago-style hotdog (though, it's impossible to go wrong with that decision), check out Smoke Daddy (3636 N Clark St.) for mouth watering barbecue, or Mordecai (3632 N. Clark St) for a more upscale experience right next to the stadium.
You Might Like
Whether you're a long-time local or just in town for a quick trip, the entertainment experts at Ticketmaster have you covered!
Whether you're a die-hard basketball fan, enthusiastic concertgoer or simply looking for something extraordinary to do, the Vivint Arena in Salt Lake City, U...
The Mile-High City hosts thrilling sports, music and other entertainment events in its stadium.