Fly Like an Eagle, Cheer Like a Champ: Celebrating Eagles Fandom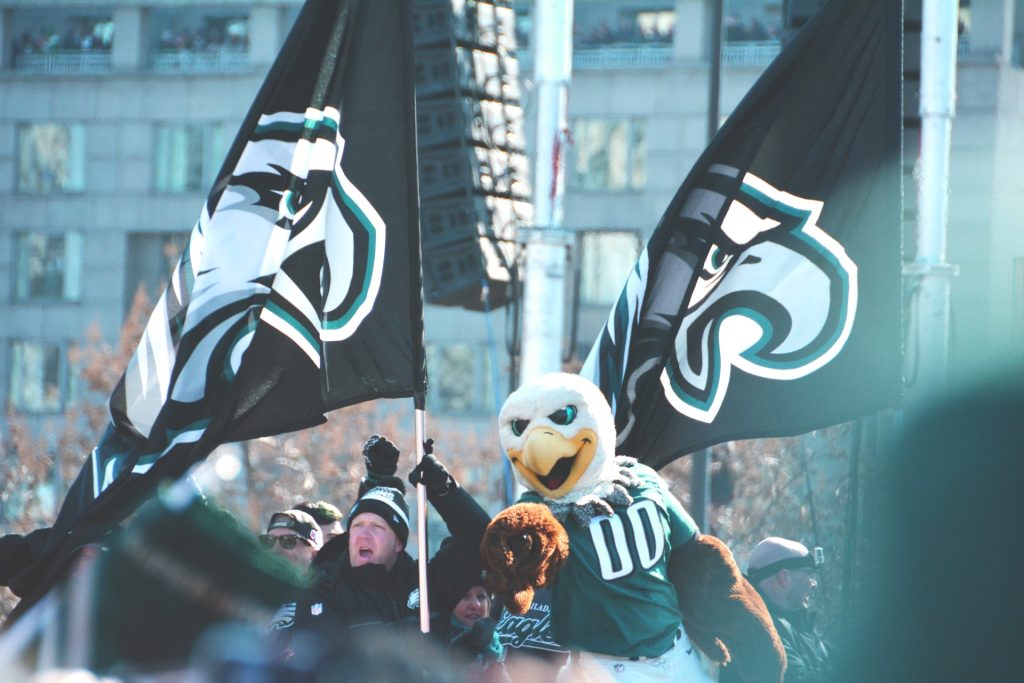 What it Means to be a Philadelphia Eagles Super Fan
The Philadelphia Eagles have one of the most passionate fan bases in the NFL. Eagles fans will stick by their team through the good times and the bad. Fortunately for Eagles fans, they've had an excellent team to root for in recent years. The Eagles won the franchise's first Super Bowl in 2018 and have been strong contenders since. The Eagles appeared in Super Bowl LVII in 2023 but lost to the Kansas City Chiefs. Eagles fans are also known for having a strong presence at home and away games. Groups such as The Green Legion have a dedicated travel website to bring as many Eagles fans as possible to away games.
Fans of the Eagles call their team "The Birds" and love imitating eagle screeches at games. Eagles superfans participate and donate to a wide range of events that support their community and disenfranchised groups, such as End Philly Gun Violence, All-Pro Teachers, Go Green, Huddle Up for Autism and Hometown Hero.
Philadelphia Eagles Fans on Game Day
Game day is more than just a football game for Philadelphia Eagles fans. Like most NFL team fans, Eagles fans start their game day off with a tailgate, but unlike most NFL teams, these tailgates are more of an experience than a pregame ritual. These massive tailgates often begin five hours before kickoff and are in almost every lot surrounding Lincoln Financial Field in Philadelphia, Pennsylvania. Lincoln Financial Field, or "The Linc" as Eagles fans call it, has a capacity of more than 67,000. This means the surrounding tailgate is jam-packed with fans covered head-to-toe in green and white. These tailgates find fans grilling food, games, giveaways, drinks and everything else an Eagles fan would want at a massive pregame party. Shouts of "Go Birds!" fly throughout the stadium parking lot as Eagles fans prepare for the game.
During the game, Eagles superfans know and chant their fight song, "Fly, Eagles Fly!," and sing it after every touchdown. From the ground floor all the way up to the top level of Lincoln Financial Field, fans are cheering and screaming for their beloved Eagles.

Memorable Moments in Philadelphia Eagles Fandom
Nothing has made Philadelphia Eagles fans soar quite as high as the team's first Super Bowl victory in 2018. The Super Bowl LII matchup against the dynastic New England Patriots, led by the then-five-time championship-winning pair of coach Bill Belichick and quarterback Tom Brady, positioned Philadelphia as immediate underdogs. Couple that with the loss of starting quarterback Carson Wentz to an ACL injury in Week 14 of the regular season, and Philly had a lot of doubters in the Super Bowl. Yet, on the league's biggest stage, Wentz's replacement Nick Foles executed one of the most memorable plays in recent Super Bowl memory: the Philly Special. The QB caught a touchdown reception following two trick passes from running back Corey Clement and tight end Trey Burton. Foles, who was later named Super Bowl LII MVP, became the first player to throw and catch a touchdown pass in a Super Bowl. His receiving TD, along with wide receiver Alshon Jeffery's impressive 34-yard, mid-air touchdown catch and defensive end Brandon Graham's late-game forced fumble on Brady helped seal the victory.
Prior to hoisting the Vince Lombardi Trophy, Eagles fans have had plenty of formative franchise moments to hold onto, like the 1978 "Miracle at the Meadowlands" fumble recovery against the New York Giants, Donovan McNabb's "4th and 26" Hail Mary play in the 2003 divisional playoffs against the Green Bay Packers, and the 2013 "Blizzard Bowl" where the team prevailed over the Detroit Lions amid a blinding eight inches of snowfall. More recently, the Eagles represented the NFC in 2023's Super Bowl LVII, but fell 38-35 to the Kansas City Chiefs.
Famous Philadelphia Eagles Fans
View this post on Instagram

Since the Philadelphia Eagles have such a strong fanbase, it's understandable why plenty of celebrity fans carry the same fighting spirit with them. Rob McElhenney, an actor and the creator of the TV show It's Always Sunny in Philadelphia, is a huge Eagles fan who has featured the Birds in a number of episodes on his show. Actress and Philadelphia native Tina Fey is such a huge Eagles fan she even made her character in the hit show 30 Rock an Eagles fan. Actor Bradley Cooper is also a well-known Eagles fan who has appeared in several videos to support and promote his beloved team. President Joe Biden and First Lady Jill Biden are Pennsylvania natives who actively support the Eagles. Jill Biden was seen at the 2023 NFC Championship game wearing an Eagles shirt. From West Philadelphia born and raised, Will Smith is an Eagles fan and can be regularly seen at games. Sylvester Stallone is also a Philadelphia Eagles fan. In 2018, the Rocky actor posted a photo of himself next to the Rocky statue in Philadelphia wearing Eagles gear.
You Might Like
Step inside Acrisure Stadium, home of the Pittsburgh Steelers, and learn more about this PGH staple for sports and entertainment.
Step inside Gillette Stadium, home of the New England Patriots & Revolution, and learn more about this Massachusetts staple for sports and entertainment.
Explore the fierce spirit of the Monsters of the Midway as they rally behind their team. From iconic players to memorable moments, discover the enduring prid...