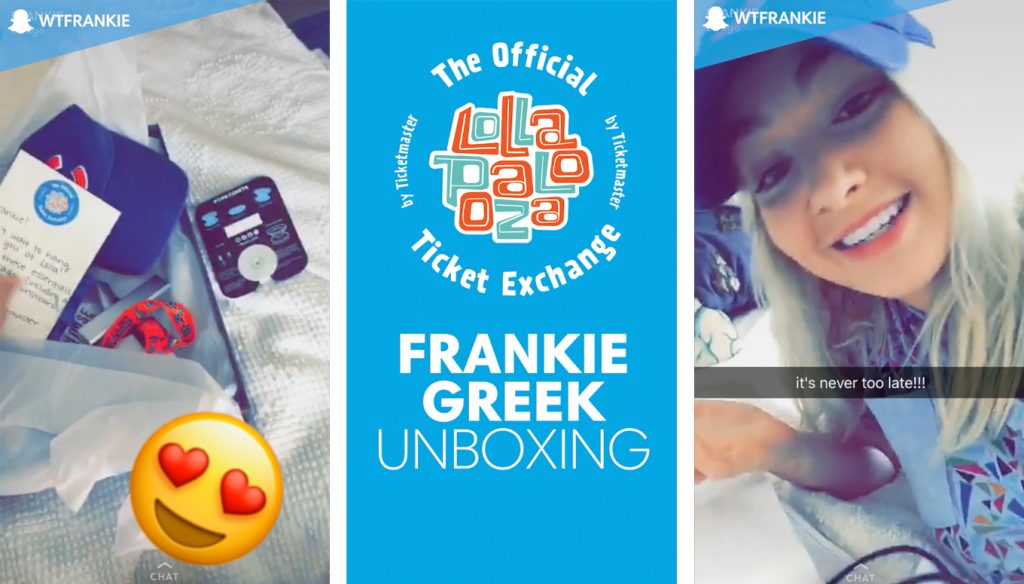 It's one of our favorite times of the year– Lollapalooza is right around the corner and wristbands have started shipping! (We know they're awesome, but remember don't put on your wristbands yet!)
Ticketmaster has teamed up with Lollapalooza to bring you the Official Lollapalooza Ticket Exchange, the only 100% safe and secure way to buy and sell tickets.
Internet person and festival fanatic Frankie Greek is our Lolla correspondent and she's sharing her expertise with you as we get ready to head to Chicago. Last week we hooked up Frankie with a care package including her Lollapalooza wristband. Frankie chronicled the unboxing on her Snapchat, and we put together some highlights below.
Watch the recap of Frankie's Lolla wristband unboxing and follow her for more Lolla protips: 
I'm ready for Chicago! Thank you @Ticketmaster for the Lolla survival pack, watch me open it on snap: https://t.co/v4fLJow2PK ?? pic.twitter.com/ZatuUioelg

— frankie (@frankiegreek) July 14, 2017
Are you headed to Lolla this year? Send us pics and vids of you getting your wristbands in the mail by tagging @Ticketmaster on Twitter or Instagram.
Slept on tickets and feeling FOMO? It's never too late to join Frankie (even just for a day!) and secure your 100% verified wristband with the Official Lollapalooza Ticket Exchange.
There are also a limited number of VIP tickets still available on Lolla's website.
Make sure to follow Frankie on the road to Lolla and keep up with her at the festival! 
Snapchat: WTFRANKIE | Instagram: @GRANKIEFREEK | Twitter: @FrankieGreek 
Watch Frankie's intro video and learn more about the Official Lollapalooza Ticket Exchange.
Tags
You Might Like
As we prepare for Lollapalooza's virtual 2020 installment, let's look back at the moments that made the festival iconic.
Headed to Voodoo? Here's everything you'll need.
The first weekend of Austin City Limits Music Festival was picture perfect.