Fan Guide for Taking Babies & Little Ones to Their First NHL® Game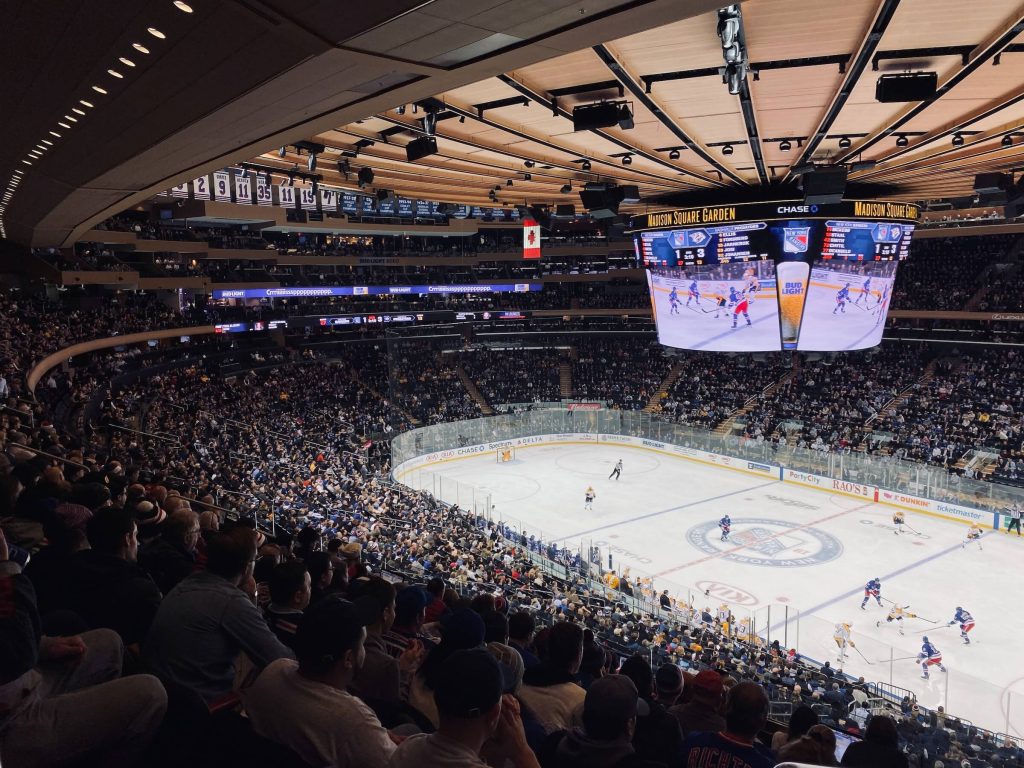 What to Pack | Getting to the Arena | Entering & Admission | During the Game | Getting Home
The idea of taking babies and little ones to an NHL® game might feel overwhelming, but with a bit of pre-planning and some forethought, it can be a fantastic experience for the entire family.
Read More: Learn about the current NHL® season
What to Pack
Unlike other sporting events, temperatures at hockey games are kept at a chilly 50 to 60 degrees Fahrenheit, so be sure to pack plenty of warm clothes including hats and mittens to keep your little ones warm. It's also a great idea to carry your baby in a baby carrier, as it will keep both of you nice and cozy and avoid the hassle of carrying a stroller.
Also, be sure to bring ear protection because babies' ears are much more sensitive than adults' and the games can get loud. Noise-canceling headphones are a great way to keep loud noises from harming your baby's ears or causing sensory overload, and earplugs can work well for older kids. As you may have heard, hockey games can get pretty rowdy.
If you're a new parent, you've probably discovered that it's often helpful to have snacks and toys on hand to keep your kids satisfied and entertained. NHL® games are certainly no different. You may be tempted to throw everything into a diaper bag, but first be sure to check the FAQ page of your local arena because policies for bringing in bags and size limitations vary from stadium to stadium. It may make more sense to pack light and throw the items into jacket pockets or a normal size purse, if possible.
Getting to the Arena
Taking public transportation can be a fun and convenient way to travel with your family to the game, but if it's raining, snowing, extremely hot, or if you're not in an area with easy access to public transport, driving might be the best option. If you decide to drive, scope out the parking situation at the arena ahead of time and be sure to have some cash on hand because some parking lots only accept cash. Allow some extra time before the game in both cases so you don't feel rushed. Depending on the size of your family, ridesharing or carpooling to the hockey game may also be a good option.
Entering & Admission
Is There an Age Limit for NHL Games?
As luck would have it, there is no minimum age limit for bringing a child to an NHL® game, and most teams/stadiums even allow children below a certain age or height to attend the games for free if they sit in their guardian's lap.
Do I Need to Buy a Ticket for My Child to Attend an NHL® Game?
The majority of NHL® teams offer free admittance for children under 2 years old, so there's no need to buy a ticket. Others extend the age limit to 3 years of age, while a handful of other teams offer free entry based on the child's height. Since child ticket policies vary from team to team, you'll want to check it out on your specific team's website beforehand. We've compiled each NHL® team's child ticket policy below for easy reference.
During the Game
The NHL® does a terrific job at entertaining kids and engaging the younger set. There are often activities for kids outside of the arena and sometimes there's live entertainment. They also have designated nights where they give out free souvenirs. And what parent doesn't like a free toy for their kiddo?
If your child is old enough to understand, it's helpful to explain the basic rules of hockey before the game. You may also want to go over the team roster and point out your favorite players and share their stories with them. Then, while you're watching the game, you can point out those players and cheer for them together so your kids can get excited about seeing them play live, too.
For the littler ones, it's always helpful to have toys and healthy snacks on hand to avoid any bored or "hangry" episodes. There's also a wide variety of food and drink options available at concession stands around the concourse.
Also, try to avoid getting stuck in your seats for too long. It's a good idea to take breaks so kids can stretch their legs, burn off energy and use the bathroom throughout the game. It might be worth timing your breaks so they don't coincide with the period breaks to avoid the crowds.
Getting Home
While heading home, it's always fun to recount your favorite moments of the game and ask your kids what they enjoyed the most. If you don't relish the idea of navigating your way through the heavy crowds as they stream out of the arena as soon as the game ends, hang back for a little while and ask your kids to reenact their favorite moments of the game and which players they liked the best. It could also be a good time for one final snack to fortify them for the journey home.