Giant Pride: A Legacy of Fandom Near the Heart of the Big Apple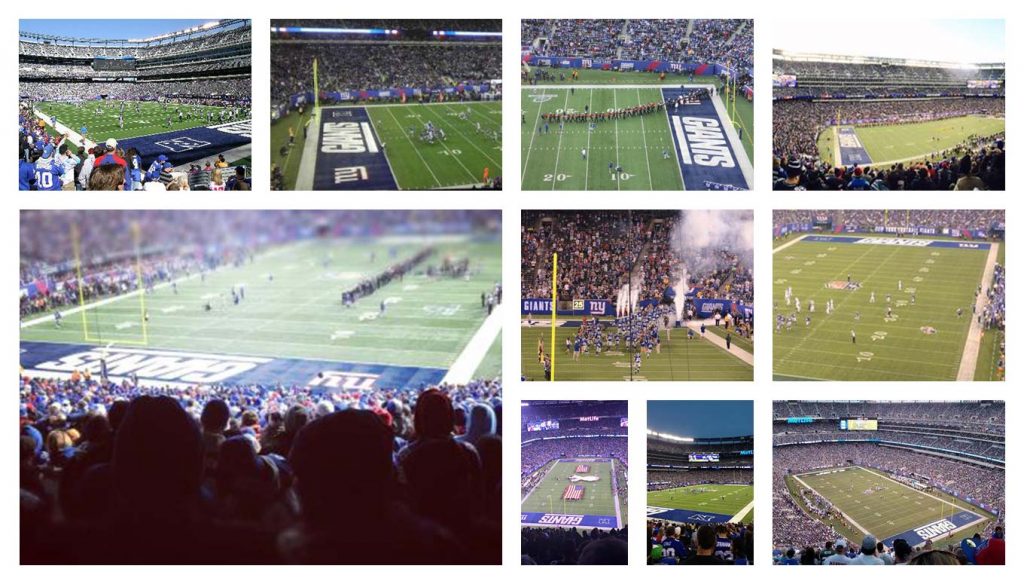 What it Means to be a New York Giants Super Fan
New Yorkers are passionate about all of their sports teams, and fans of the New York Giants are a model example. As one of the most successful franchises in the Big Apple over the last two decades, winning two NFL Super Bowls and numerous division titles, Giants fans are eager to travel into New Jersey to display their fandom at MetLife Stadium.
Fans also avidly support The Giants Foundation, which was created to assist tackling community issues in New York through youth initiatives. Charity events run by the Giants Foundation include the Charity Golf Classic, which raised more than $400,000 at the 2022 event.

New York Giants Fans on Gameday
The New York Giants play at MetLife Stadium in East Rutherford, New Jersey. They have shared the stadium with the New York Jets since it opened in 2010.
This pristine 82,500 seat stadium has four massive stadium screens ensuring amazing sight lines from every seat, and a variety of concessions with craft beer, kosher, and gluten free options. Plus, the stadium offers a number of premium club spaces, including the Commissioners Club, Coaches Club, Chase Club, Toyota Club, and MetLife Central Club for those who seek a more amenity-rich experience.
But when it comes to a truly immersive experience, there are special pre-game activity zones for adults and children within the plazas adjacent to MetLife. Described by many as a playground, it is an excellent place to hang out before the game. Among other features, the activity zones are home to numerous interactive sponsor activation opportunities, loads of great food vendors, and entertainment. Giving fans a place like this further demonstrates just how vital the people are when it comes to furthering the Giants dynasty.
Directly before the opening kickoff at home games, AC/DC's "Hells Bells" is played at the stadium to get the crowd at peak excitement. Giants fans are typically clad in royal blue, red or white garb to display their support. Jerseys and hoodies are common threads for Giants fans.
View this post on Instagram
Memorable Moments in New York Giants Fandom
The Giants and their fans have not ever celebrated a victory quite as unlikely as their Super Bowl upset win over the New England Patriots at Super Bowl XLII in 2008. Coming into the Super Bowl, the New England Patriots were 18-0 between the regular season and playoffs. They were one win away from a perfect season. Meanwhile, the Giants barely scraped into the playoffs, making it as a Wild Card team. But Eli Manning, the eventual Super Bowl MVP, led the Giants to an improbable victory. The most notable play featured Manning escaping the Patriots' defensive pressure and hurling a ball downfield to Giants wide receiver David Tyree late in the fourth quarter. Tyree famously pulled off "The Helmet Catch," pinning the ball to the crown of his helmet with Patriots safety Rodney Harrison trying to break things up. Manning would then go on to throw the game-winning touchdown to Plaxico Burress moments later, as the Giants won the game, 17-14.
Four years later, the Giants again upset the Patriots, 21-17, in Super Bowl XLVI. The narrative of this game was quite different, with New York jumping out to a nine-point lead in the second quarter. Patriots quarterback Tom Brady led his team to 17 straight points to go up 17-9. But Manning again led the Giants to victory in the final minute of play. Giants running back Ahmad Bradshaw finished an 88-yard drive with a touchdown with less than a minute left in the fourth quarter to secure the victory.
Famous New York Giants Fans
View this post on Instagram

Since New York is the biggest media market in the United States, it's no surprise that the Giants have several celebrity fans. None are as captivating as "License Plate Guy." Born Joe Ruback, he wears a custom license plate to every Giants game. Ruback has attended every Giants home and away game since 2000. Ruback went to all 283 games at their old home, Giants Stadium. Ruback also participates in philanthropic endeavors, such as the "Pink Tailgate" that helps raise money for breast cancer.
Other famous Giants fans include Hugh Jackman, Tracy Morgan, Spike Lee, 50 Cent, Busta Rhymes, Lady Gaga, Daniel Radcliffe, George R. R. Martin, Jordin Sparks, Rooney Mara, Kate Mara, The Jonas Brothers, Artie Lange, LL Cool J, Jerry Ferrara, Matt Dillon, Kevin Dillon and Tom Cruise.