NBA Abu Dhabi Games 2022: Atlanta Hawks vs. Milwaukee Bucks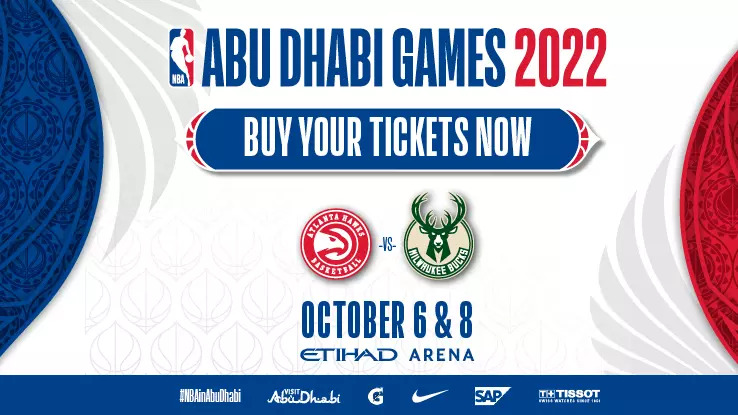 Two pre-season NBA games will take place in Etihad Area, Yas Island in Abu Dhabi on October 6, 2022, and October 8, 2022. This will be the league's debut in the Arabian Gulf region, with a very exciting matchup between the 2021 NBA champion Milwaukee Bucks and the Atlanta Hawks!
The Atlanta Hawks
The players to watch on the Atlanta Hawks include two-time all-star player Trae Young. He is the second player in history to lead the NBA in assists and total points. Young's teammates include all-rookie team players John Collins and Bogdan Bogdanović.
The Milwaukee Bucks
The Milwaukee Bucks are the 2021 NBA champions and boast a very strong team lineup. The team includes fan favorite Giannis Antetokounmpo, who holds a two-time Kia MVP title. The Bucks also have a strong defensive side, anchored by Jrue Holiday, a three-time NBA all-defensive star.
What You Need to Know for the NBA Abu Dhabi Games 2022
When is the Abu Dhabi NBA game?
There will be two games, both taking place in October 2022 — one on Thursday October 6, and the other on Saturday October 8.
Where will the games take place?
The Abu Dhabi NBA 2022 games will take place at the Etihad Arena, Yas Island in Abu Dhabi.
When do tickets for the Bucks vs. Hawks go on sale?
Tickets are available now on ticketmaster.ae.
You Might Like
Recently, the NBA made some changes to their playoff format to increase the excitement, and now 20 of the 30 franchises compete in postseason play. Learn more!
When Do the Boston Celtics and the Philadelphia 76ers Play Next? Philadelphia 76ers tickets and Boston Celtics tickets can be found on their respective team ...
Right in the heart of downtown Houston, Texas, lies the extravagant Toyota Center. Home to the NBA's Houston Rockets, this venue is one of the top cultural h...