Michelle Obama Announces 2022 U.S. Book Tour Dates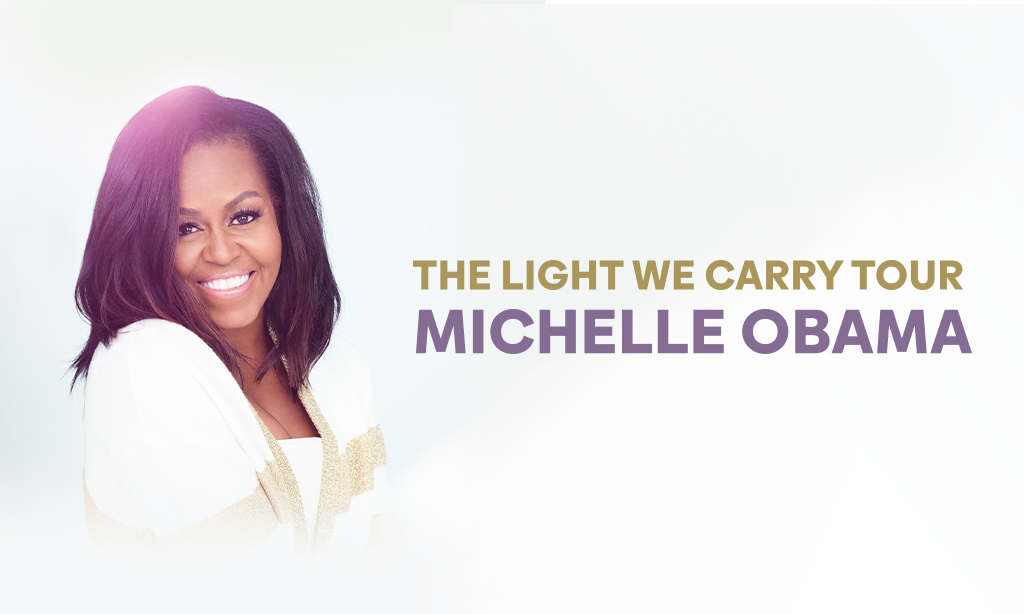 Michelle Obama is bringing The Light We Carry Tour to select cities across the U.S. and wants to make sure her fans have access to tickets.
Demand is expected to be high for these shows, so registering for Verified Fan is your best chance at getting tickets to see Michelle Obama live. While Verified Fan doesn't guarantee that everyone who registers will get a ticket, it does help ensure only fans are invited to purchase tickets.
Read on for information about how to register for your chance to buy tickets.
How many tickets can I purchase?
Fans may purchase a maximum of four (4) tickets per show they have been invited to shop during the Verified Fan Presale using their unique access code.
Can I change or update the shows I register for?
Yes, you can update your show preferences any time before registration ends. To do so, return to the Verified Fan registration link and click "edit entry". Only your last selections will be considered once registration closes.
Can I register more than once to increase my invitation status?
No, only one registration is permitted per person.
When does Verified Fan registration close?
Registration closes on Monday, September 26 at 3 PM ET.
When does the Verified Fan Presale begin?
Verified Fan Presales will begin at 10 AM local venue time on Wednesday, September 28.
Does registering mean I get a Verified Fan access code?
Access codes are never guaranteed, and due to anticipated demand, fans are selected at random to receive an invitation to shop for tickets during the Verified Fan Presale.
When submitting my registration I received a 6-digit authentication code from Ticketmaster. Can I use this code to purchase tickets during the Verified Fan Presale?
No, if selected for the Verified Fan Presale you will receive a new, unique, alphanumeric access code the night prior to your show going on sale. The previous 6-digit authentication code you received when registering was sent to verify your mobile phone number. It cannot be used to purchase tickets.
I received a confirmation email, what does that mean?
This email is to confirm your details and that we successfully received your registration. It doesn't, however, guarantee you'll receive an invitation to purchase tickets. On Tuesday, September 27, you'll receive an email with additional information about your invitation status.
Does getting an access code mean I will get tickets?
Only fans who have been verified and invited to shop by receiving an access code will have the opportunity to purchase tickets during the Verified Fan Presale.

Receiving an access code means that you'll have the opportunity to shop for tickets. However, the ability to purchase tickets is determined by supply and demand, and is not guaranteed. Tickets are available on a first come, first served basis.

If selected, fans will also receive a text message to the number provided during registration. This text will include a unique access code and a link to shop. Keep an eye out for this text and be careful not to accidentally delete it.

The Waiting Room will open 10 minutes before the sale begins. You may only join the Waiting Room using the same Ticketmaster account that you registered with.

When the sale begins, fans in the Waiting Room will be assigned a spot in line. When it is your turn to shop, you must enter your access code exactly as it appears to access tickets.
Can I share my access code with my friends or family?
To purchase tickets with your unique code during the Verified Fan Presale, you must be logged in to the Ticketmaster account you registered with. Your access code is unique to your account and for this reason, fans will not be able to share their codes with friends or family.
What device should I use to purchase tickets?
All ticket purchases must be made online. Please be prepared to shop for tickets using your computer, mobile web, or Ticketmaster app. Tickets will not be available by phone.
Can I sign into the same Ticketmaster account on multiple devices to shop?
No, when you sign into the same account on multiple devices it may result in errors and/or limit you from shopping during the Verified Fan Presale. Before the sale begins, please double check you are only signed into the Ticketmaster account you registered with on one device.
How many tabs can I have open at once?
Please only open one tab. As a reminder:
Please only join the Waiting Room once and only use one tab to reduce any delays.
Once you join the Waiting Room, do not close your page.
Is it true only one device is allowed per WiFi network and others will be blocked?
No. Fans using a public or shared WiFi network, no matter how many people are sharing, will NOT be blocked from shopping for tickets. We encourage everyone to sign into their own Ticketmaster account and join the Waiting Room 10 minutes before the sale begins.
I got an email telling me that I'm on the Waitlist, what does that mean?
Due to extremely high demand, not all fans who register may be invited to purchase tickets during the Verified Fan Presale. Should additional tickets become available, a select number of registered fans may be randomly selected to move off the waitlist. If this happens, you will be notified via text message.
Will there be a way to purchase tickets other that the Verified Fan Presale?
The General Public On Sale will be Friday, September 30 beginning at 10 AM local venue time.
Why do I see tickets available to purchase on another site before the Verified Fan Sale has even happened?
Many unofficial sellers will list tickets before they even go on sale. This practice is called speculative listing and fans should not trust resellers claiming to have tickets. Those speculative listings are not real tickets in hand. Beware of these sellers. Learn more about spec tickets here.
What are the health check requirements?
In the best interest of fans and staff, the Event Organizer is monitoring local COVID-19 trends and will meet or exceed protocols mandated by local governments, local venues and tours. By purchasing tickets to this event, you agree to abide by the health and safety measures in effect at the time of the event, which may include, but not be limited to, wearing masks, providing proof of vaccination & booster status and/or providing proof of negative COVID-19 test. Check back often for updates to your event venue website as guidelines are subject to change.
Where can I find more information on the Michelle Obama 2022 Book and Tour?
For more information, visit here.
Michelle Obama 2022 BOOK TOUR DATES
| | | |
| --- | --- | --- |
| Show Date | City | Venue |
| Tuesday, November 15 | Washington, D.C. | Warner Theater |
| Friday, November 18 | Philadelphia, PA | The Met |
| Saturday, December 3 | Atlanta, GA | Fox Theatre |
| Monday, December 5 | Chicago, IL | Chicago Theatre |
| Saturday, December 10 | San Francisco, CA | Masonic |
| Tuesday, December 13 | Los Angeles, CA | YouTube Theater |
You Might Like
All the tips and tricks you need to get the most out of your Ticketmaster account.
Certains événements peuvent nécessiter une inscription préalable avant la mise en vente de billets. Ce processus nous permet de filtrer les robots et les rev...
Garth Brooks has announced new shows for his Las Vegas Residency, Garth Brooks/Plus ONE at The Colosseum at Caesars Palace in Las Vegas and is using Verified...