The Life of a Maroon 5 Super Fan: Travel, Tattoos & a Kilt for Adam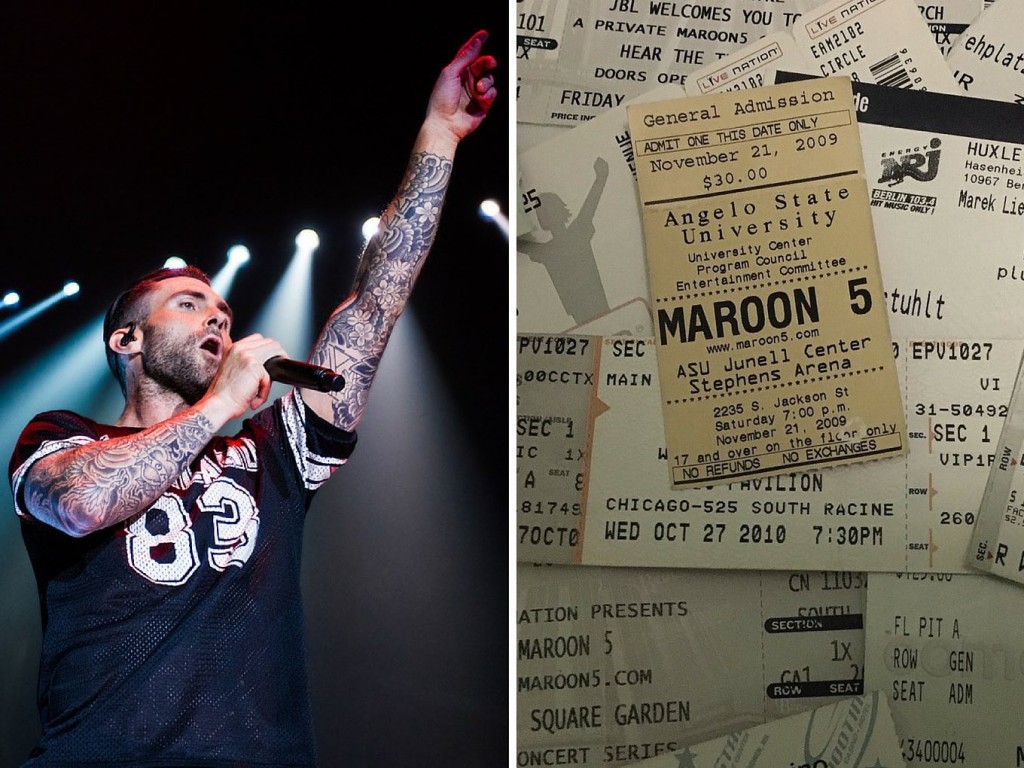 Some fans have an almost superhuman dedication to their favorite artists. They're loyal, passionate, and take fandom to a whole new level. We love these Super Fans, and we're excited to start sharing their stories with you right here at Ticketmaster. Now it's their time to be in the spotlight.
Meet Gillian, an IT Systems Analyst from Edinburgh, Scotland who moonlights as a Maroon 5 Super Fan. Gillian has seen the band perform more than 65 times around the world, and she even supplied the kilt Adam Levine wore on stage at a Glasgow gig. When not cheering on her favorite lads she enjoys traveling, listening to music, and watching soccer and NFL football. Check out the interview to read about her experiences as a Maroon 5 Super Fan and what fandom means to her.
TM: Tell us what it means to you to be a fan?
G: To me, being a fan means showing love for the music and appreciating the time and effort the band has taken to create their music for the fans. There is no better feeling than hearing a new tune from your favorite band.
TM: How do you show your fandom?
G: It's all about the live experience! I'm lucky enough to be able to travel to see Maroon 5. They put a lot of time and effort into creating their live shows, and I'm sure they get a real buzz out of seeing the enjoyment their fans get from it. I also download and buy hard copies of all the music. I pay my way! 🙂
TM: What's your favorite song by Maroon 5 and why?
G: I will never tire of "Harder to Breathe". It's the first song I ever heard by them, they had me from the drum intro. Another recent favorite is "It Was Always You", and I'm loving "Sugar" live! Such a fun way to end their recent shows.
TM: How do you stay connected with your favorite artists?
G: Maroon 5 are very active on social media, so I get most of my news from Twitter, Facebook etc.
The Maroon 5 S.I.N. Club website/app is always a good place to get information too. It's a little harder to get information when they're outside the USA — you end up having to become quite resourceful to find out which TV shows they'll be performing on etc. It's always great to be part of a TV show taping
TM: What's your favorite piece of fan memorabilia?
Do tattoos count? 🙂 I have a tattoo that was drawn for me by a band member! Apart from that, my signed and framed drumhead and sticks are probably my fave!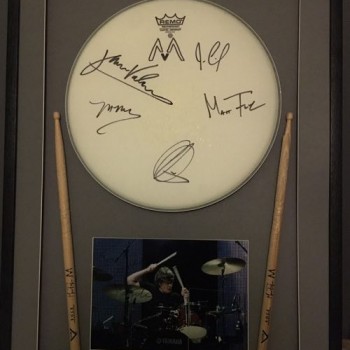 TM: Do you collect concert tickets? If so, can you show us a photo and tell us about the experience? (Tip: cover your ticket's barcode anytime you share photos of your tickets online)
G: I didn't think I saved concert tickets, but I've managed to round up a few! The tickets range from private shows in New York (via S.I.N. competitions) to places like Mahnomen, Minnesota!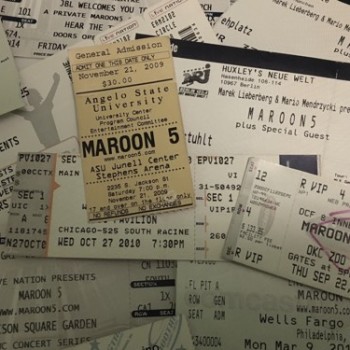 TM: Tell us your #FirstLastNext concert?
I've always been around music from a very young age and had older cousins who took me to concerts. My very first show was Wham! as a youngster, my last show was Gavin DeGraw 4 days ago, and my next? Hopefully Maroon 5!
TM: How far have you traveled to see a show?
G: I have traveled from Scotland to all over the UK/Europe as well as the USA to see Maroon 5 play. The furthest is probably Los Angeles. One thing I would recommend to any fan is joining the SIN fan club — the pre sales are a great perk and the pit tickets that are exclusive to fan club members are amazing! Everyone should see a show from the pit!
TM: What's a little-known fact about Maroon 5?
G: I supplied the kilt that Adam wore onstage for a gig in Glasgow in 2011. He wore it 'round the wrong way at first AND wore it like a true Scotsman with nothing underneath!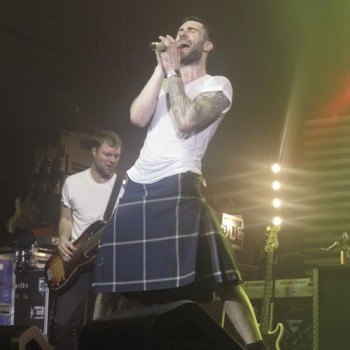 TM: If you could tell Maroon 5 one thing, what would it be?
G: Thank you for the music! Without it, I wouldn't have met some amazing friends who will stay with me forever. They've also given me the opportunity to travel to some fabulous (and random!) places. For that, I will always be grateful.
---
Gillian is a member of the Maroon 5 S.I.N. Fan Club. Don't miss seeing Maroon 5 live on their North American tour in 2016.
YASS! @maroon5 is BACK on the road next year so we celebrate w/ Fan Art Friday https://t.co/cBx0lLYJNG #M5OnTheRoad pic.twitter.com/RGxraiJESm

— Ticketmaster (@Ticketmaster) November 6, 2015
Tags