¡FUEGO! 6 Hot Latin Music Festivals in the US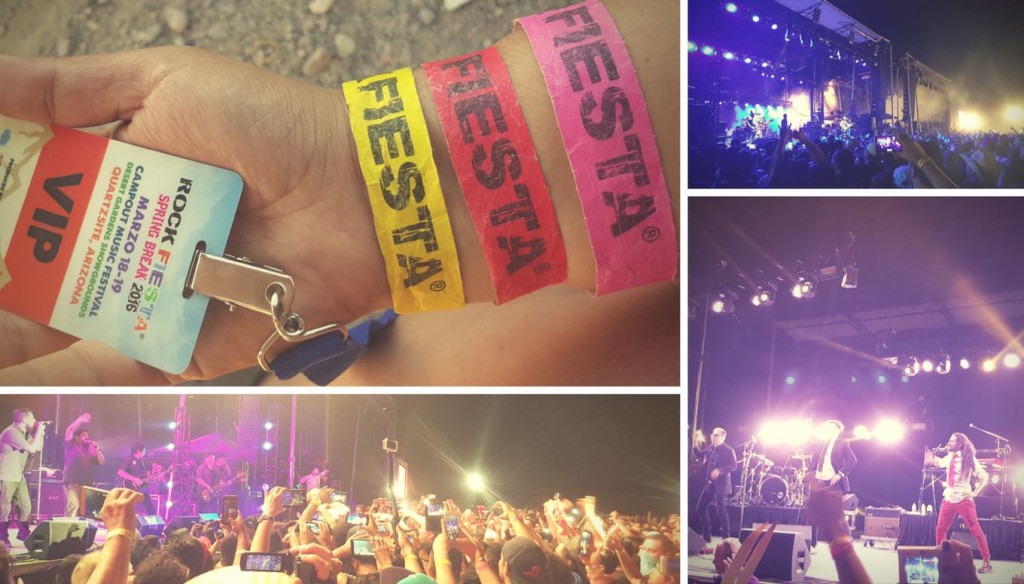 If you love Latin music, these fantastic festivals happening throughout the year are awaiting your fancy footwork. Whether you're into Latin pop or salsa, mariachi, merengue and beyond, these epic events are sure to put a little bit of rhythm in your step. From the hip vibe of Rock Fiesta to the romantic Hollywood Bowl setting of Mariachi USA, here are six great Latin music festivals that are sure to get you doing the cha cha this year.
Pro Tip: Latin music fans heading to Coachella in 2016 get to rock out with none other than Mexican alt-rock goddess Carla Morrison!
Rock Fiesta – March 18-19, Quartzsite, AZ
This annual spring break bash is affectionately known as the "Latin Coachella" thanks to its hip lineup, unbeatable weather, lush festival grounds, and friendly camping scene. Rock Fiesta 2016 just wrapped up, but it's never too late to start planning for next year (Tri, Caifanes, Molotov, Kinky, Panteon Rococo, and Café Tacuba all killed it at this year's fest). A quick shot from LA, Phoenix, and Vegas—and just an hour from all the outdoor fun of Lake Havasu—Rock Fiesta is the ultimate spring break destination for Latin music lovers of all stripes.
The 32nd New York Salsa Festival – June 11, Brooklyn, NY
New York City is the birthplace of salsa, so you know the genre's biggest stars will be cooking up something special this June at NYC's Barclays Center. Don't miss red-hot favorites like Grupo Niche, Willie Colon, La Sonora Poncena, Jerry Rivera, Eddie Santiago, Los Adolescentes, Tito Rojas, Andy Montañez, and more as they get fans moving and shaking with a jam-packed day of seductive salsa rhythms. After the show, The Big Apple is right there at your fingertips—what could be better?
Mariachi USA – June 25, Los Angeles, CA
A night of top-notch Mariachi music underneath the stars at the iconic Hollywood Bowl? Yes please. This year's lineup is on fire with the world's best: Mariachi Los Camperos de Nati Cano, Mariachi Los Reyes, Mariachi Los Arrieros, Mariachi Internacional Guadalajara, Trio Ellas, and Angeles Ochoa will all be working their magic at the majestic and historic open-air venue this June. While in LA don't miss out on all the star-studded attractions Hollywood has to offer, and if you're looking for something a bit off the beaten path, head downtown for a taste of the cultural (and culinary) renaissance taking place in the city's historic core.
Ruido Fest – July 8-10, Chicago, IL
Not enough music for you at those two-day festivals? Then make your way to Chicago's Ruido Fest, the only three-day Latin music festival in the country. The inclusive event features everything from underground/alternative acts to award-winning Latin superstars, meaning there's something for everyone during the action-packed weekend at Addams/Medill Park. This year's lineup highlights include Los Fabulosos Cadillacs, Maldita Vecindad, Natalie la Courcade, La Ley, Santa Cecilia, Carla Morrison, and Panteon Rococo. No trip to the Windy City would be complete without a visit to the top of 360 Chicago (formerly the Johan Hancock Observatory), which offers a birds-eye view of the city's awesome skyline.
L Festival – October, Orange County CA
October is one of Southern California's hottest months, and L Festival—the biggest Latin music festival in the US—just might be the reason. This enormous annual celebration of Latin American culture brings together people from all over the world for two action-packed days of music, food, and art. Last year's headliners included international stars Juan Gabriel, Enrique Iglesias, La Arrolladora Banda El Limón, Julión Alvarez, Gloria Trevi, and Los Angeles Azules in a lineup that featured everything from pop, regional Mexican, urban, tropical, dance and more. The OC Fair and Event Center in Costa Mesa is just a few minutes from the sand, so you can hit the beach while the rest of the country is getting ready for fall.
iHeartRadio Fiesta Latina – November, Miami, FL
iHeartRadio's Fiesta Latina is the place to beat the winter blues this November when the biggest names in Latin pop heat up Miami's AmericanAirlines Arena. Last year's lineup included Jennifer Lopez, Don Omar, Marco Antonio Solis, Prince Royce, Wisin, Camila, Becky G, Fonseca, Voz de Mando and Pitbull, and you can be sure the 2016 fiesta will be just as epic. Located in the heart of Miami, the festival is just a stone's throw from great beaches, galleries, restaurants, and the iconic art deco architecture of sexy South Beach.

Tags
You Might Like
As we prepare for Lollapalooza's virtual 2020 installment, let's look back at the moments that made the festival iconic.
Headed to Voodoo? Here's everything you'll need.
The first weekend of Austin City Limits Music Festival was picture perfect.