10 Lady Gaga Looks That Prove She'll Rock the Super Bowl Halftime ...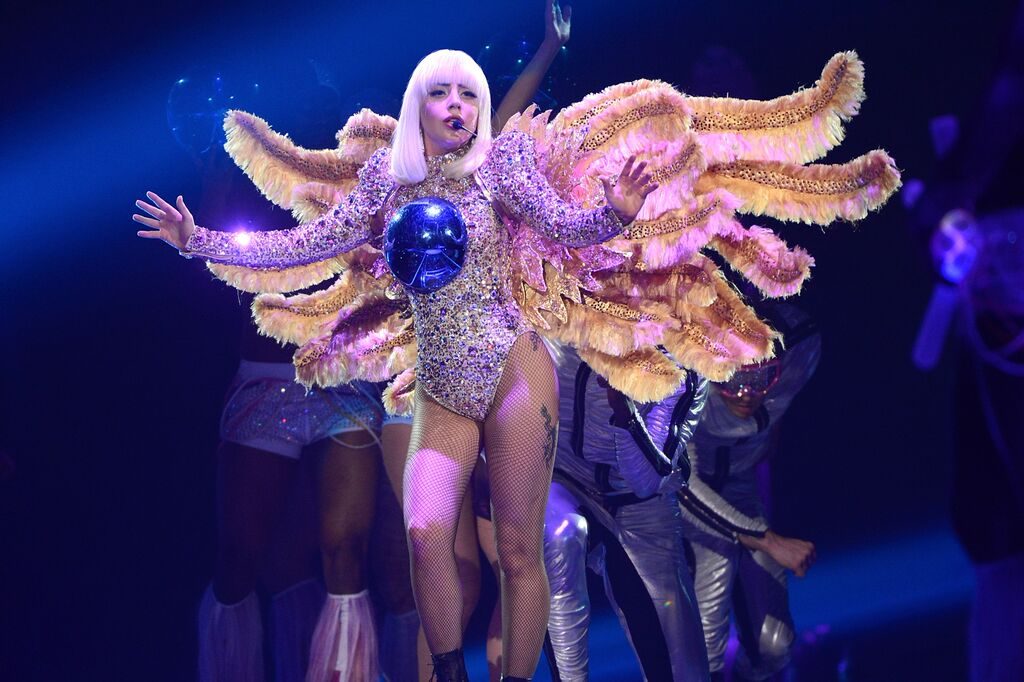 The Super Bowl halftime show is all about over-the-top spectacle, and we can't think of a more fitting performer to put her weird and wonderful stamp on the event than Lady Gaga.
Gaga pushes the envelope with her well-known wild style, and you can bet she'll use her halftime show to make an eccentric fashion statement (or several).
With an audience of more than 100 million predicted for this year's game at Houston's NRG Stadium, it's the perfect opportunity for Gaga to debut something ultra outré, or even relive some of her wildest fashion moments (she reportedly keeps a 40,000 square foot archive of her most outrageous outfits).
Try on these 10 iconic Lady Gaga looks from our archive, and be sure to tune in to Fox at 6:30 p.m. ET on Sunday, Feb. 5 to see what she ultimately rocks on the Super Bowl halftime stage.
10. Red Glitter Pantsuit – 2016 Super Bowl

Gaga got a taste of the Super Bowl stage last year when she helped kick off The Big Game with a sparkling – and sparkly – rendition of the Star Spangled Banner. The dazzling and patriotic red glitter pantsuit she sported at Super Bowl 50 gave fans a taste of the Americana-inspired look and sound of her most recent album Joanne.
9. Powder Pink Cowgirl – "Million Reasons" video

Speaking of Joanne, Gaga appeared as a powder pink cowgirl in pumps in the video for 2016's "Million Reasons" off that album, and she's been rocking western wear at performances and editorial shoots since. It's a far cry from the far-out fashion she's known for, but the streamlined new look suits her and we have a feeling "Joanne" might show up on Super Bowl Sunday.
8. Head-to-Toe Red Lace – 2009 MTV VMAs
With Valentine's day right around the corner, we found ourselves reminiscing about the the ravishing red lace Alexander McQueen ensemble Gaga wore to accept the Best New Artist award at the 2009 MTV VMAs. Love.
7. Inflatable Octopus – ArtRave: The Artpop Ball World Tour

Some of Gaga's most bizarre looks made their debut on her massive 2014 ArtRave: The Artpop Ball tour. Take this one, for instance: an anime-inspired inflatable octopus outfit that looks like it was plucked straight out of a Haruki Murakami film.
6. Giant Egg – 2011 GRAMMY Awards

Nobody will ever forget the time Gaga rocked the GRAMMY red carpet in a giant egg pod. She emerged from the otherworldly ovum in an edgy nude latex look and brought the house down with her empowerment anthem "Born This Way." And weren't we all born that way – from an egg – to begin with?
5. Bejeweled Bodysuit with Koons Ball and Furry Spider Legs – ArtRave: The Artpop Ball 2014
From the metallic blue Jeff Koons ball to the furry spider legs (or are they wings?), this entire outfit screams WTF – and so naturally Gaga chose it as the opening look for her 2014 Artrave: The Artpop Ball tour.
4. Skeleton Suit – 2010 AMAs

Gaga was pushing the monster imagery to the max around the time "Bad Romance" became a global pop phenomenon in 2010, and she took it a step further for her AMA performance that year with a creepy-cool LED-outfitted exoskeleton look that blended anatomy with high fashion.
3. Rave Girl – ArtRave: The Artpop Ball 2014

The candy-colored street style of Tokyo's Harajuku district served as the inspiration for this day-glo look from the Artrave: The Artpop Ball tour, and we're hoping Gaga brings rave girl out for a dance party at Super Bowl LI.
2. Mr. Jo Calderone – 2011 MTV VMAsGaga showed off her theater background at the 2011 VMAs when she debuted her drag alter ego Jo Calderone, a cigarette-smoking, pompadour-wearing greaser who sounded a lot like Lady Gaga when he sat down at the piano to perform "You and I."
1. Meat Dress – 2011 MTV VMAs
No list of Gaga's looks would be complete without the controversial meat dress she wore to the 2011 MTV VMAs. The original was preserved as beef jerky and put on display by the Rock and Roll Hall of Fame! Who knows, for her Super Bowl halftime show maybe she'll spread veganism to the masses with a dress made entirely of fresh produce.
Tags
You Might Like
Revisit the last 10 winners as we approach the NFL's 100th season and upcoming Super Bowl LIV in Miami.
Installations, memorabilia, live music, and so much more.
U.S. Bank Stadium is considered one of the loudest stadiums in the country, as the translucent roof and walls create an acoustically reflective environment. ...