Kelsea Ballerini Talks ACM Awards, #FirstLastNext & Fave Emoji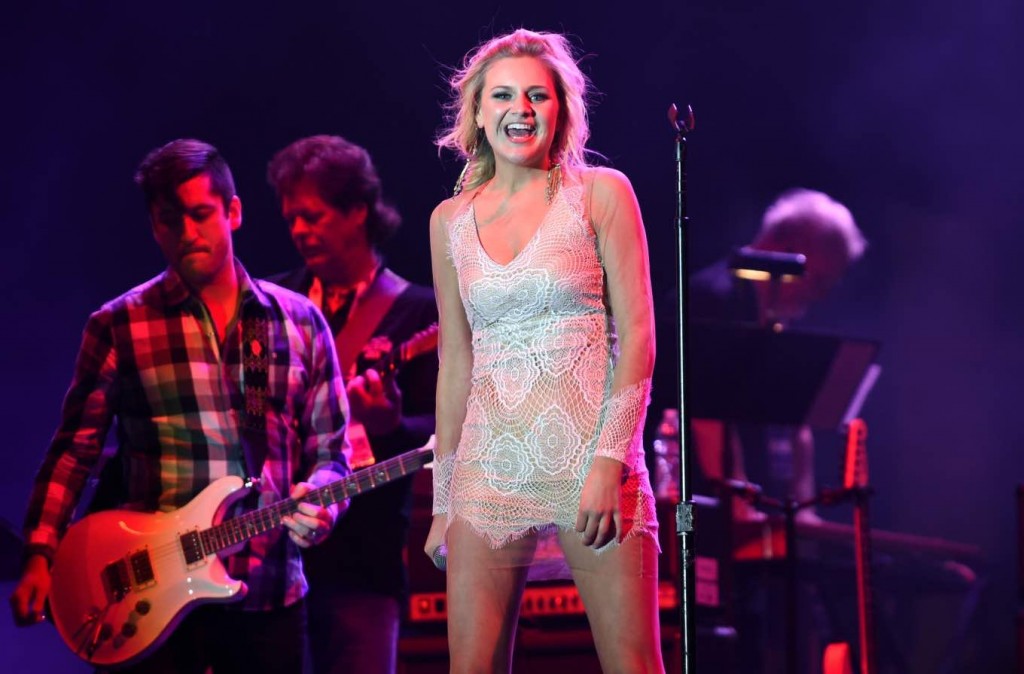 Kelsea Ballerini has been a country sweetheart ever since she wrote her first song for her mom at the tender age of 12. And look at her now: she just nabbed an ACM Award for New Female Vocalist of the Year, landed her first chart-topper with "Love Me Like You Mean It", and will be performing at the ACM Party for a Cause Festival (April 1) and the 51st ACM Awards (April 3) next week. She couldn't contain her excitement (and neither could we) as we chatted with her about all her recent successes.
TM: You've had an incredible 2015 and 2016. Your debut single "Love Me Like You Mean It" topped the charts. And, most recently, you won the ACM Award for New Female Vocalist of the Year and received another ACM Award nomination for Female Vocalist of the Year. How does it feel?
Kelsea: I am buzzing about it. Gosh, I went to ACMs for the first time last year. I sat in the section behind the artist section. This year being nominated, having a big performance, and winning an award… It's unbelievable and it's so encouraging.
TM: Your debut studio album The First Time came out last May. How would you describe it to someone who hasn't heard it yet?
Kelsea: This album is a snapshot of my life from 12 to 21. It covers life stuff, you know: having my first relationship and losing my first relationship, my parents going through a divorce, growing up, all of those things. I want my music to be relatable and for fans to see me as their good friend.
TM: What's your favorite song from the album to perform live?
Kelsea: "Peter Pan" — we just released it as a single, and we have a music video coming out next week on Thursday. It's my favorite song from the album… it's the song I've always wanted to perform on stage.
TM: Sharing music from your debut studio album with fans on the road must be exciting. How's your tour with Billy Currington been going so far? Any highlights you want to share with fans?
Kelsea: It's been great. Second weekend of it right now and we are finding our groove. He has 11 number 1 singles. And he's the nicest guy, so chill. I love being able to stand along on stage and watch such a pro.
TM: Are you excited to hit the road with Rascal Flatts for their Rhythm & Roots Tour?
Kelsea: For me, Rascal Flatts are my whole entire memory and culture of country music. They have stayed relevant so gracefully through the years — and to be able to share a stage with them on tour is so exciting.
TM: You'll be performing at the ACM Awards on April 3. How are you preparing for these unique shows?
Kelsea: It's my first full-out award show production performance, so I'm letting myself be nervous. I mean, I feel like I need to go prove myself now since they gave me the award! (Laughs)
TM: Who are you excited to see perform at the ACM Awards when you're not on stage?
Oh, my God, everyone! Dolly Parton is going to be there. I've never met her before so I'm going to give her the BIGGEST hug.
TM: Fans are excited to see your new music video for "Peter Pan", any highlights from that experience that you want to share with fans?
Kelsea: I am so excited about this. It's coming out next Thursday. When I think of "Peter Pan" I think about the story we were told when we were kids. I really wanted to do something different than what people expect. The music video director Kristin Barlowe, who also directed "Love Me Like You Mean It", wrote a treatment for it that was so different and beautiful. It's a super mature outlook on the story. It's almost like a mini cinematic movie and I can't wait to share it with fans.
#PeterPan. Video coming soon. pic.twitter.com/8BkGDitezM

— Kelsea Ballerini (@KelseaBallerini) March 23, 2016
TM: Tell us your #FirstLastNext
Kelsea:
What was the first concert or live event you ever attended? Britney Spears
What was the last live event or concert you attended that really floored you as a fan? Rihanna – It was so good. She has so many hits!
What's the next concert or live event you're excited to attend as a fan? The ACMs!
TM: Can you share one picture with fans that's on your phone right now, and tell us more about it?
Kelsea: When I found out I won the ACM award, I fell off the couch, and of course someone caught it all on camera—so sneaky! So here I am sitting on the ground making an embarrassing face.
My reaction to WINNING AN ACM AWARD pic.twitter.com/PgbyUb9xod

— Kelsea Ballerini (@KelseaBallerini) March 23, 2016
TM: Admit it. What's an Emoji you use all the time?
Kelsea: Salsa Dancer, I use it for everything. ?
TM: You're appearing on an upcoming episode of Nashville. What was that experience like?
Kelsea: That was an amazing experience. I love this show. I got to sing "Peter Pan" on it. So cool. The episode is going to air soon!
TM: Are there any future plans or upcoming projects you'd like to share with fans?
Kelsea: I am so excited for "Peter Pan", the ACMs, and my tours. I can't wait to see fans on the road!
---
Be sure to keep up with Kelsea Ballerini and all your favorite country stars who are coming to a stage near you.
You Might Like
As we prepare for Lollapalooza's virtual 2020 installment, let's look back at the moments that made the festival iconic.
Headed to Voodoo? Here's everything you'll need.
The first weekend of Austin City Limits Music Festival was picture perfect.