Interview: Joshua Radin Opens Up About New Album The Fall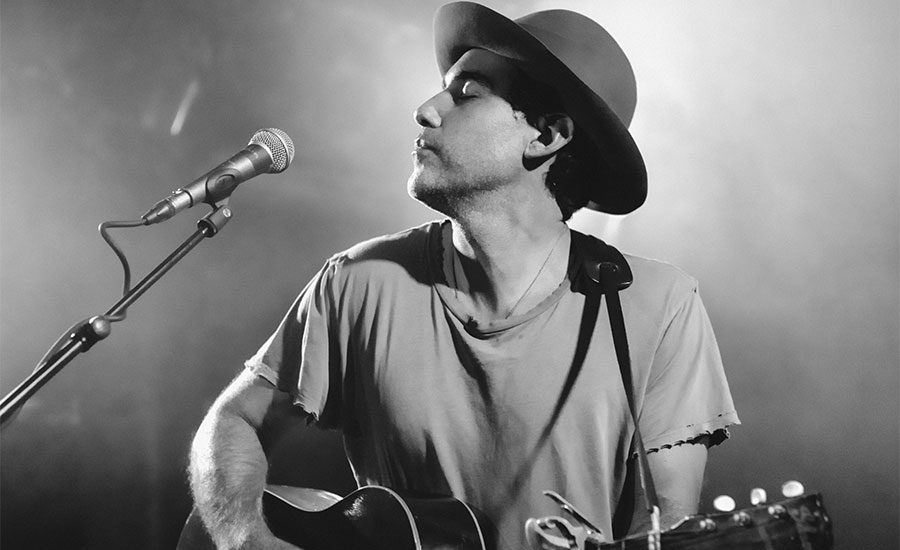 Singer-songwriter Joshua Radin has a special knack for capturing and reflecting on life-defining moments.
Radin's soulful songs have been featured in more than 100 TV shows and films over the past decade, and he's good friends with stars like Zach Braff and Ellen Degeneres.
But that's all just icing on the cake for Radin, whose unexpected career didn't even begin until he first picked up the guitar at age 30(!). He's come a long way since then – he's about to release his seventh album The Fall, which drops on January 27, and he's currently doing what he does best: delivering stirring live sets of his heart-rending tunes.
We recently caught up with Radin to discuss the new album, life on the road, performing at Ellen Degeneres and Portia de Rossi's wedding, and so much more. Dig in below.
Before you pursued music, you studied painting at North Western and even taught art lessons. Do you find that talent in other disciplines has helped your music in any way?
That's a good question.
Yeah, I do find that I write songs visually. And I think that probably comes from having an art background and then writing screenplays for years.
Even though you're writing words on paper, it's still a visual medium.
You're writing a blueprint for a film. So I think when I'm writing songs, I'm just looking around and seeing what I'm seeing and trying to describe it in the best way possible. I guess I fall into using metaphors for my relationships with what I'm seeing around me, whether it's the weather or objects in front of me or what a room feels like that I'm in, you know, something like that.
I try to place the listener of every song into that place in my head.
How did you ultimately decide to pursue music?
Well, oddly, it chose me. That sounds strange, but after years and years of seeking out an audience by trying to paint and sell my paintings, or trying to write screenplays and sell them and get them made into movies, I was always seeking an audience for something I was doing creatively.
This was the first thing I ever tried that was just a hobby and the audience sort of found me in the early days of Myspace and TV and film, things like that. And people would just seek me out and say, "Where can I get your music?" And I'd just write them back and say, "Well, I don't really have any other music.
I was just kind of starting this up as a hobby. Like a meditative device. And then pretty quickly the hobby became a career, very fortunately. I never thought I had the confidence or the talent to do something like this for a living, and people just started writing me and saying, "You're wrong."
You actually didn't even learn to play music until you were about 30, but within six months your song "Winter" was featured on Scrubs. Want to tell us how that went down?
That's what I mean, like, who starts learning a few chords on the guitar at age 30 and then thinks they're going to be a professional musician. It's just out of the realm of possibility. With "Winter" I had learned six chords on the guitar and I thought, I wonder if I can write a song that uses these six chords.
[Laughs] I happened to be friends with Zach Braff and I played him the song. And he told me, "You know, you should demo that song and send it to Bill Lawrence – who created the show Scrubs – because he's always looking for new music to put on the show." And I just thought, whatever, you know.
I demoed it in my friend's bedroom, and it was the most barebones demo you could imagine. It wasn't a studio or anything like that, just a little bedroom recording. And three weeks later Bill Lawrence called me and was like, "Do you mind if I use that song in this episode?" And I told him, "No, I wouldn't mind at all."
Then the show airs, and I'm watching it at home in my apartment in New York with my girlfriend at the time, and we were pretty much screaming because they played the whole song over this really sad montage. In a silly comedy, they don't have many moments like that, so a lot of the fans perked their ears up.
It crashed the NBC website when the show aired because people were trying to figure out who wrote the song.
And people were trying to find me everywhere, they were writing into the show, so I had to put the song on Myspace. And all the sudden I started having a few fans. It wasn't like this overnight success, I had a few fans that sought me out, asking me to write more songs because something touched a nerve with them.
I just started slowly but surely writing more songs and I started playing a few little gigs in the Village in New York and then Hotel Café in Hollywood. Pretty soon, I'd write a new song for a particular gig. Then I'd demo it on a computer, and I'd burn a copy of this really sparse, minimal, just vocals-and-guitar arrangement for the show. And invariably some music supervisor would be there at the show and say, "That song that you said was new, do you have a demo of it?" Y'know: "I work for Grey's Anatomy, can we use that?" And I'd just say, "Okay." One of those weird serendipitous kind of things and I got really lucky to be in the right time at the right place.
Only six months before your first big break. Did it feel as quick as it sounds?
Well that immediate thing that happened right away made me decide to throw all my energy into writing songs. And I had to learn how to play on stage, because I never wanted to be on stage or be in front of a camera. I always wanted to do things creatively behind the scenes. But I had to learn, so I just went on tour and started playing every night and learning by doing.
And nothing has happened quickly, by any means.
My favorite quote is an Abraham Lincoln quotation: "I walk slowly, but never backwards." And that's kind of how I feel about my career, the longer it takes to build something, the longer it takes to tear it down.
I've built my fanbase organically, fan by fan, show after show. I'm not a radio artist so it's not like any of my songs are being shoved down people's throats for 50 rotations a day on pop stations. It's all happened organically and I love it. I feel like every one of my fans feels a little bit of ownership when it comes to me and my music, because they had to work a little bit more to find me.
Your songs have been used in over 100 films and television shows. Is there a show or movie that you'd like to do a song for, or a particular director you'd like to work with?
I think for almost every song I've ever written someone's called and asked me, "Can we use that?" I guess a dream scenario would be if Wes Anderson called and said, "I want you to write all the songs for my new movie." [Laughs.] Mark Mothersbaugh scores the films, but usually Wes Anderson just uses recognizable songs. I guess sometimes he'll use just use the score, but he makes great soundtracks.
I love The Graduate and Harold and Maude – great soundtracks where one artist is the voice of the film. So it would be really cool to do something like that, but I'm not holding my breath.
Speaking of Scrubs, your friend Zach Braff once called you "the new Paul Simon." What has his friendship meant to you over the years? Were there any other friends that championed you early on?
He's a very good friend of mine and he's been a great support. He's told me before that he feels a bit of ownership when it comes to my music because he was one of the very first people that gave me exposure.
He says that a lot of people write him all the time on social media to thank him for introducing my music to them. Of course, he didn't need me as much as I needed him in terms of career, but I think it's been somewhat symbiotic.
Ellen Degeneres was and is a great supporter and champion of my music. She asked me to play as she walked down the aisle at her wedding. And she's brought me on the show many times. My music caught on with a lot of her fans. Other than that, my parents, my sister, close friends, people like that who you wouldn't know who they are, and them just telling me, "Hey, you should try to make a living doing this." And I'm glad they did.
Tell us a little bit more about playing Ellen DeGeneres and Portia de Rossi's wedding. How did that go down?
Well, I played "Today," and that was their song. I was going to play it on her show, and when I was sound checking it, she and Portia happened to be standing there and they started crying.
They came up to me after the show and told me that they want to get married to the song.
A few months later I got a call, and they said they would love to have me be a surprise at her wedding. It was only going to be 20 people in her living room, and just her and Portia's family. I was on tour and I flew in, luckily I had a couple days off. And it was a lovely affair.
I stood in front of them as they were holding hands and crying, looking at each other. They were just so much in love. It really was a crazy moment for me being such a fan of theirs.
Early in your career, you relocated to LA and frequented the Hotel Café with other up-and-coming singer-songwriters like Sara Bareilles and Ingrid Michaelson. What was that scene like?
It was just this tiny little bar that was like a coffee shop that held 80 people. And more of us started hanging out there and turning it into this songwriter scene. It really became a great little community. So many of those artists have gone on to bigger things, touring at big venues and doing their own headlining tours. But back then the model we had was that it was sort of like our Cheers but with guitars.
It's where we hung out, it's where we could drink for free. We'd smoke cigarettes in the alleyway and try to pretend it was like the old Tin Pan Alley. It was in the eye of the storm that is Hollywood, surrounded by seedy nightclubs, but this was like a little oasis of reality. There was realness to it and no velvet rope outside of it. Anyone could come in, and everyone was just kind of telling their own stories and seeking out other stories from people.
I learned a lot in the early days from watching my friends perform, because I had very little experience. Now it's grown a little bit – they've expanded a little bit so they can hold a few more people now – but it's still one of those places. When I'm home in LA, I don't really go out much, but when I do go out that's kind of where I go to have a drink and meet up with friends.
Is it true that your first album, 2006's We Were Here, featured the first songs you ever wrote? What did it feel like to put them out all at once?
Yeah, the first 10 songs I ever wrote. It was very, very intimidating. Actually, it wasn't that scary, because all 10 of those songs had already been in movies or TV shows. It was like a compilation that I just put out on iTunes myself. So people had been asking for a while, "Where can we get this record?" And I was just like, "Okay, here it is." And then it shot up the charts on iTunes and I signed a record deal.
You've been involved with Little Kids Rock for a while. Would you like to talk about the charity and your involvement with it?
I've been involved with them for years now, and I found them because one of my idols Paul Simon was on the board. So I saw that and I looked into it and I really loved the organization.
I go into the schools and inner cities and we donate instruments and teach them songs. Then I bring them up on stage to play with me in concerts, and these little kids – you should see their faces when they get to be on stage in a big room and people go crazy for them. It's like they're walking on cloud nine. It's the most amazing feeling to be able to do something like that, to be able to give back. Especially in the inner cities, where music and education programs have been cut because of lack of funding.
It's just something that I'm passionate about, that the arts need to be part of every child's education, not just the kids who can afford it.
Tell us a little bit about your new album The Fall. What feels different about the process this time around?
I don't think there's much different – it's me. It's like you're opening up a new diary and reading my journal entries. Which is just like my previous six albums. The only difference in this one is that I produced this myself.
I've never produced my own albums before. So it was an even more fun and creative experience for me. I learned so much, and I've learned a lot from working with other producers on other albums, so I got to put that knowledge to the test.
The Fall comes out January 27 everywhere, and I hope people really dig it.
How do you feel about being on the road? Is it fun to see the world, or hard to be away from home?
I'm on the road right now, and I love it.
I love waking up and figuring out which city I'm in on the bus. Looking outside and getting on my phone and figuring out where I'm going to find the best coffee to start the day. I usually find a café to sit and read, people watch. Then I try to meet people in the town and ask them where I should go and end up finding great restaurants. It's usually all about food. [Laughs] I try to find the best restaurant in each city.
I'm starting to get into photography, so I bought a camera and I'll walk around taking pictures. It's a great way to get to know a city. I love it. It's getting paid to travel, and I used to travel all the time before doing this as a job. So now I get paid to do it, and it's the dream.
Is there any place that you're excited to check out for the first time? Or somewhere you're excited to get back to?
I'm going to Budapest in about a month, three weeks, something like that. I played a show there a long time ago, maybe 10 years ago and I haven't been back since. I just remember it being the most beautiful city, so I'm excited about that.
You've said that you like that nervous feeling that you get before going on stage. Is that still with you?
Yeah, I get some butterflies before I walk on stage and the crowd claps. And then I settle right in, but that adrenaline rush is the best drug in the world.
Finally, is there anything that you'd like to say directly to the fans that can't wait to see you at your upcoming shows?
I guess I would just like to say thank you, because what else is there to say? I'll just keep doing this as long as they want me to. And it's the best job in the world, so long as people want me to keep writing and touring and playing it live for them – that's what I'm going to do.
---
Add Joshua Radin to your Ticketmaster Favorites to get alerts for his upcoming shows.
Tags