13 Jazz & Blues Festivals Not To Miss This Year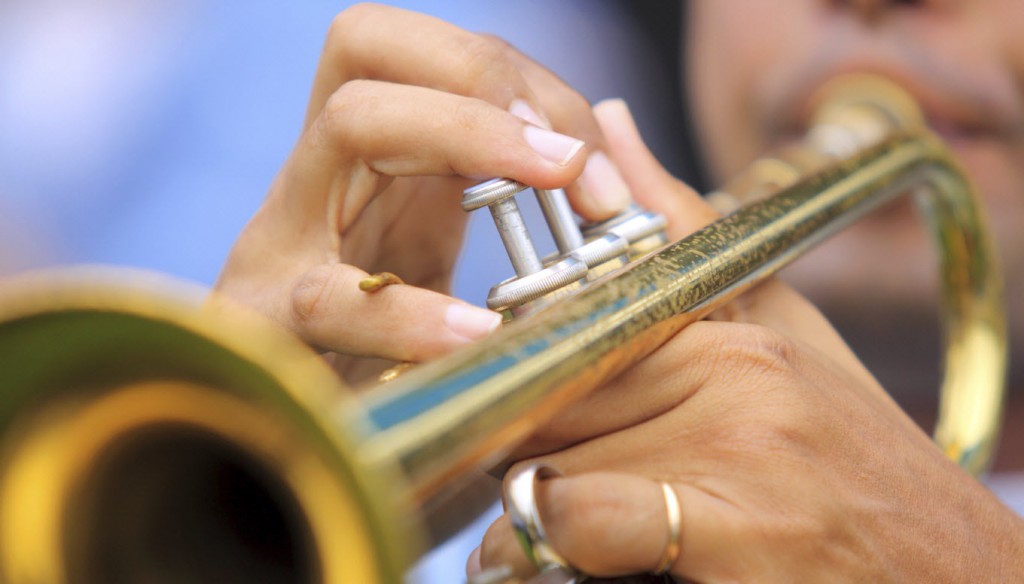 Today's jazz and blues festivals aren't just for diehard Louie Armstrong and Muddy Waters fans. Though many festivals take pride in catering to niche jazz and blues audiences, others have expanded to include new sounds, resulting in some of the most interesting and eclectic festival lineups of the summer. A lot has changed since the very first New Orleans Jazz & Heritage Festival in 1970, when legends like Mahalia Jackson and Duke Ellington graced the stage, but one thing remains constant—every year jazz and blues festivals across the country embody the soul of the music that started it all, attracting thousands of fans who come together to appreciate the rich culture on which these festivals were built.
Below we've put together a roadmap to the top summer jazz and blues festivals across all of North America. Whether you're interested in mainstream hits or deep cuts, somewhere out there is a fest for you to get jazzed about. Check out the list and find your perfect fit.
Jazz In The Gardens — March 21-22
This year marks the 10th anniversary of Jazz In The Gardens, a weekend of diverse music, food, and culture presented by the city of Miami Gardens, Florida. This year they've gone all out, tapping beloved comedian D.L. Hughley to host performances from a wide variety of jazz, R&B, and hip hop greats including headliners R. Kelly, Toni Braxton, Maxwell, Erykah Badu, and Run DMC.
New Orleans Jazz & Heritage Festival — April 24-26 & April 30-May 3
A shining beacon of popular jazz festivals in a city rich with jazz history, the New Orleans Jazz & Heritage Festival is widely known as one of the must-see fests of the summer. It's changed a lot since its inaugural 1970 show, but it continues to uphold the tradition of collecting the best and brightest in music. From rock and pop icons like Elton John, The Who, Lady Gaga and Hozier to contemporary jazz music heavyweights like Cassandra Wilson, The Taj Mahal Trio, and New Orleans' own Irvin Mayfield, there's something for fans of every stripe. Due to high demand the festival is split into two weekends, April 24-26 and April 30-May 3.
Beale Street Music Festival — May 1-3
Each year the Beale Street Music Festival kicks off the month-long Memphis in May International Festival. This year's diverse mix of headliners includes Lenny Kravitz, Ed Sheeran, Wale, and even Five Finger Death Punch, proving that the Beale Street Music Festival can appeal to fans of any genre. Fear not, blues and soul purists — traditional acts like Robert Randolph & The Family band, Ira Walker, Betty Lavette, and Savoy Brown show that the festival hasn't strayed too far from its roots.
DC Jazz Festival — June 10-16
Featuring some of the most renowned jazz musicians in the world alongside promising local talent, the DC Jazz Festival aims to do more than give its festival goers a brilliant experience—the funds raised from the festival provide music education programs to public and charter schools in the nation's capitol. This year, Grammy award winners Esperanza Spalding, Snarky Puppy, and Common will join a talented lineup of local artists to perform for the worthy cause.
Playboy Jazz Festival — June 13-14
The 37th installment of the Playboy Jazz Festival, hosted by George Lopez, is slated be their biggest blow-out yet. The fully-loaded lineup brings jazz legends like Herbie Hancock, Aloe Blacc, and Snarky Puppy to the breathtaking Hollywood Bowl for an unforgettable night of music. Maybe if you're lucky you'll even spot Hugh Hefner and a few bunnies in the crowd.
TD Toronto Jazz Festival — June 18-27
Explore Toronto and enjoy the jazz greats of our time at the TD Toronto Jazz Festival. The main festivities can be found in Nathan Phillips Square, but the city is scattered with over 350 shows in more than 40 venues throughout the festival's run. Three of today's most influential jazz artists—Jamie Cullum, Kurt Elling, and Radio Deluxe—have been announced thus far, with a full lineup still to come.
Xerox Rochester International Jazz Festival — June 19-27
Rochester, New York will come alive this June with 234 concerts in 13 indoor theatres, 81 free shows on several outdoor stages, and nightly jam sessions—all part of the world-renowned Xerox Rochester International Jazz Festival. With performances from the likes of Diana Krall, Gary Clark Jr., and Jennifer Hudson, ticket buyers are in for an absolutely unforgettable nine days of music.
Hampton Jazz Festival — June 26-28
Since 1968, the Hampton Jazz Festival has been drawing top talent to the historic city of Hampton, Virginia. This year's lineup has yet to be announced, but if the 2014 lineup is any indication (Toni Braxton, Babyface, and Chaka Khan, to name a few), you might as well mark your calendars now.
The lineup for the 48th Annual Hampton Jazz Festival will be announced Monday, March 9 at 12pm! http://t.co/phLQWTwcah

— Hampton Coliseum (@HamptonColiseum) March 4, 2015
Montreal Jazz Festival — June 26-July 5
Crowned the world's largest jazz fest by Guinness World Records, this Montreal staple takes over the entire city for 10 days each summer, sprawling across multiple venues and stages for a completely immersive experience. The Montreal Jazz Festival has delivered nothing but the best for the last 35 years, including legendary performances by Ella Fitzgerald, Miles Davis, Dizzy Gillespie, Paul Simon, and Norah Jones. This year's lineup includes the whole spectrum of today's top jazz artists, from Grammy-nominated jazz-pop favorite Jamie Cullum and blues legend Buddy Guy to outstanding instrumentalists like jazz trumpeter Chris Botti.
Cincinnati Music Festival Presented by PG&E — July 24-25
The Cincinnati Music Festival (formerly known as Macy's Cincinnati Music Festival) takes place at Paul Brown Stadium on the beautiful Ohio River. Iconic performers including Miles Davis, Duke Ellington, and Aretha Franklin have graced the stages at Cincinnati's premiere jazz event, and in recent years the festival has also grown to embrace the best in contemporary blues, soul, R&B, and hip hop. Last year's star-studded lineup featured Robin Thicke, Chaka Khan, Charlie Wilson, and Ne-Yo—rest assured the 2015 lineup will be just as epic when it's announced on March 7.
RCB Royal Bank Bluesfest — July 9-19
This Canadian classic has grown in size and scope since its 1994 inaugural festival, rounding out its blues foundation with a growing number of rock, pop, and rap artists. In recent years the Ottowa-based fest has attracted a wildly diverse array of headliners including ZEDD, Blake Shelton 7, Journey and Snoop Dogg, but if you look a little closer at the small print bands you'll see that blues remains at its heart. This year's lineup has yet to be announced, but its location at LeBreton Flats—featuring striking views of the Ottawa cityscape and Nepean Bay—is already world-class.
Newport Jazz Festival — July 31-August 2
Since its humble beginnings in 1954 the Newport Jazz Festival has built quite a reputation, attracting the most talented jazz musicians from around the world. This year's highlights include crossover king Jamie Cullum, Grammy-winning super group Snarky Puppy, and jazz royalty like Arturo Sandoval and the Maria Shneider Orchestra. Enjoy the sounds while taking in a panoramic view of the stunning Newport Harbor from the festival grounds in Fort Adams State Park. Did we mention that student day passes are only $20? Not too shabby, if you ask us.
Monterey Jazz Festival — September 18-20
Each year the beautiful California coast provides the backdrop for the red-hot sounds of the world-renowned Monterey Jazz Festival. With a diverse lineup that features everything from jazz superstars to high school jazz ensembles, Monterey Jazz Fest highlights the present and future of jazz music. Last year's festival spanned eight stages and featured over 500 artists (Herbie Hancock, Booker T. Jones & The Roots, to name a few), and this year promises to be just as ambitious (full lineup TBA).
Tags
You Might Like
As we prepare for Lollapalooza's virtual 2020 installment, let's look back at the moments that made the festival iconic.
Headed to Voodoo? Here's everything you'll need.
The first weekend of Austin City Limits Music Festival was picture perfect.