The Ultimate Guide To Holiday Activities For Kids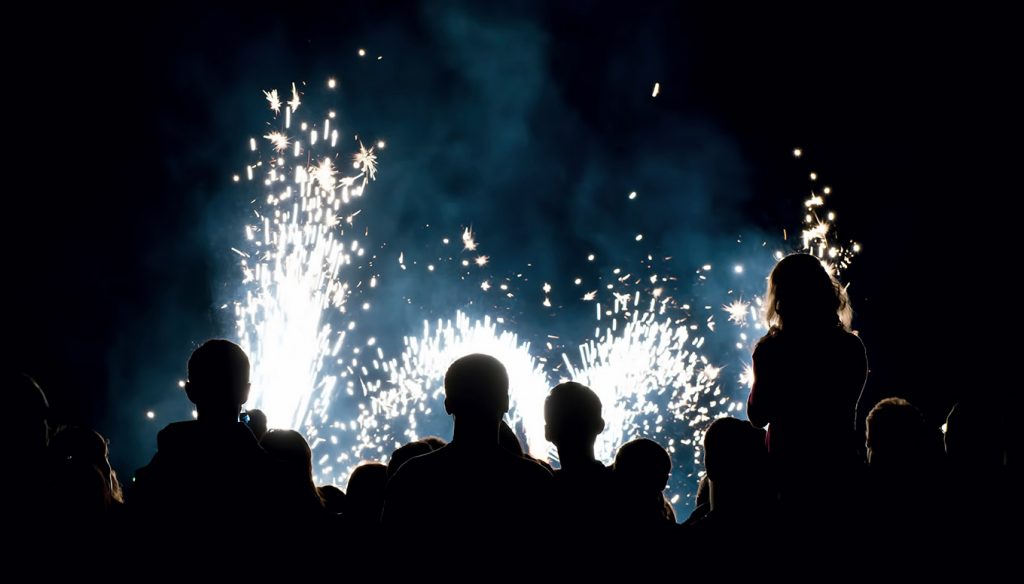 The family that plays together stays together, and live events are a great way to get some bonding time in with the whole clan. But even the best parents can get stumped around the holidays, when it's hard to find seasonal events that entertain kids without sacrificing fun for visiting relatives and family friends – not to mention parents themselves!
To help you find your all-ages fun, we put together a list of surefire bets that the entire family can enjoy all year round. These great options have you covered for every season and every holiday, whether spring has sprung or the leaves are starting to change. Have a look at some of our favorites and be sure to check back in as more fun pops up – it's a great way to stay in the loop about all the year's best holiday events.
Click on a square below to explore holiday activities and ideas for kids and families:
Hanukkah for Kids
December 24 – January 1
The Festival of Lights brings families together for eight convivial nights to celebrate their faith – and exchange presents, of course. Tickets are an excellent gift that give you and the kids the perfect excuse to get out and have some holiday fun. Disney on Ice offers magic galore with shows like Worlds of Enchantment (Anaheim, CA) and Passport to Adventure (Youngstown, OH) hitting select cities this Hanukkah. World music festivals are also a great way to introduce your kids to traditional Hebrew instruments and folksongs, plus you can search for local events that celebrate the community. Mazeltov!
Christmas Events for Kids
December 25
It's already beginning to look a lot like Christmas, and we can't wait for all the family fun going down this holiday season. Classics like the Nutcracker Ballet or the Christmas Spectacular Starring the Radio City Rockettes are perfect traditions to revisit every year. Another wintery favorite is Disney on Ice, with shows like Dare to Dream bringing all your favorite magical characters to a rink near you. For something a little sportier, the NBA has a huge slate of Christmas Day matchups that fans have been waiting to unwrap all year long, which means monster dunks and tons of team spirit for your whole crew.
Kwanzaa for Kids
December 26 – January 1
Each year Kwanzaa brings together families to celebrate values like unity, creativity, and faith. If you're in the Dallas area, you can get a head start on the festivities at the 24th Annual Christmas Kwanzaa Concert on December 9. The Apollo Theater also celebrates as Kwanzaa draws to a close with two Regeneration Night events on New Year's Eve.
New Year's Eve with Kids
January 31
Even if your kids are too young to stay up for the Ball Drop, there's still plenty of family fun to be had on New Year's Eve. Chicagoland clans will be heading to the Blue Man Group Family New Year's Eve event to witness all of the weird, wacky, and wild shenanigans. If you can wait a few days until January 2, the NHL Winter Classic has made a big push to take over the New Year's holiday weekend. The 2017 Winter Classic features an outdoor playoff rematch at Busch Stadium as Midwest rivals the Chicago Blackhawks and the St. Louis Blues clash.
Chinese New Year Activities for Kids
January 28
This lunar calendar celebration gives millions of people of Chinese descent living around the world an opportunity to usher in good luck for the coming year through a number of colorful traditions. The festivities have spread to North America in the form of street fairs celebrated in cities with large Chinese populations between January and February. It's also a great time of year to catch a performance of Shen Yun, which combines traditional Chinese dance and graceful storytelling for a unique cultural experience that's sure to make an impression on youngsters and adults alike.
Family Valentine's Day Ideas
February 14
There's no shortage of Valentine's Day events that will have your whole family feeling the love. Kids Night On Broadway is a great February program that shares your love of theater and spares your pocket book – with each full-price adult ticket, theatergoers get a free child's admission to a world-class Broadway show. Hoops fans in New Orleans can enjoy a weekend of high-flying fun by scoring tickets to the NBA All-Star Game, which heads to the Big Easy on February 19. If you've got older kids, help them plan their first date at a concert – which also gets them out of the house so you can have a date night of your own.
Mardi Gras for Kids
February 28
Fat Tuesday is great for grown-ups looking to party, but the cultural riches of New Orleans make it a perfect family road trip destination. Hit up the French Quarter for historic architecture, music in the streets, and plenty of iconic harlequin imagery. There are tons of other Mardi Gras celebrations all around the country that offer carnival-style fun for the whole crew as well.
St. Patrick's Day for Kids
March 17
Looking for kid-friendly St. Patty's Day events that will leave everyone else green with envy? You're in luck. Austin, TX music festival SXSW has a number of attractions specifically for families: SXEdu will get them hands-on with interactive exhibits, SXSW Gaming Expo has the latest and greatest for gamers of all ages, and family-friendly screenings of favorites like The Powerpuff Girls have been a huge hit in the past. Many of the music showcases are all ages, so families can rock out together to the hottest up-and-coming artists on the scene today. For families that want to get an early taste of the coming baseball season while soaking up some rays, MLB Spring Training in Arizona and Florida features more than a dozen teams swinging for the fences.
Easter Activities for Kids
April 16
There's a whole basket full of great events to hop on once you're done with the big egg hunt. Baseball fans can soak up America's pastime as opening weekend sweeps ballparks across the country this Easter. If you're in New York, don't miss the Harlem Gospel Choir Easter Sunday Brunch, an all-you-can-eat buffet and concert that feeds the body and the soul.
Earth Day Activities for Kids
April 22
Earth Day is a great way to instill kids with values like conservation, peace, and togetherness while giving back to the planet. Keep it green this year by participating in events at LEED Certified Green Venues, such as Levi's Stadium in the Bay Area, AmericanAirlines Arena in Miami, or Target Field in the Twin Cities Area. Or, keep it local by walking to a nearby park and enjoying what Mother Nature has to offer.
Cinco de Mayo Activities for Kids
May 5
Sometimes mistaken for Mexico's Independence Day, Cinco de Mayo actually commemorates an important military victory that occurred more than 150 years ago. Ironically, the holiday is more popular in America, where it has become an opportunity to celebrate Mexican culture. In addition to street festivals with lots of tasty traditional eats, there are tons of concerts and events that make this holiday a family-friendly blast.
Mother's Day Events
May 14
Moms everywhere can bank on having breakfast in bed, but there's a lot that the family can do to make the rest of her day just as special. If the family matriarch loves to spend the day with her kids, then we have some mom-tastic events that you won't want to pass up. If you're in New York City, Broadway has plenty of family-friendly theater shows that appeal to moms and kids alike – Disney favorites like The Lion King and Aladdin already have tickets on sale for May. And for Chicago moms who love musicals, the junior production of The Wiz at the Apollo Theatre is an obvious choice. As a bonus, it'll make your kids feel like they can do anything, and what mom doesn't want that?
Memorial Day for Kids
May 29
This three-day weekend commemorates soldiers who sacrificed everything to protect American freedom, meaning it's chock full of patriotic celebrations. Parades and street fairs happen across the country, but St. Louis kiddos will also be flocking to the Peabody Opera House all weekend long to catch PAW Patrol Live!: Race to the Rescue, which brings some of their favorite canine cartoon characters to life.

Father's Day Events
June 18
Instead of getting Pops another tie this year, consider giving him something he really wants… like tickets to a big game. Since Father's Day falls in mid-June, you could surprise him a little early with NHL or NBA Finals tickets, or just take him out to a ball game if he's more into MLB action. Lots of big concert tours kick off in June, so you can also show Dad you care with tix to see one of his favorite groups underneath the summer sun.
Independence Day Activities for Kids
July 4
Your local fireworks show is fine and good, but why not step outside the normal Fourth of July routine with a ticketed firework spectacular that's guaranteed to dazzle the whole family. Or you can check out Cirque du Soleil: KA in Las Vegas at The MGM Grand, which has several shows throughout the Fourth of July weekend that will amaze kids and grown-ups alike with gravity-defying acrobatics, colorful costumes, and quirky clowns.
Labor Day Activities for Kids
September 4
It's the last three-day weekend before the kids head back to school, so make it count! Fortunately, in addition to local parades and celebrations, there's also tons of great live entertainment opportunities to take advantage of. Fans gearing up for NFL Kickoff 2017 can join the action during the final week of preseason football, which gives pigskin lovers a chance for family bonding and a sneak peak at their favorite squad in action.
Diwali Activities for Kids
October 19
After observing your usual Diwali rituals at home, there are plenty of opportunities to get out in the community and celebrate the Hindu festival of lights. The Diwali Showcase at Vanderbilt University brings traditional song and dance to life in a way that will have youngsters fascinated and ready to connect with their culture. Diwali Movie Night is another fun way to educate and enthrall little ones while supporting Bollywood artists.
Halloween Activities for Kids
October 31
Boo! Now that we've got your attention, let's talk about some fun-sized Halloween events happening around the country. Bay Area families will be heading to the historic logging community of Felton, CA all October long for Thomas and Percy's Halloween Party, which lets train-loving tots take a ride with the classic cartoon engine. Tim Burton fans in Southern California can sing along to the animated awesomeness of Danny Elfman's Nightmare Before Christmas at the Hollywood Bowl. If you're located elsewhere, it's easy to find events in your neighborhood as well – just check out our handy search tips to become a pro at finding scary-good events near you.

Veterans Day Activities for Kids
November 11
With the kids out of school for a long weekend, Veterans Day is the perfect chance to sneak in a close-knit family outing before the insanity of the Holiday Season kicks into full gear. For families in Salem, VA, Sesame Street Live: Elmo Makes Music is a treat for little ones that want to clap along with feel-good, educational tunes. If you're in the Detroit area and looking for all-ages thrills, head to the Palace at Auburn Hills for Ringling Bros. and Barnum & Bailey Presents Circus XTREME, a big top spectacular that has everything from animal stunts to extreme sports.
Thanksgiving Activities for Kids
November 24
There's plenty of great kid-friendly events to be thankful for this Thanksgiving. Detroit families will be heading to the Thanksgiving Family Fun Fest, where everyone can eat their fill at the breakfast buffet before scoping out America's Thanksgiving Day Parade. There's also a rich smorgasbord of NFL games, with Vikings vs. Lions, Cowboys vs. Redskins, and Colts vs. Steelers all on the menu.
Tags