Turn Heads With Trendy Festival Hats On Any Budget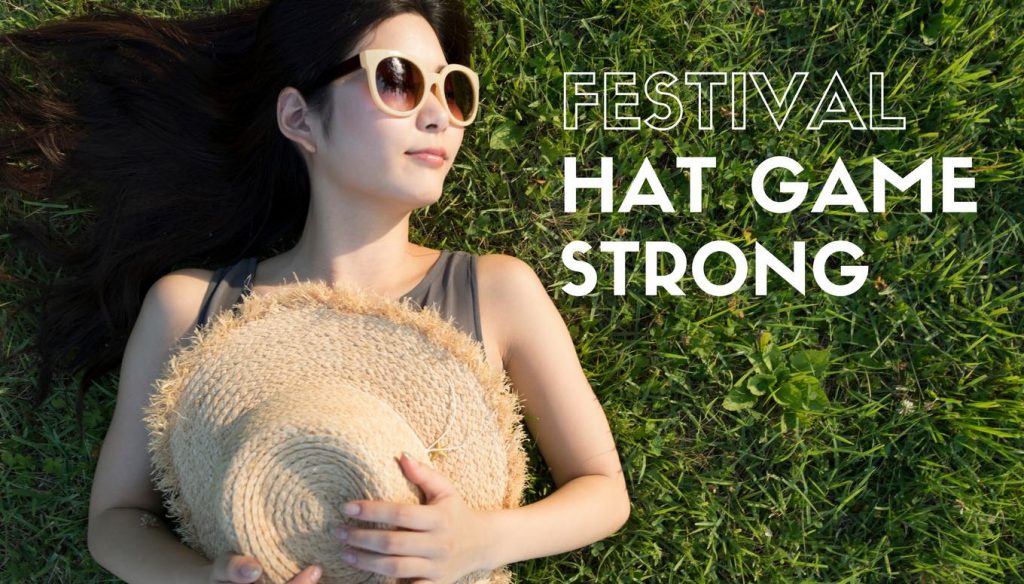 Right up there with sunglasses, a stylish sun hat is an essential summertime accessory—especially if you're attending an outdoor concert or music festival. Hats not only protect your face from the sun, they also add an instant cool factor to your outfit and provide a little shade when you're dancing. Basically, festival hats are functional and stylish and we can't get enough of them. Here, we're sharing a few of our favorite toppers to rock out in this season.
Music Festival Hat Game Strong Inspo
Simply Chill
Summer and straw hats go hand in hand. Thanks to its white ribbon, this chic hat from Mango ($18) will go great with anything while adding a feminine touch to the outfit. Plus, it's affordable too.
---
Pretty In Pastel
We bet you've never seen a fedora in this pretty pastel pink color before, which is what makes the sweet Lack Of Color hat ($59) a standout choice for an outdoor concert. No one else will be wearing it.
---
Super Model Vibes
This bohemian Ale By Alessandra topper ($85) has music festival vibes written all over it. It'll look totally on trend paired with a choker and a pair of cutoff shorts. Bonus: Super model Alessandra Ambrosio is the boss behind the brand, which features tons of sweet fest styles.
---
Cadet Chic
The unique Janessa Leone cadet-style shape of this hat ($250-$275) is what makes it so special. It comes in bleach and black, and features ribbon and metal embellishments that give the airy cap just the right amount of pop for an outdoor fest.
---
Leather + Feathers
This Gladys Tamez hat ($360) is just begging to be worn at a music festival, and it was hand made in Los Angeles so that's super cool. Its leather band and feather accents are everything. Looking for a similar black hat, but for less than twenty dollars? Peep this stylish straw hat ($18) and add your own feathers.
---
Livin' La Vida Lightweight
Rock this lightweight H&M linen hat ($13) to add a dapper touch to your concert look.
---
Cap-Sized
You can never go wrong with a baseball cap. This Mango version ($13) gives the cap a unique twist with chambray fabric and a cool paint splatter design.
---
Old School Cool
Looking for the perfect wide-brimmed fedora in an out of the ordinary color? We've found it for you. Check out this American-made wonder ($100). It's poised to be the envy of all the other hats at the concert. And when people ask where you got it, you can just simply respond, oh just America's oldest hat maker.
---
Classic Hollywood Icon
From beach to outdoor concert, this stylish Gladys Tamez straw hat ($340) works for every occasion on your summer bucket list. Looking for a hat that won't break the bank? This straw hat with a fest-worthy leather accessory ($138) is less than half the cost.
---
Palm Tree Topper
If you're looking to splurge on a timeless topper that will last you for years to come, turn to this Loro Piana navy blue panama hat ($735) crafted from palm tree leaves in Ecuador. Dress it up with a blazer or dress it down with a pair of linen shorts at the festival. If you're in sticker shock, try this less expensive grey and navy hat ($15) on for size.
---
Make a statement with your hat at your next music festival and share pics with us @Ticketmaster.

You Might Like
As we prepare for Lollapalooza's virtual 2020 installment, let's look back at the moments that made the festival iconic.
Headed to Voodoo? Here's everything you'll need.
The first weekend of Austin City Limits Music Festival was picture perfect.