Halloween Costume Ideas: How To Dress Like Your Favorite Singers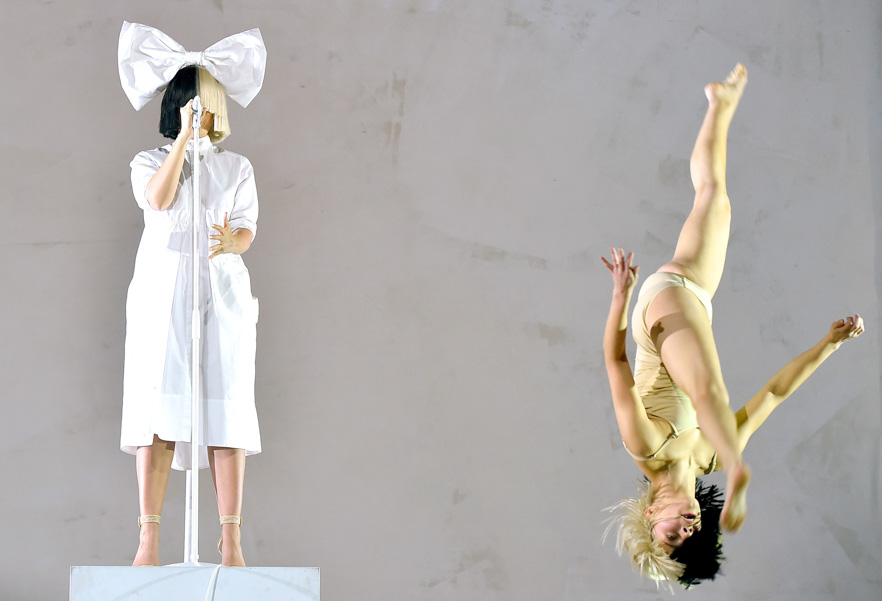 If you're an avid concert-goer, you already know that music stars don't just kill it on stage with their vocals, they also deliver in the costume department too. And with Halloween just a few weeks away, we're happily soaking up all the inspiration. From Gwen Stefani's galaxy-themed ensemble to Sia's gigantic signature bows, here's how to dress up as your favorite singer this Halloween.
Looking for events in October and things to do for Halloween? Check out our October 2016 Events Calendar for Halloween and fall concerts, festivals, theater and shows near you.
With her signature face-covering black-and-blonde wigs and gigantic bows, Sia is hands down the coolest pop star to dress up as this Halloween. Pretty much all of her looks are iconic, but we're particularly loving this ensemble comprised of a grayish blue dress with fluttery sleeves.
Replicate this country music superstar's dynamic on-stage look with a nude-colored bodysuit tucked into a matching voluminous high-low skirt. Fireworks and jukebox not included.
Channel Demi Lovato vibes for Halloween in this epic all-white look. All you need is a few pieces that you may already have in your closet: a white top, high-waisted shorts, and jacket. To complete Lovato's edgy look, add some DIY white embellishments to the jacket, make your hair nice and sleek, and finish with bronzy cheeks.
Leave it to rock star Gwen Stefani to don an utterly cool space-themed look like this one. Copy her ensemble for Halloween with galaxy-inspired shorts, black over-the-knee socks, and a shiny silver turtleneck blouse.
Nick Jonas can rock a head-to-toe leather look like it's nobody's business. Get his MTV VMA performance look by wearing a forest green leather jacket with a matching pair of pants and accessorize with a microphone.
This pink look on Drake, a.k.a. Champagne Papi, would make a unique costume for Halloween with lots of swag. All you need is a pink soccer jersey, a gold chain, and see-through pink shades.
This country music star's look is simple, but statement making. All you need is a pair of leather pants, a distressed t-shirt, and of course, a mic and a guitar.
This rock band makes for a great couples costume with your best bud. Pick up a faux beard, some black shades, a dapper brown hat, and for the finishing touch, an eye-catching purple jacket decked out with floral embroidery (think patches and pins).
---
View the October 2016 Events Calendar for handpicked events that are perfect for the season.
Tags