Camping Etiquette at Music Festivals: 12 Easy Tips to Follow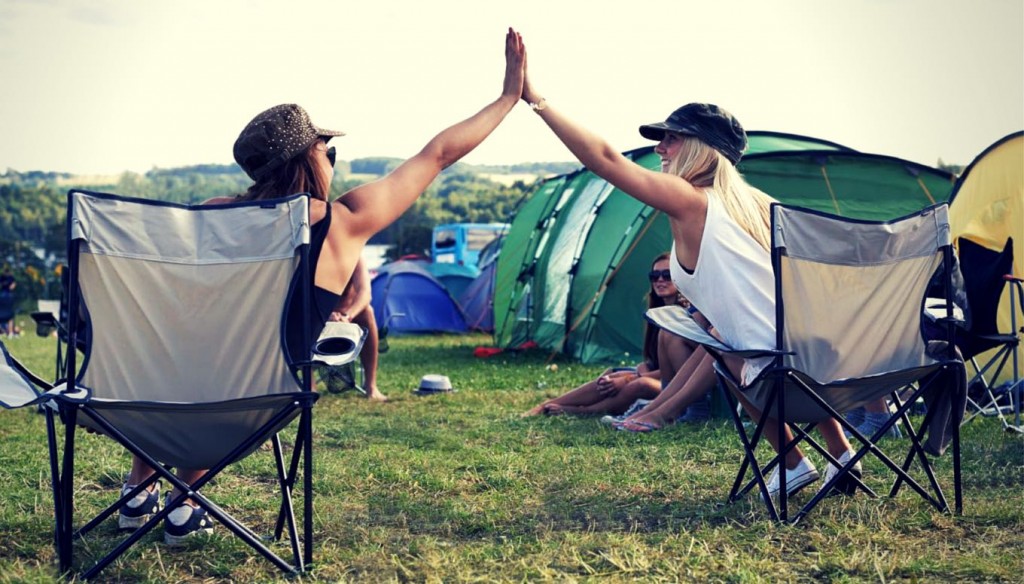 Music festival campsites are bursting with energy – camping at music festivals like Coachella and Bonnaroo is such a unique experience that puts you in the center of a lively community and leads to new relationships with fellow music lovers. For first time festival goers and inexperienced campers, camping at music festivals can be challenging to prepare for. So we've pulled together these 12 simple tips so you can have a solid camping experience at your next music festival.
1. Review the festival's camping policy. You might be excited to camp and think it's pretty much a free-for-all because it's an outdoor event. But there are rules about what's allowed in and what's prohibited at the camping area.
2. Check the weather a few times in advance. Sunshine and temps in the 80s sound amazing, and experienced campers know they'll need extra shade at their campsite, battery or solar powered fans to keep cool, and lots of extra ice to keep food and drinks cold. Slight winds can pick up, so it's a good idea to bring tarps to block wind (and dust), and heavy sandbags or weights to tie down your pop ups and tents.
3. Make a packing essentials list. Now that you've reviewed the fest policy and the weather, make a list of things to bring – share it with your group and divvy up who is responsible for what. Need some ideas to get started? View our list of festival camping packing essentials. In general, don't bring anything that's precious.
4. Get there early to score the best campsite location. The best spot will not only be closest in proximity to the festival entrance but also to food vendors, which comes in handy especially when you're running late.
5. Don't forget where your campsite is. To avoid wandering around lost through other people's camps, try dropping a pin as a reminder. Also keep track of the landmarks surrounding the area to help you remember later. PS: Choose distinctive landmarks that will stay stationary during the event. Most camping sites include section or zone numbers so those are your best bet.
6. Break the ice and help your neighbor. Every person for themselves just makes it harder for everyone. When you introduce yourself to your neighboring campers, offer to help them. That way they are more likely to proactively help you with things like building up or tearing down camp.
7. Be kind to festival staff. When someone helps you, remember to say "thank you." It's something so simple yet so many people forget to do it. Festivals are a community and friendliness tends to rub off, so keep calm and let karma do it's work.
8. Clean up your mess. When you head out for a day full of music and fun, don't leave a mess behind like open food containers, empty beer cans, or sticky substances on tables, and more. If you don't clean up your mess, your site will attract flies and animals. Also it could stink up your site in a major way. Gross.
9. Don't cut through campsites. Cutting through a stranger's campsite might make your walk shorter. But you're also invading someone else's space which is very rude.
10. Hang out with other festival campers. Don't just stick to yourself or your own group when you get there. Meet the people surrounding you so you don't feel awkward. They are also more likely to watch out for your stuff if they know you. So don't be afraid to offer them food and hang out.
11. Be a good fest buddy. Group trips can easily brew drama. Avoid this by picking up after yourself so you're not pinned as the lazy one of the group. Hopefully being considerate will be infectious and your friends will get in on it. See our tips on how to be the perfect festival buddy.
12. Respect nature & property on the grounds. Chances are the venue will have some nature, like trees or bushes. Definitely respect your surroundings by not throwing trash on them, carving into them, using them as a toilet, or anything else that could harm the plants or wildlife. At the end of the festival make sure to properly dispose trash and waste, and leave your camping area the way you found it.

Tags
You Might Like
As we prepare for Lollapalooza's virtual 2020 installment, let's look back at the moments that made the festival iconic.
Headed to Voodoo? Here's everything you'll need.
The first weekend of Austin City Limits Music Festival was picture perfect.