Camping Music Festivals – Comprehensive Guide & Packing List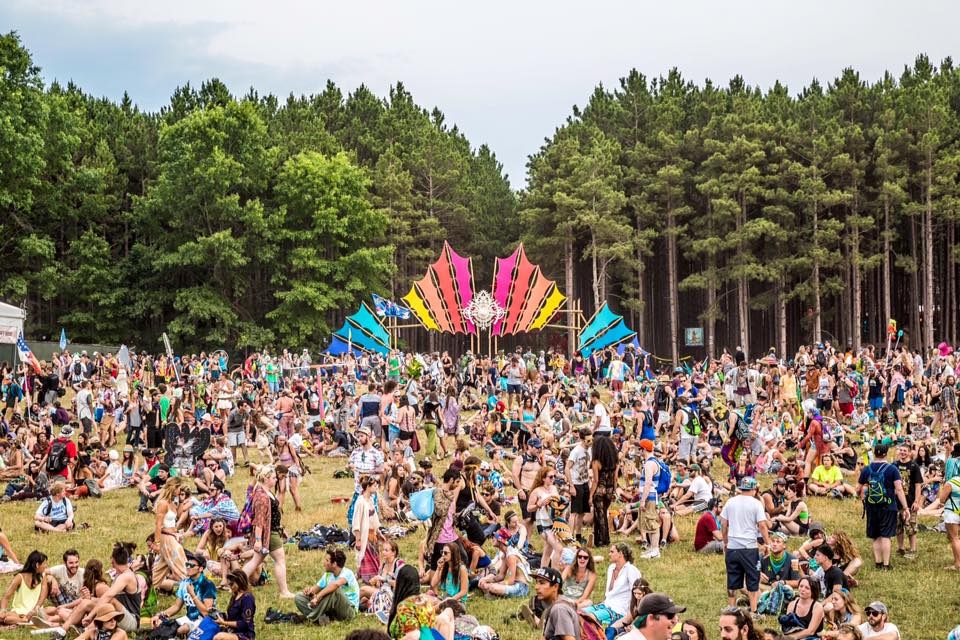 In addition to world-class music, art, and food offerings, many festivals provide the amazing opportunity to immerse yourself in the fest experience by camping on site. Camping offers exponentially more opportunities for fun and games throughout your festival weekend.
Why we love camping music festivals:
Neighbors
Camping festivals give you many more hours with your fellow festival-goers, offering you ample time to become fast friends with your tent neighbors during the day and when you get back from the festival at night.
Introduce yourself when you set up camp, and maybe bring some extra food and drinks to share with your neighbors. If you're at the same festival, chances are you'll get along great!
Whether you camp in a large group or by yourself, you'll leave with many more friends than you came in with.
After-hours
Leaving the last act of the night is always a bummer, but when camping the party doesn't have to end. If the festival allows it, many groups will bring their own sound systems and throw after parties until quiet hours begin.
Additionally, camping festivals will often have silent discos, where everyone wears headphones that are hooked up to the same DJ. That way, the people who want to sleep aren't bothered by live music, but those who want to keep on dancing can do so.
Activities
On top of fun after-hours activities like silent discos, camping festivals often have activities going on throughout the day before main acts begin. For example, Nocturnal Wonderland has yoga, arts and crafts, a water park, and many other fun things for festival-goers to engage in during the day.
Stress-Free Transportation
Camping festivals make transportation easy—you only have to worry about driving in and out one time. No stressing about stuff like who's driving or what shuttles to take, and definitely no more sitting in frustrating festival traffic.
Everyone is safer and happier when your tent is just a walk away from the fest.
Won't Break the Bank
Campsites are almost always cheaper than hotels or Airbnb's near the venue, and they cut down on transportation costs (bye bye Uber surge!).
Usually, you can have up to 5 or 6 people per campsite, and depending on the festival, costs can be as low as $50 a person. Some festivals like Shambhala even have free camping with your festival pass.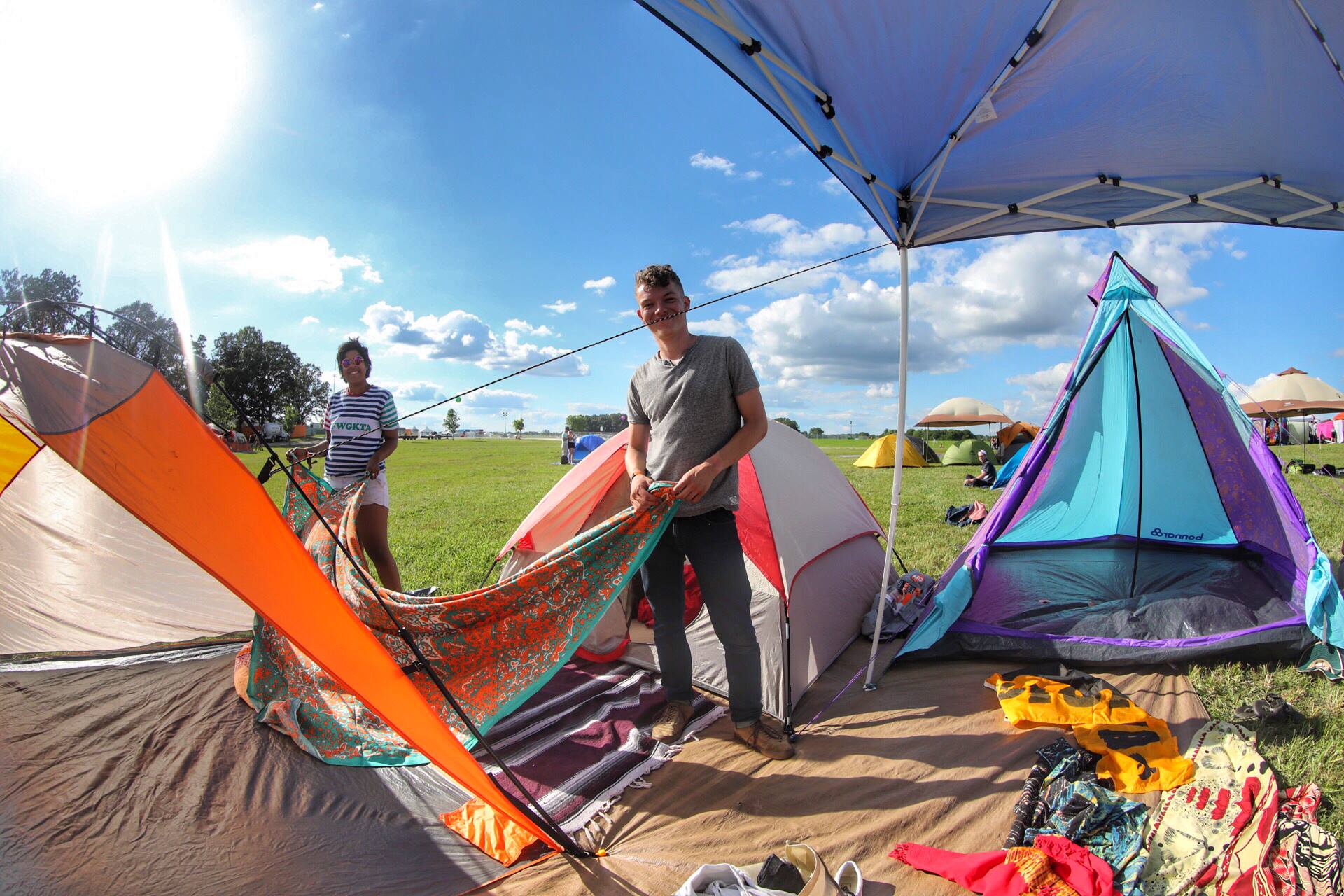 ---
Which Ones?
While camping festivals can be the time of your life, it's important to know which ones are worth the lack of air conditioning. Some fan favorites are Coachella, Electric Forest, Shambhala, Lightning in a Bottle, Bonnaroo, and Nocturnal Wonderland.
For more on these dance festivals, check out our guide– "29 Awesome Dance Music Festivals in the US and Canada."
---
DOs and DONTs of Camping Music Festivals:
Do: make your campsite decor fun and functional.
Don't… bring anything irreplaceable that you couldn't bear to lose.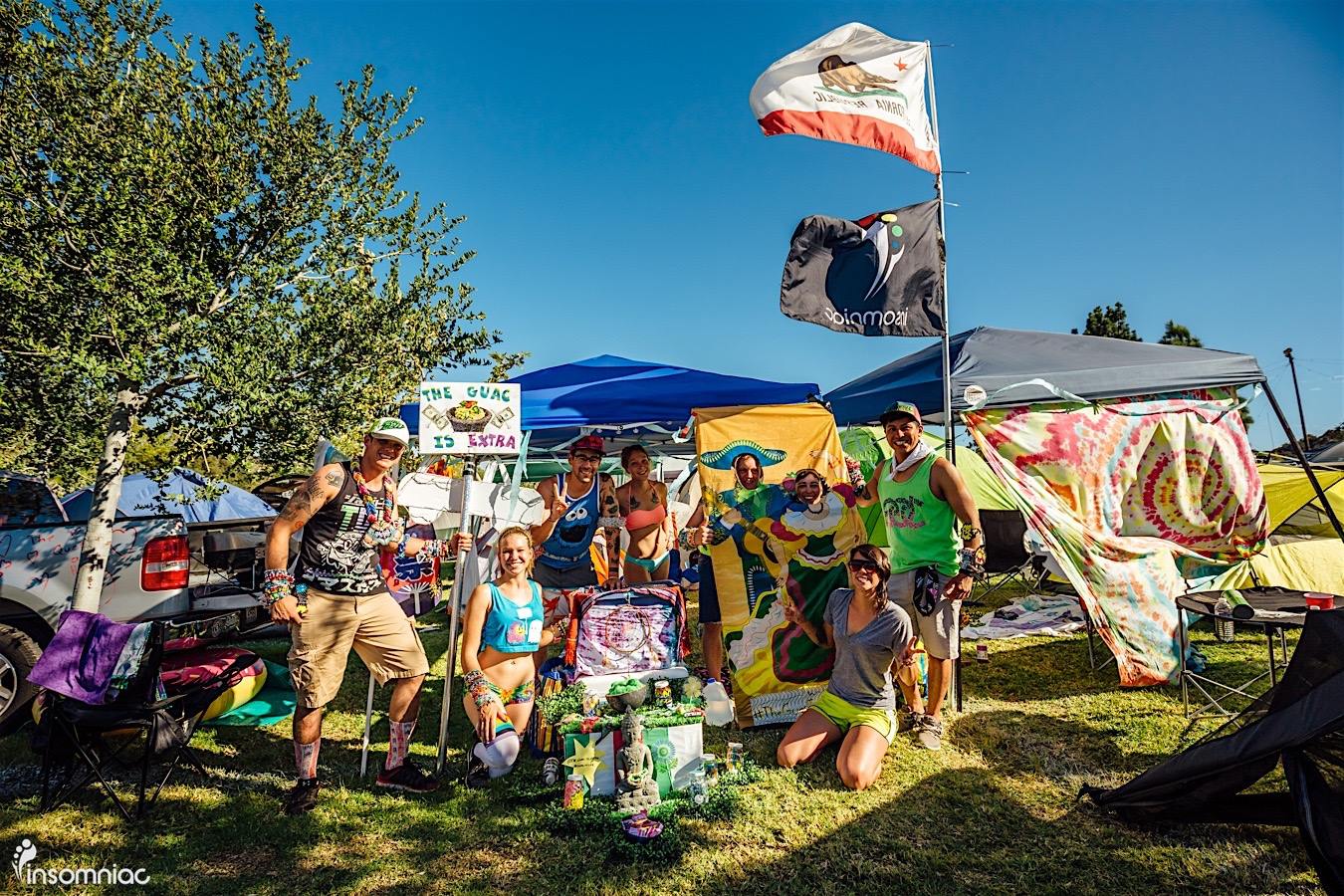 Do: make friends with event staff — they will show you the way.
Don't… be rude and forget to say heyyyy to the horses.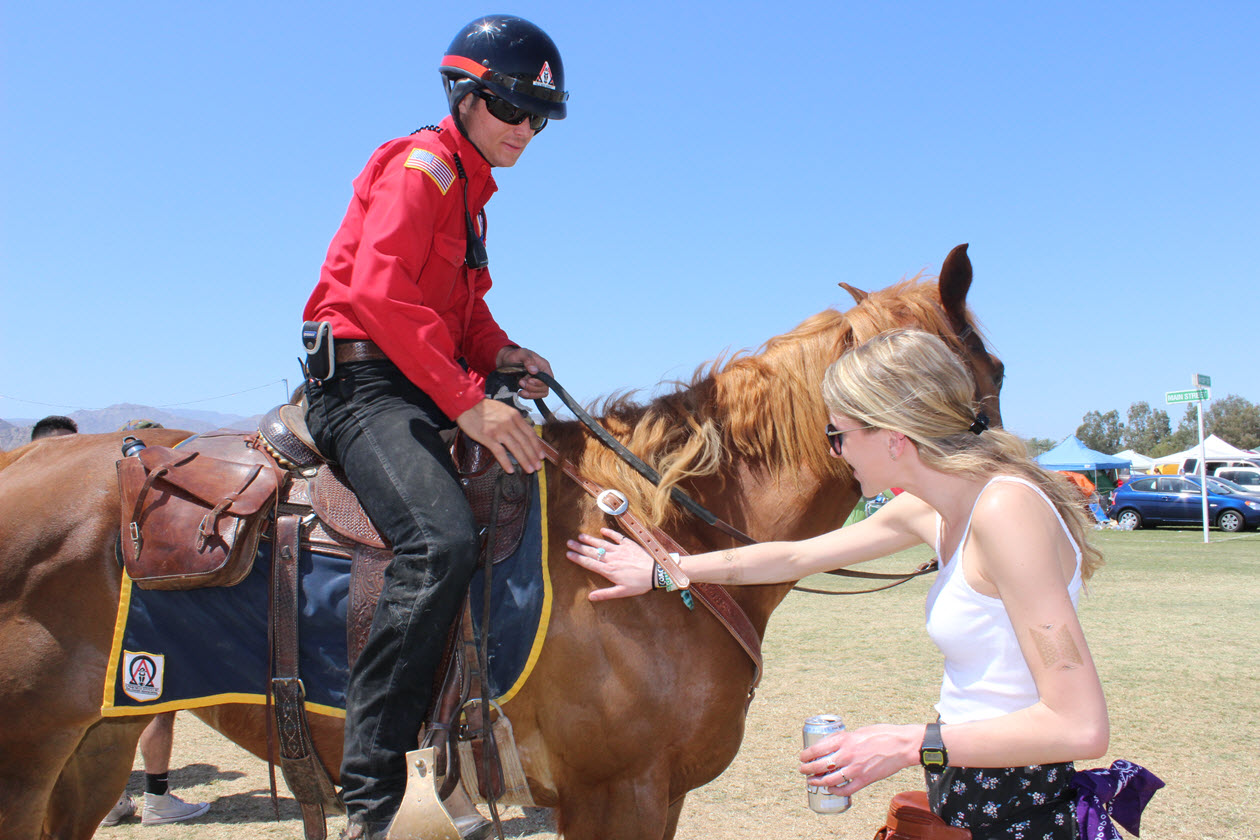 Do: pack a small camping stove or grill to make food.
Don't… light the propane stove if it's making a weird noise.
Do: bring a cooler and ice. 
Don't… assume your pop-up tent has super powers and will keep your coolers ice cold. Check coolers regularly to make sure the ice hasn't melted.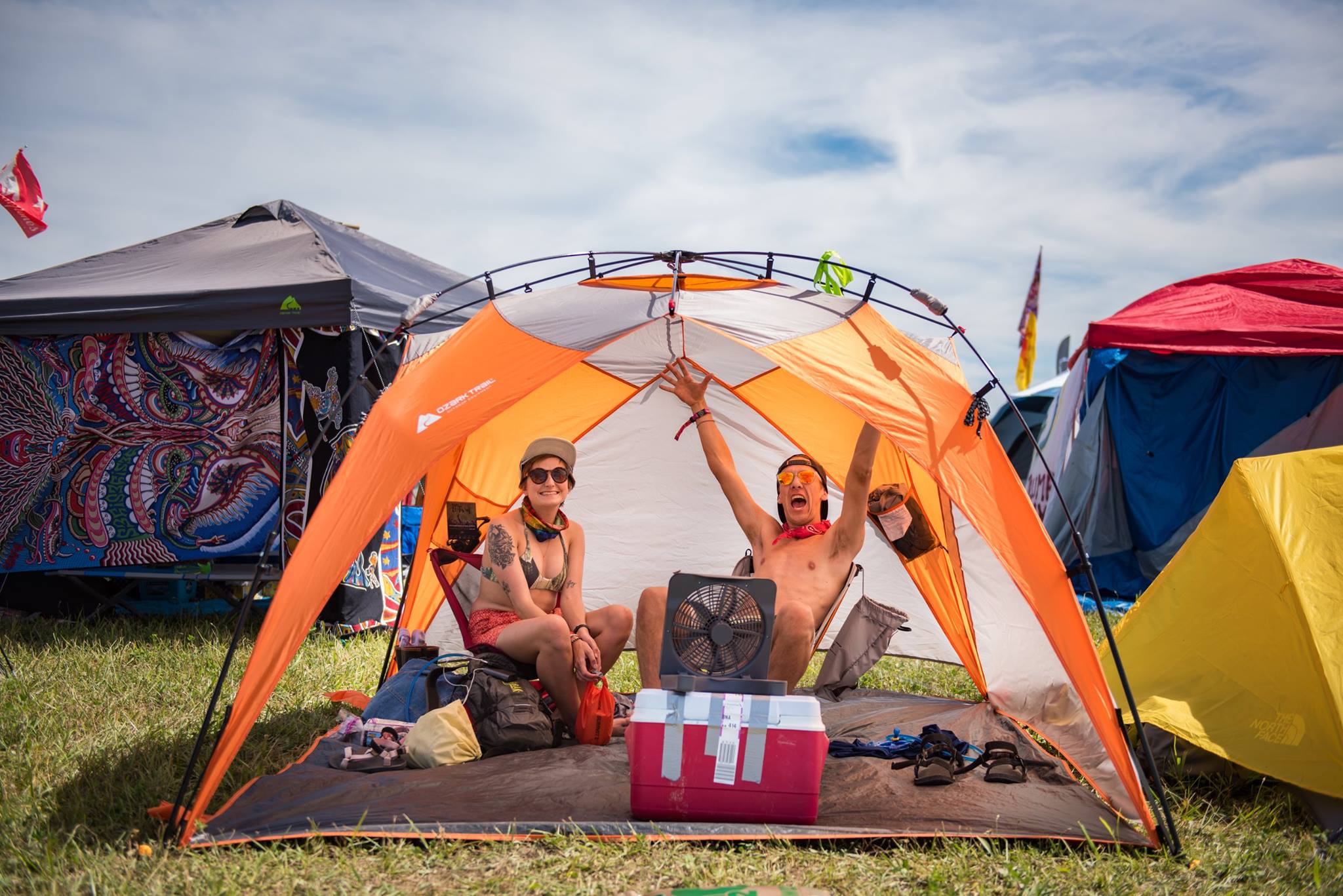 Do: accessorize even when you're roughing it.
Don't… forget to bring lots of wet wipes to get rid of the dirt and sweat that will crud up your accessories.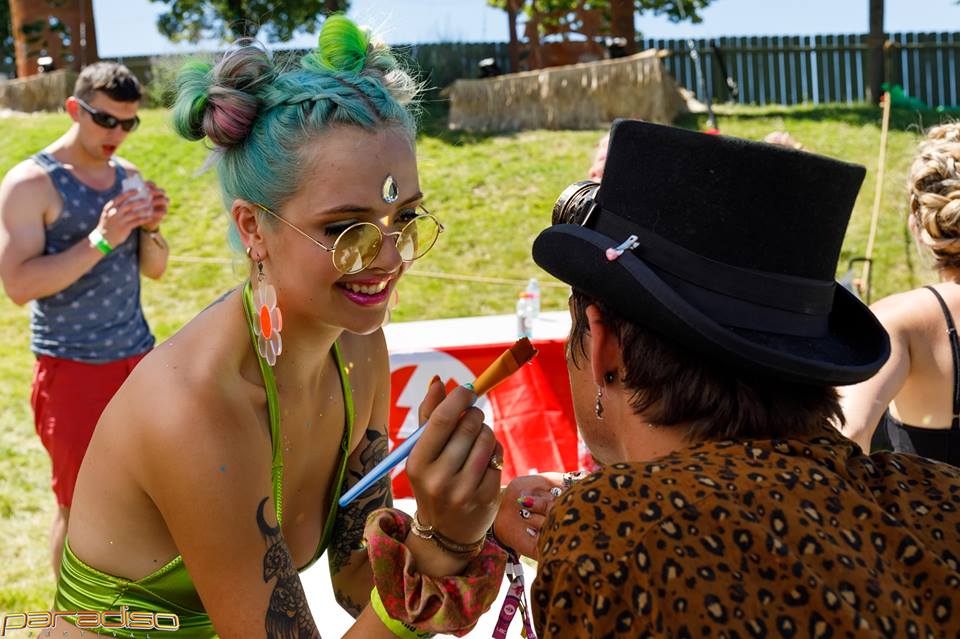 Do: wear comfy shoes OR get a ride to and from the campsite to the fest like this guy.
Don't… make the mistake of having to trek a mile to and from the campsite in heels. You'll regret it.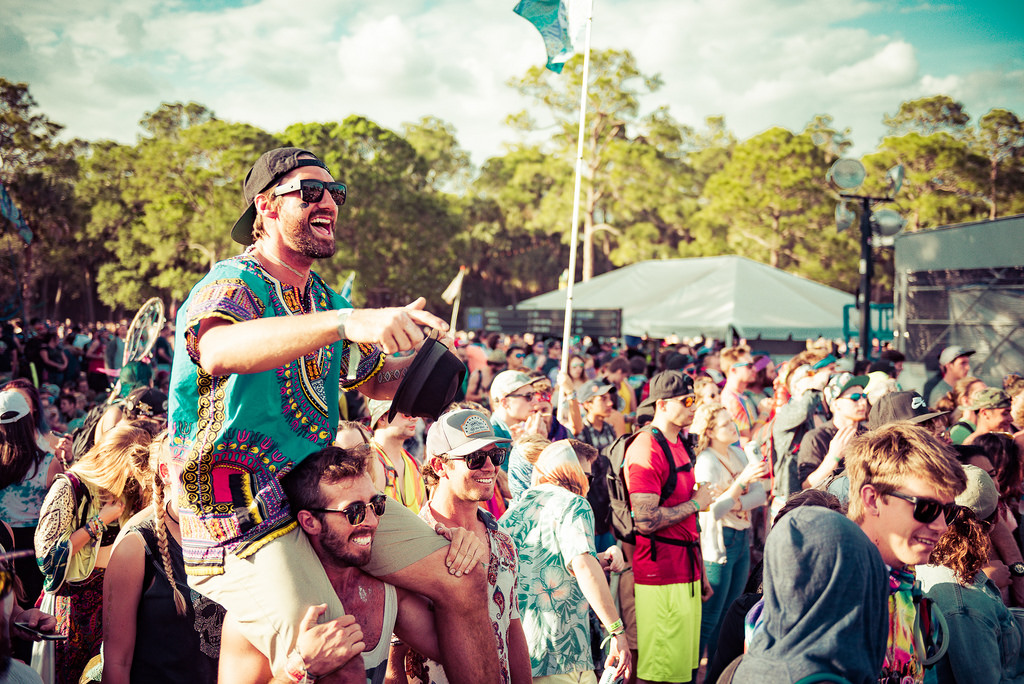 Do: Bring speakers and an aux cord (or if you're really ambitious DJ equipment).
Don't: Disrespect quiet hours and play music while people are trying to sleep.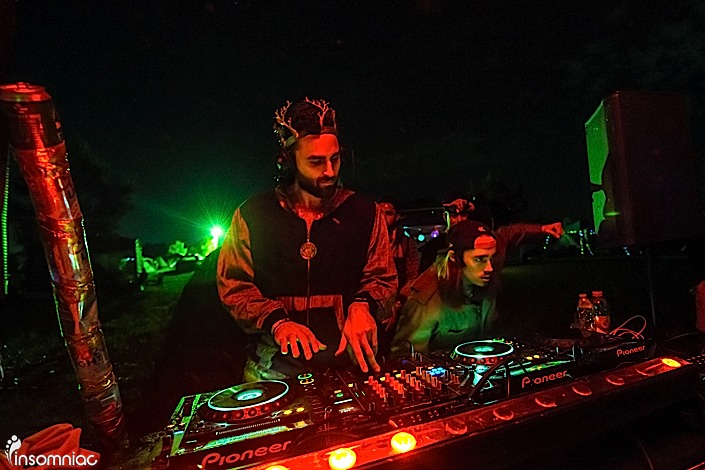 Do: use tarp and pop-up tents to block harsh elements like wind, dirt and sun.
Don't… assume you have enough tarps. More tarps are always welcome!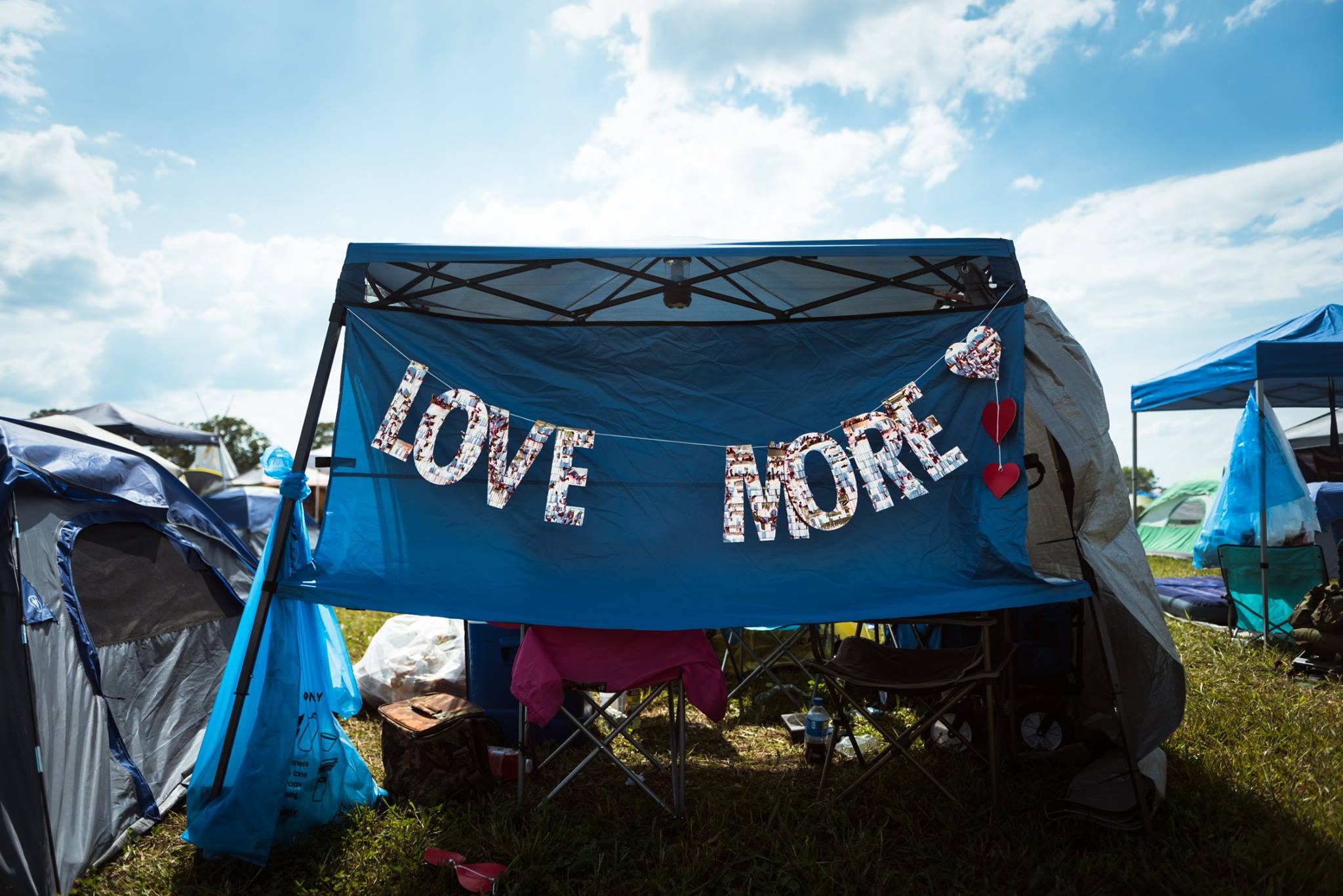 Do: opt for solar-powered lights to supplement battery powered lights.
Don't… forget to charge solar lights in the sun ahead of the event.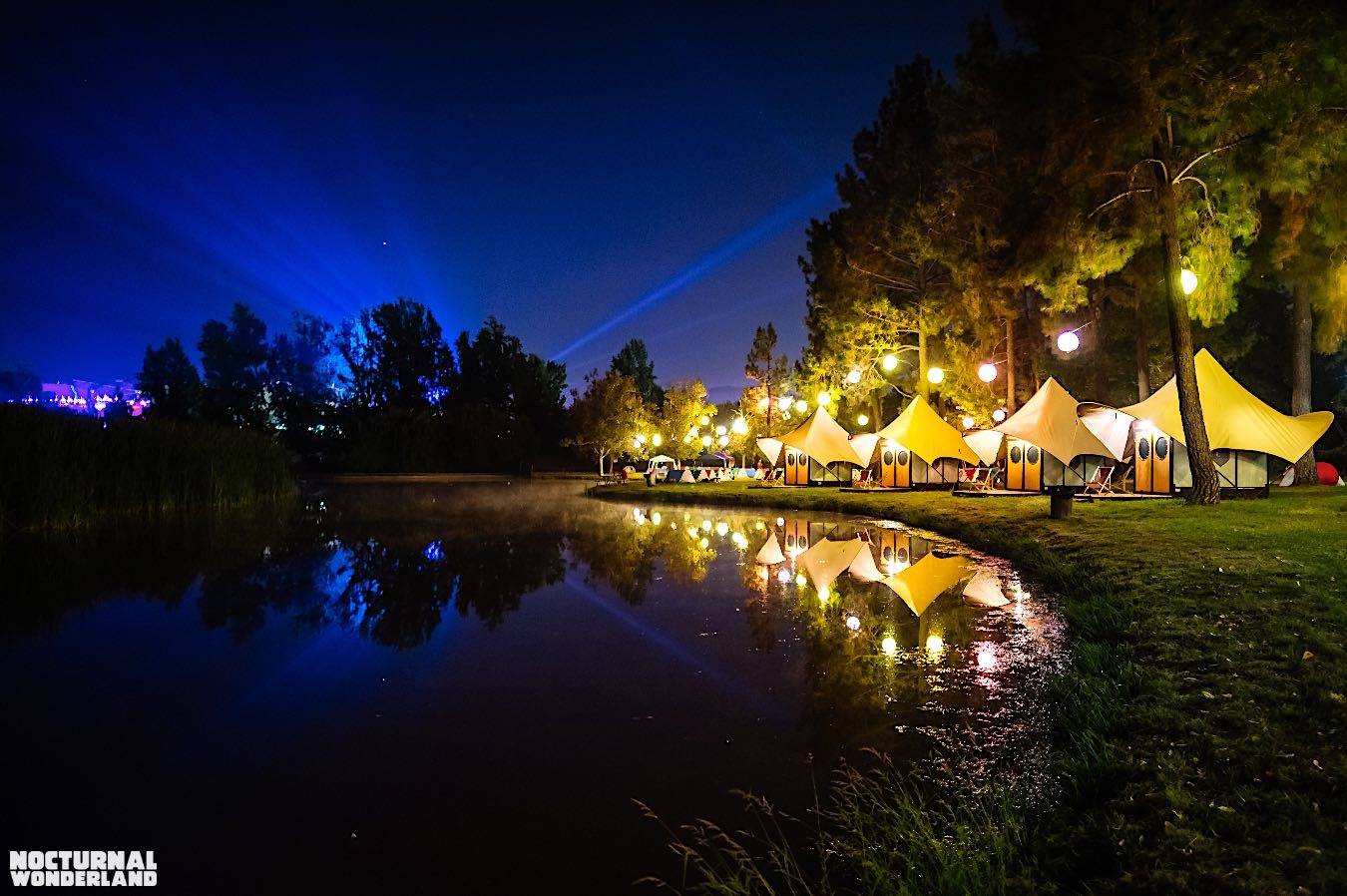 Do… meet your camping neighbors.
Don't… lower your romance standards just because you're at a festival.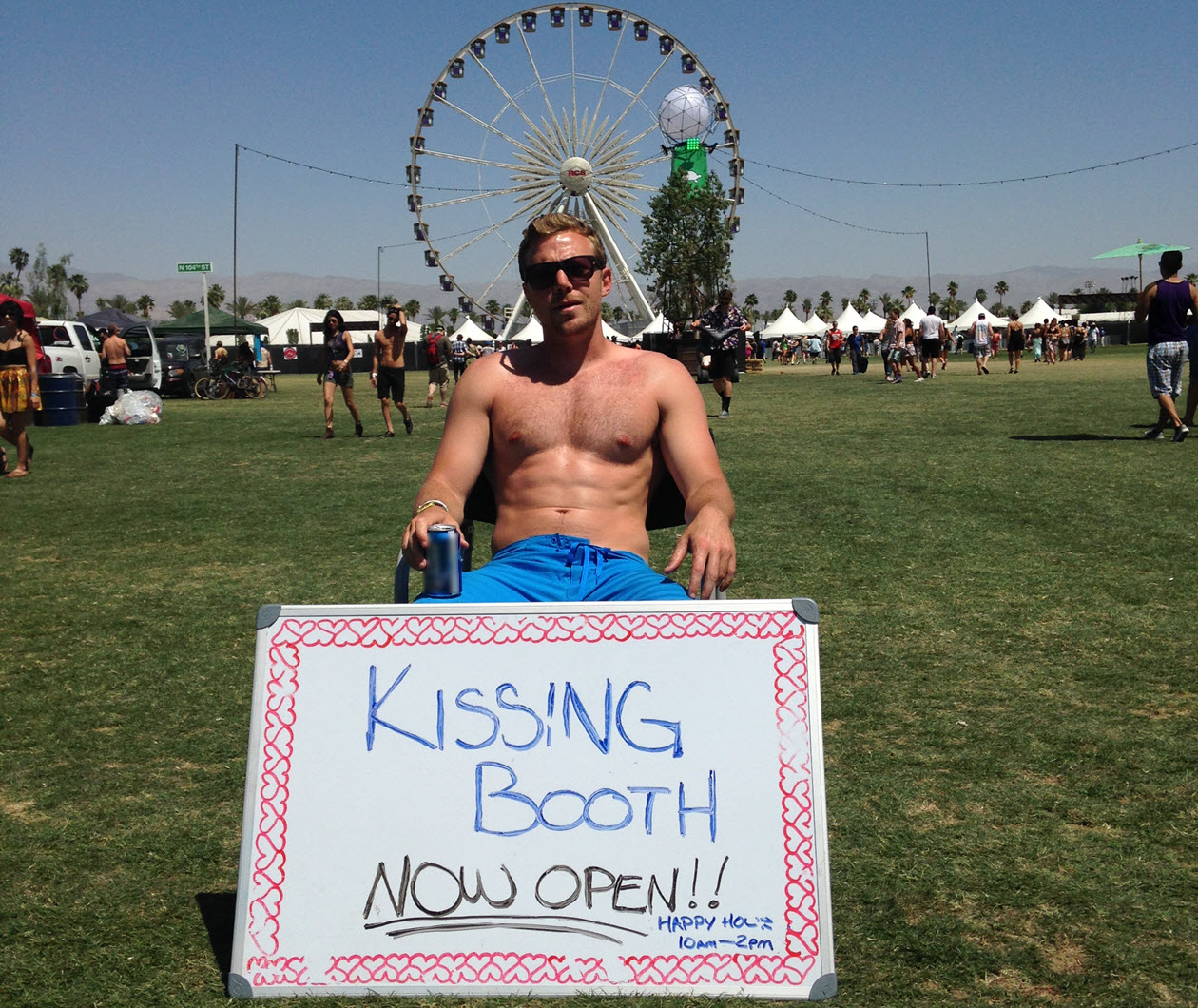 Do: enjoy the beautiful outdoor scenery.
Don't… get caught off guard by the dust in the air, especially at festivals in the desert or during the summer. Protect your lungs with a bandana tied around your nose and mouth or a half-face respirator.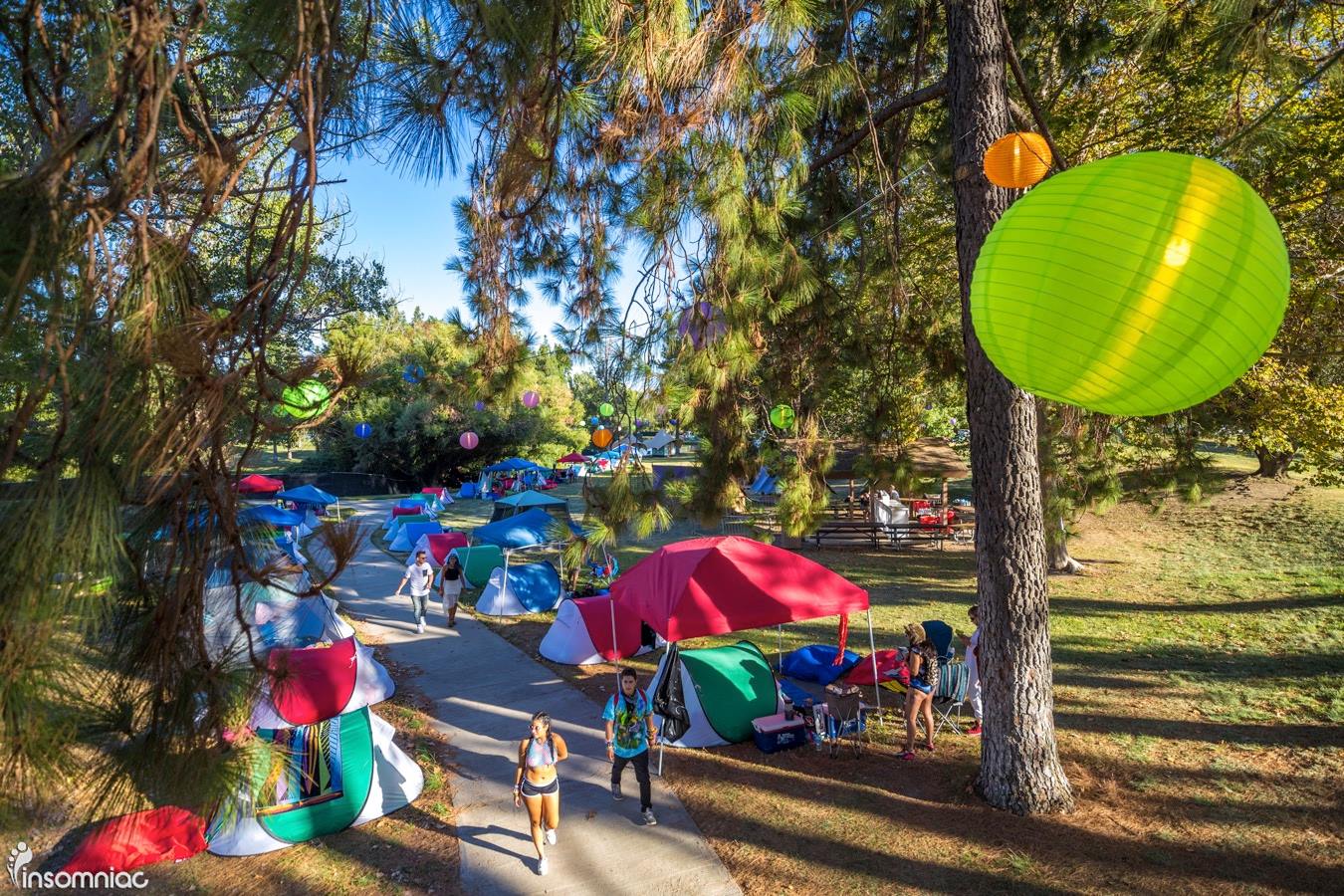 Do: Take advantage of activities during the day like yoga, art and cooking classes
Don't…. Spend all your time sitting around camp waiting for the festival to start up again.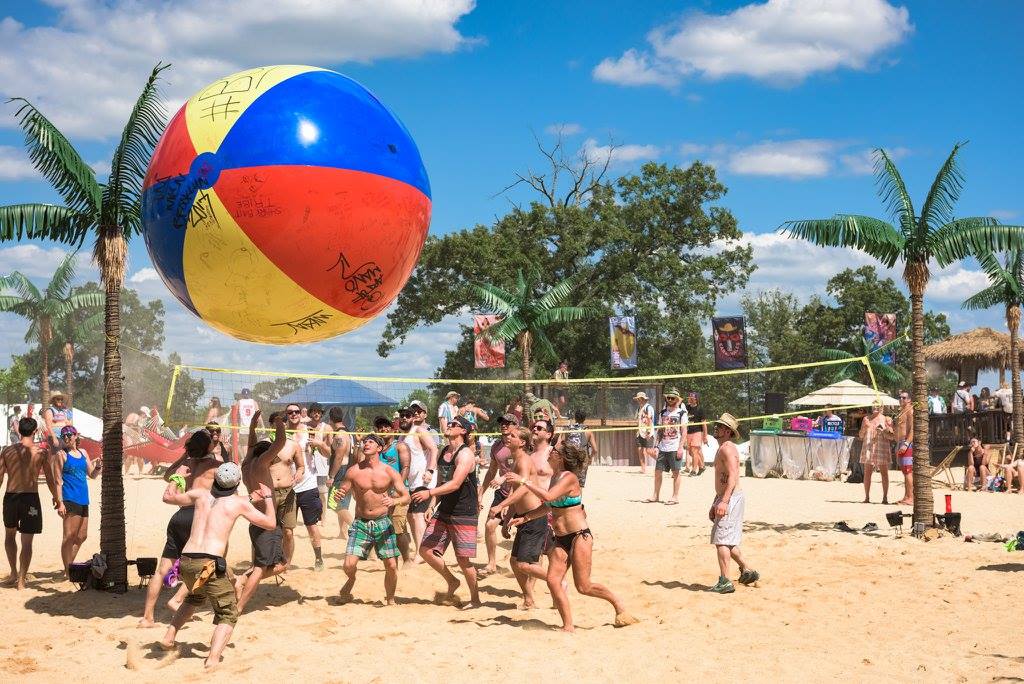 Do: grab a floaty and jump in the water to cool off and have some fun!
Don't… forget to lather up in sunscreen whenever you're in the sun.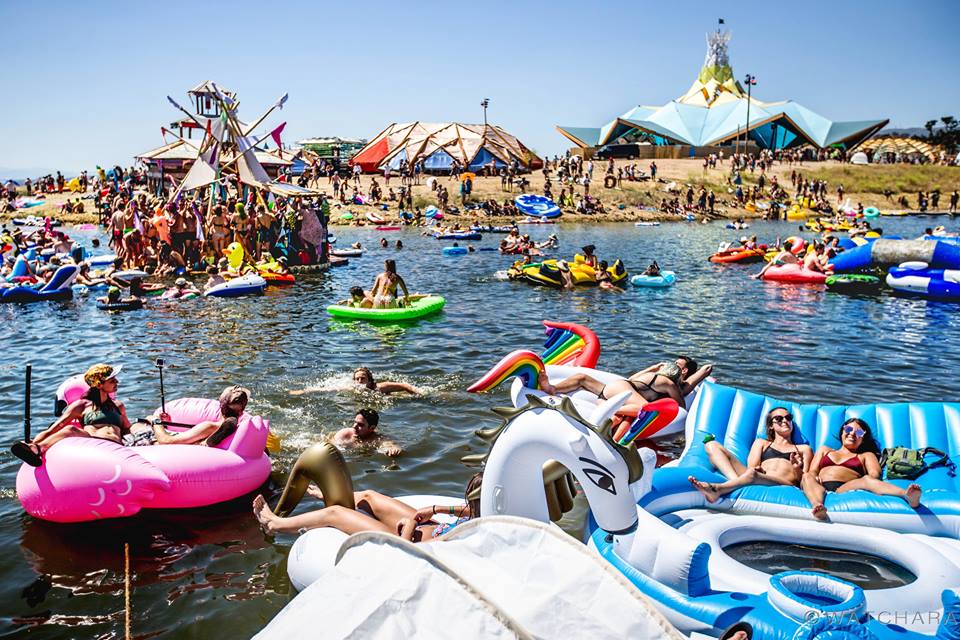 Do: clean up your trash and recycle any cans or plastic!
Don't…. trash the environment by leaving your area a mess.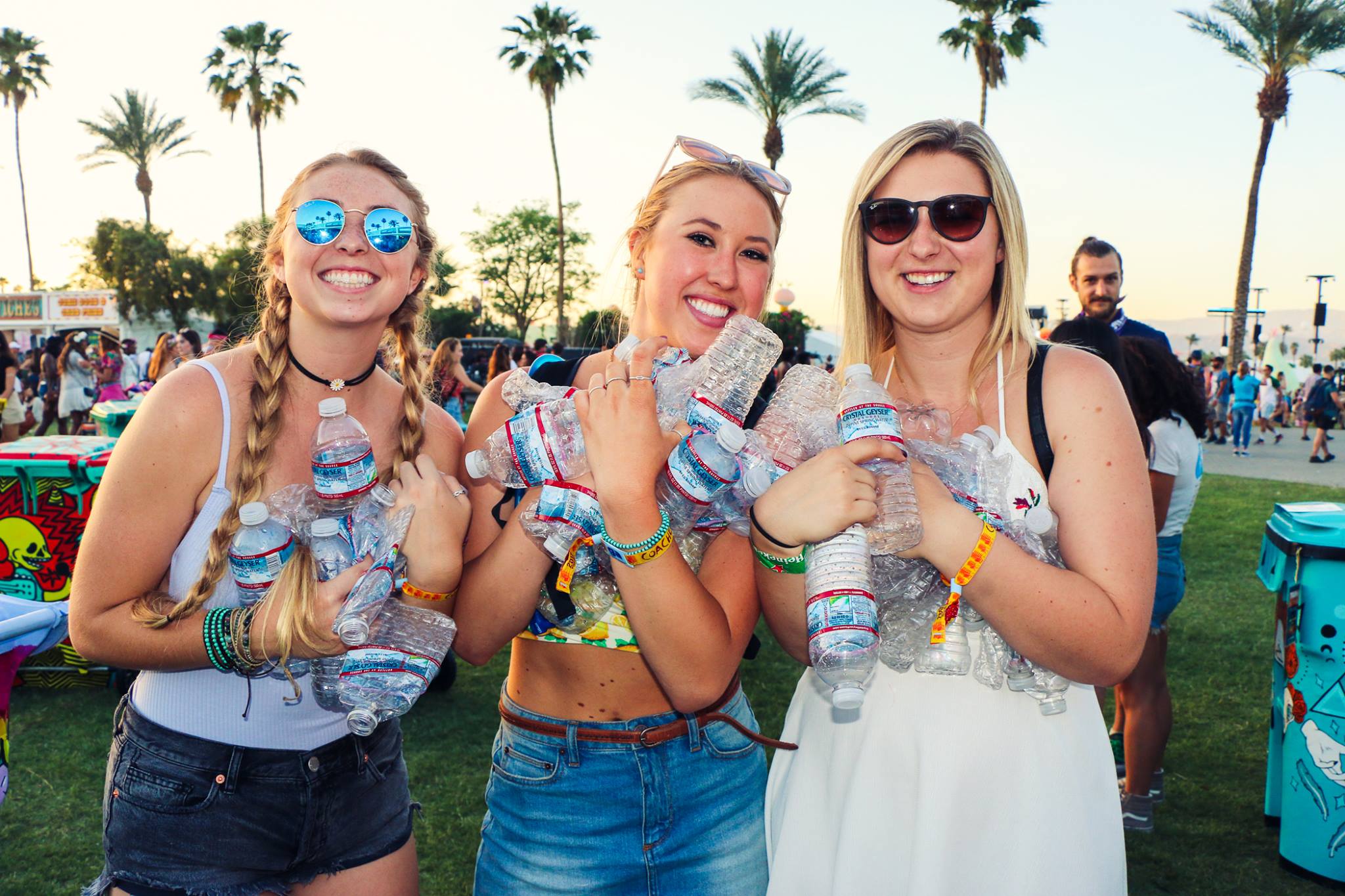 ---
Packing Essentials
Wondering what to pack for music festival camping? Here is a complete list of festival camping packing essentials:
Remember–every festival is different. Make sure to check each individual festival website for specifics on what is allowed and prohibited.
Sleeping:
Tent
Sleeping bags and extra blankets
Pillows
Air mattress & air pump (don't forget batteries)
Tarp for bottom of tent
Sheets
Living:
Pop-up tent(s) with built-in sides or tapestries/tarp
Folding tables
Tablecloths
Chairs
Rug
Solar and battery powered flashlights, string lights and lanterns
Zip ties (and scissors)
Coolers and ice
Cell phone case, portable phone charger (fully charged), and charging cord (many fests have charging stations where you can power up)
Umbrella
Bins for food (keep animals/ bugs out)
Bungee Cords
Frisbee, football, etc.
Games like Spike Ball or Corn Hole
Hammock
 Clothing & Accessories
Bring multiple outfits for each day as you'll want to switch up your look for day and night. Make sure to bring stuff that you won't mind ruining–camping festivals can get dirty!
Shorts
Pants or leggings made from breathable materials
Tanks, tees, hoodies, light jacket, shawl
Rompers, summer dresses, skirts
Sun hats or ball caps
Bandanas and scarves
Raincoat, Poncho, and goulashes (if the forecast predicts rain)
Undergarments
Sunglasses (bring an extra pair as these can get lost)
Pajamas
Bathing suit
Flat, comfortable shoes (sneakers, sandals, closed-toe flat boots and booties are great options)
Socks
Jewelry and accessories
Face paint and fake metallic tattoos
Small cross-body bag to bring in the festival
Cleaning
All-purpose, biodegradable soap
Cleaning spray
Paper towels
Sponge
Trash bags
Gallon plastic bags (for packing up food, dips, etc. in the cooler)
Laundry bag for dirty clothing
Wrinkle release spray
Instant stain remover
Bathing & Toiletries:
Sunscreen
Solar shower
Dry shampoo
Shampoo/conditioner/soap
Toothbrush/toothpaste/mouthwash
Towels
Flip flops
Wet wipes
Hand sanitizer
Toilet paper
Medication for allergies, pain, headaches, etc.
First-aid kit
Hair brush
Baby powder
Chapstick / Vaseline
Hair ties
Wipes
Drinking:
Cups
Empty CamelBak or water bottle (to fill once you're in the festival)
Jugs of water (for cooking, drinking, washing, etc.)
Ice (which also can be purchased at most festival campgrounds)
Beer, wine bag (if 21+) (usually festivals will prohibit glass bottles, check website)
Ping pong balls for beer games
Sodas or juices
Cooking
Camping stove and extra propane fuel
Skillet, saucepan, pot holders, spatula, large wooden spoon
Plates and utensils
Olive oil and/or butter
Salt & Pepper
Condiments (hot sauce, salad dressing, ketchup, mustard)
Food ideas (prep food before you go):
Pre-made muffins
Breakfast sandwiches
Sausage stir fry with quinoa, onions, tomato, zucchini
Steak medallions, steamed vegetables, instant rice
Cheeseburgers
Pre-made pasta salad
Tacos with black beans, tortillas, shredded cheese, peppers, and chicken sausage
Packaged dehydrated meals (store bought or homemade)
Instant ramen with fresh chopped veggies (for extra flavor try adding scallions, soy sauce, siracha, or peanut butter)
Fresh tomatoes, avocados, and fruit are healthy whole foods that go great with camping meals
Hot dogs & buns
Chips & guacamole or salsa
Peanut butter & jelly
Protein bars
We hope you have an amazing festival camping experience with these ideas and tips. Hit up the Ticketmaster Festival Guide for more helpful tips and festival ticket discovery.
Tags