Exclusive Interview: WALK THE MOON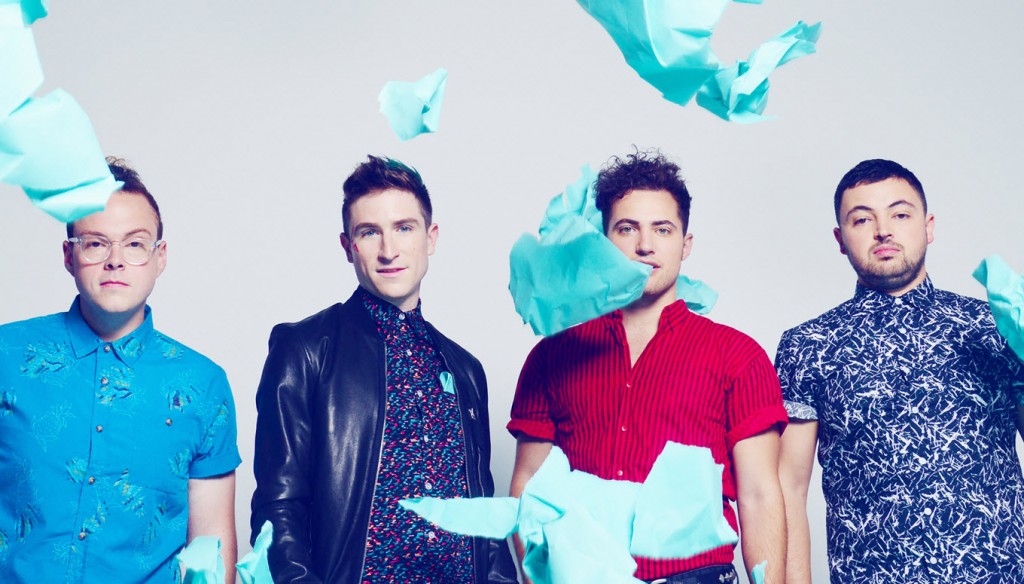 Concerts and festivals are really starting to heat up. WALK THE MOON continues to hit the road with dance parties, positive vibes, and great live music for fans. Their TALKING IS HARD Tour is very much underway and WALK THE MOON has a momentous performance headlining at Bunbury Music Festival in their home-town of Cincinnati right around the corner.
We caught up with WALK THE MOON to see what's been happening on their awesome journey. Singer/keyboardist Nick Petricca and guitarist Eli Maiman answered our pressing questions.
1. Ticketmaster: You're currently on tour — have there been any memorable moments or highlights you'd like to share from the TALKING IS HARD Tour?
Eli Maiman: The TALKING IS HARD Tour has been a really special one for us. We worked really hard on this record for a really long time, and it's great to be out of the recording studio cave and out in the world, sharing the music with our fans. Seeing all that hard work coming to fruition has been really satisfying. Every night, we ask how many people have never been to a WALK THE MOON show before, and most nights it's more than half the audience. It's so much fun to see our fan base growing like that.
2. Ticketmaster: You're appearing at the Bunbury Music Festival in June. How does it feel to be a headliner at a major festival in your hometown of Cincinnati, Ohio?
Eli: It's an amazing feeling. We're so proud to be from Cincinnati and to be able to represent it as we travel the world. Super excited for the show.
3. Ticketmaster: Bunbury Music Festival has an incredible lineup this year – The Black Keys, Snoop Dogg, and tons more. Who are you looking forward to seeing when you're not on stage yourself?
Eli: I've been pretty obsessed with the new Father John Misty record, so I'm super excited to catch his set.
4. Ticketmaster: The term "bunbury" was coined by Oscar Wilde and means to make up an excuse to get out of doing something boring. Have you ever done this?
Nick Petricca: I've definitely done this. I didn't take too many sick days in college, but I remember once, toward the end of senior year, I showed up to class just to tell my professor I was going to take a nap in the quad. It sounds a little rude in retrospect, but I guess I was trying to be conscientious about taking a day off. And I guess that's not a made-up excuse… oh well. I'm as bad at being a slacker as I am at reading directions.
5. Ticketmaster: What do you do to combat boredom when you're traveling between shows on tour?
Eli: We're big Netflixers. House of Cards and Game of Thrones are band favorites.
6. Ticketmaster: What's your favorite song to perform live and why?
Nick: My new favorite song to perform live is called "Aquaman". It's the ballad on our new record, and it's the only part of the set I get to just chill out and croon.  The lyrics are also my favorite I've ever written, so it's a release every night to sing these words and bare my soul to a bunch of strangers.
7. Ticketmaster: How would you describe one of your live shows? We know many fans in the crowd get in on the fun by painting their faces before the show.
Eli: We want the shows to be positive, empowering experiences for the audiences. We're incredibly lucky to have the best fans in the world who have helped us make the shows these big, communal events. We like to say that WALK THE MOON is not a spectator sport. We want everyone involved, whether it be through dancing or singing or face paint or high-fiving a stranger.
8. Ticketmaster: Describe your strangest moment on stage.
Nick: One of my strangest i.e. most embarrassing moments was at a show earlier this year in New York. The venue was also a bowling alley, and there was this long sort of ridge, perpendicular to the stage, that separated the dancef loor and the bowling area. During "Car" I decided to tightrope my way into the audience and sing from the middle of the room, and I was feeling super cool and rockstar. Naturally, on my way back, I lost my balance and straight-up fell on top of a girl in the crowd. Somebody screamed; can't remember if it was me or her. But hey I played it off like I meant to do it… I don't think anybody noticed…
Eli: We were opening for Pink in the UK, and every night there was this curtain that would go up right before we played. So one night, there was a bit of a breeze in the stadium, and the curtain got caught up in the drums. When the curtain went up, it took the drums, the mics, the mic stands, everything up with it. Twenty feet into the air. Then it all came crashing down. We were just standing side stage, ready to go on, helplessly watching it happen. Our entrance music at the time was "Pure Imagination" from Willy Wonka, so that made the whole thing that much more surreal.
9. Ticketmaster: Are there any Cincinnati-based musicians/bands you think more fans should know about?
Nick: There is an awesome young three-piece band from Cincinnati called PUBLIC. They sound like the flamboyant lovechild of Arctic Monkeys and Kings of Leon. We got to take them out on tour with us last year, and we feel like proud big brothers.
10. Ticketmaster: Can you share a YouTube video that you like and tell us why you chose it?
Nick: Jimmy Fallon's "Ew!" featuring Seth Rogen and Zac Efron. As if America could love him anymore, Jimmy Fallon is now changing the late night game with his sketch comedy brilliance… I've never seen a late night host go out on a limb like this – it's like classic Saturday Night Live.  I think he's brilliantly funny, and he has a way of making celebrities reveal their dorky humanity that's actually totally in line with our vision as a band.  Everybody's a dork, everyone's a kid, and most people are just afraid to show it.
You Might Like
As we prepare for Lollapalooza's virtual 2020 installment, let's look back at the moments that made the festival iconic.
Headed to Voodoo? Here's everything you'll need.
The first weekend of Austin City Limits Music Festival was picture perfect.