Exclusive Interview: The Revivalists Take Their NOLA Sound Nationwide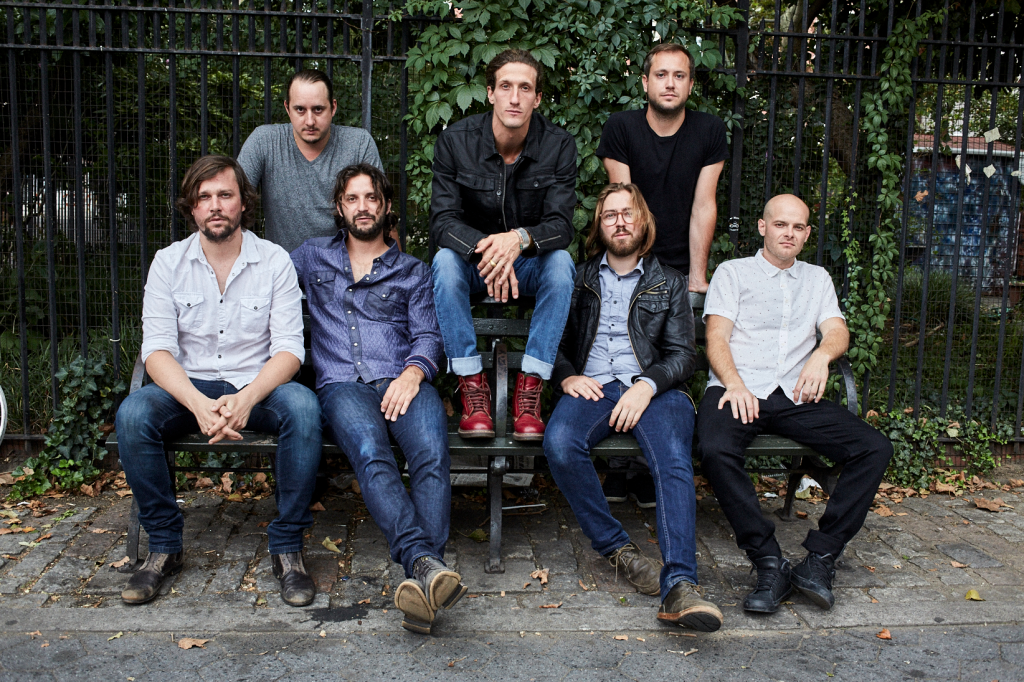 New Orleans roots, rock, and soul purveyors The Revivalists combine classic Crescent City chops with a knack for catchy hooks that has catapulted them to the top of the charts.
The band has been a NOLA staple since forming in 2007, and they've been winning over fans across the country since releasing their third album Men Amongst Mountains in 2015. It's been a huge year for The Revivalists – Rolling Stone named them one of "10 Bands You Need to Know About" , their song "Wish I Knew You" reached No. 1 on the Adult Alternative Songs chart, and they recently made their national TV debut on Ellen. To top it all off, they'll be performing on Conan on Dec 19.
Check out our interview with keys/trumpet player Michael Giradot for more on the band's relationship with New Orleans, meeting Ellen, life on the road, and so much more. And for a red-hot dose of Big Easy roots rock, don't miss The Revivalists at their upcoming shows.
Ticketmaster "TM": You guys hail from New Orleans, which has an incredibly rich musical heritage. How has the city shaped your sound?
Michael Giradot "MG": We're all New Orleans transplants. We've all been here for about 12 years, and we were all drawn to the city because of the music here. New Orleans is great because it has a very strong aural tradition. Going out and playing with the old guys, listening to the old guys – there are things that you can't learn unless you see it happen, like the feel of New Orleans Music. We don't claim to be New Orleans masters – we'll leave that to The Meters and Johnny Vidacovich and all the other greats, but the sound has definitely influenced us. The way we play together, and the way our time and our feel is. And the vibe too.
We're not a jam band, but we're always open to people coming on stage and sitting in with us. We love that. That's a really New Orleans thing. If your friend is there, and he plays really good guitar, he's gonna come play with you. If this little 15-year-old is a wailing guitar player, yeah, he can come up too. "Let's get 20 horn payers on stage," you know, that kind of thing. So we're just having a good time, and that's kind of how New Orleans has affected us. The vibe, the feel, the whole aspect of sit-ins. The old guys have taught us so much and have really included us, and we've learned a lot.
TM: The title of your 2015 album Men Amongst Mountains references your experience sharing bills with some of your idols. Who are some of those "mountains," and what has it been like meeting and playing shows with them?
MG: Ben Ellman produced the record, and he's the saxophone player with [New Orleans funk and jazz jam band] Galactic. He and the bass player produce most of Galactic's records, and they've been doing a lot of other production too. Rebirth and Galactic were the first New Orleans bands to take us out on tour as an opening act. And that's not something you do because it makes sense. You don't bring out a young seven-piece band that doesn't have a draw because it makes financial sense or it makes sense on stage. You bring out those people because you're trying to help the New Orleans community. And they really helped us out when we were getting started, both Rebirth and Galactic.
And so those guys have been great, but there's just too many to list. The guys in The Meters, George Porter, Johnny Vidacovich, all the guys at Cosmo Matassa studio when they were recording the New Orleans stuff down here. A lot of those guys are still around and playing locally, they've got weekly gigs now. There are a lot of non-New Orleans acts that we've gotten to meet and play with over the years too. Warren Haynes and the guys from Gov't Mule helped us out a lot. With music, it's kind of the New Orleans tradition to help the guys that are coming behind you. Help them get the tools to get where you are, because you're trying to pass the tradition on. People have done that with us, and we try and do that with the younger guys that are coming up right behind us too.
TM: You performed your chart-topping song "Wish I Knew You" on Ellen last week, which is a huge milestone. Can you tell us more about that experience?
MG: Ellen is super nice. Her crew is super nice. It was just a great experience. A lot of times you go into these things and you're nervous or stressed because you've got one chance to play for three and a half minutes and then you're done. But they made it really great, they make it really easy. Ellen's got a background – she grew up part-time in New Orleans, and so that was a cool connection too. It was really nice, really positive just to meet her and to hang out with her for a little bit. It was great.
You guys also have a performance on Conan coming up – did he catch your Ellen performance and just have to have you?
Honestly I don't know how that worked. I know that we got both, and it's awesome. Only the bookers, Conan, Ellen, and our publicist know what order that happened in or what reasons they have. I like to think they want us on because they like our music [laughs], that's what I hope.
But the story with Ellen, actually – she had heard our song on the radio like a month or two ago and told her producer. She was like, "Hey, this song I really like, see if you can get this band." She didn't even know we were from New Orleans until later when we were advancing the details and showing up she was like, "Wait, these guys are from New Orleans too?! That's great!"
 TM: The music video for "Wish I Knew You" alludes to the transformational power music has to make people feel young again. How was shooting the video and working with the older actors? 
MG: It was great. It was really fun, because a lot of the people in the video kind of had the same experience. There's that nostalgia aspect that we always have when a song comes on that reminds us of a certain time in our lives. It's a really powerful thing. For me, when I hear Cake or Blink-182, it takes me right back to high school. We all got our own thing. Everybody's got that one song or group of songs they listened to at a very transformative period in their life, and it takes you back there.
So when you're experiencing that with other people that you've met later in life, you're kind of like, "Man, we would have been great friends when we were younger too." Music really is able to take you back there, which is really cool, so [the video] kind of alludes to that. The actors were great. A lot of those old actors were having a blast. The video looks good, but in actuality they weren't acting. The [director] was like, "We're just gonna play a bunch of songs, and you guys have fun." The [actors] were like, "This is perfect, this is so easy. You're gonna pay us to show up and watch you play music, and we can hang out and party? This is great. Easy. Done."
TM: You also recently did a limited edition vinyl release for Record Store Day that features songs from a live performance at famed NOLA venue Tipitina's.
MG: Yeah, that was from when we came and played a doubleheader at Tipitina's about a year ago. It's some really great songs. It's kind of what those songs transform into live. We write for the studio and then we retranslate it for live, or we write it for live and once we go into the studio we translate it for the studio. They're two different mediums and they're two different sets of tools. They sound different.
We only released the live record on vinyl, and I think we only printed around 2500 copies, so if you can find it you should grab it because there aren't gonna be any more [laughs]. We were really excited to do that and to give people a little hint at the live shows. We're also kind of launching some regular live downloads too. Not quite as produced and mixed as the record, but we're doing some live board feeds that we're releasing on the internet on nugs.net.
TM: You guys have a history with Tipitina's. Can you tell us more about your relationship with the club?
MG: Tipitina's is a great club, they do a lot of great things. One thing they do that's not putting on rock shows is they have a foundation that's associated with Tipitina's that does a lot of outreach for music education and does a lot of funding for bands. One of the activities they do is a lot of Sundays they'll have Tipitina's music workshops from noon to 3pm where kids anywhere from age five to college will come and hear New Orleans musicians play, hear New Orleans musicians talk about playing, and get to come up on stage and play with those guys. Our drummer Andrew and our guitar player Zack actually met at a Tipitina's workshop for the first time when they were freshman in college.
We've played Tipitina's homegrown night, which is free Thursdays where they have young bands come and play, and now we can sell out two nights in a row there. Unfortunately, we've kind of outgrown Tipitina's. Maybe we'll get to play there again sometime soon, but that might have been one of the last regular shows that we do at Tipitina's.
TM: You have a pretty busy touring schedule. Any crazy stories from life on the road you'd like to share?
MG: Where do we start? Being on the road you just kind of have to be flexible with the schedule and you have to be brave and have stamina. Because there have been a lot of times where a plane's late or you blow a tire, or a plane is late and then you blow a tire [laughs]. Stuff happens when you're traveling, and you don't always have enough time to sleep, or eat, or set up your gear. You just have to roll with the punches.
One time we ran into a deer on the second day of a month-long tour. It totaled our Sprinter van, so Dave's dad drove through the night to get our trailer and bring it – because we were in Ohio where Dave's family is from – and we all piled into minivans. Somebody stayed with the tow-truck, and then we had to scramble to find a vehicle. We ended up renting a bus because it was the only thing we could find. Anything and everything that could happen has happened. But we haven't died. We haven't been injured in a car crash – knock on wood.
One thing I will say is that other than one show about six years ago, we've never missed a show in seven or eight years of touring. No matter what we have to do to get there, no matter what we have to play on, we're gonna play the gig and do it for the fans. No matter how sick we are.
TM: Touring can be fairly grueling. What do you guys do to relax or keep grounded when you're on the road?
MG: We all have our different tools. Some of the guys like to do yoga. Some of the guys like to exercise. A lot of us read a lot on tour. One of the things that pretty much all of us swear by is either in-ear headphones or noise-canceling headphones. Because when you're in a bus or a van with a bunch of people for hours and hours on end, sometimes you just need to go into your own zone. We listen to a lot of music and watch a lot of movies.
I like to just walk around. When I get to a new city, if I'm stir-crazy or a little stressed out or off balance, I'll just take my phone and go walk around. You see a lot of cool and interesting parts of towns you wouldn't see just driving around or going somewhere in particular. I just like to wander.
TM: Do you have any favorite venues or cities you particularly look forward to playing?
MG: Oh man, that's hard. We've been touring so long that we kind of have a couple of – not family members – but people that we've been seeing at shows for six or eight years wherever we go now. We kind of have that family. It's kind of like seeing a family member you haven't seen in a while when you're in San Francisco playing two sold-out nights at The Independent and you see the guy that came and saw you there when you played the little shack opening up for Rebirth.
There are great parts of this country, everywhere is different. And Canada too. There are great people everywhere. Some of the best rooms in the country are 9:30 Club [in Washington D.C.], The Independent in San Francisco – there's so many, I don't want to leave any out. There are a lot of great rooms. We love to play the Georgia Theater in Athens, GA. When you've been on the road so long sometimes you see people on the road more often than you see people at home. We run into the same crews at festivals across the country. It's cool, they're like family. Orpheum in New Orleans is also great, that's a new venue that just opened.
TM: Speaking of The Orpheum, you guys have a NYE show coming up there. How do you guys celebrate New Years? Do you have anything special planned for the show?
MG: We're gonna play a really long time [laughs]. New Year's Eve is great, especially when we do it in New Orleans. We get to stretch out a little bit more and play a lot longer set. We'll usually do something fun for the countdown at the end of the night. We haven't quite decided yet what, but we've been floating around a bunch of ideas.
We've got the Seratones playing with us. Check out their NPR Tiny Desk performance. A lot of times those are some of the funnest live videos to watch. They've got a really good Tiny Desk. They're from Shreveport, LA, so they're from our neck of the woods. Great, great rock band with a great female guitar player and singer who's got a really good energy. So we're looking forward to being with them, too.
TM: Any New Year's resolutions this year for you or the band?
MG: It's December 4th, you're already asking me about my New Year's resolutions?! [laughs] Oh man, time flies. I'm on the spot now, I have to think of something. I'll tell you what our New Year's resolution is going to be, and it's a goal: we're gonna try to release a new record in 2017. I hope it happens. We're just starting now, and sometimes — the process always takes longer than you want it to. But it always comes out good in the end. We're just starting to work on our new record. We've been writing a lot, demoing a lot. We're gonna get started on that first thing in the new year.
Tags