Interview with Academy & Oscar Award Winning Marlee Matlin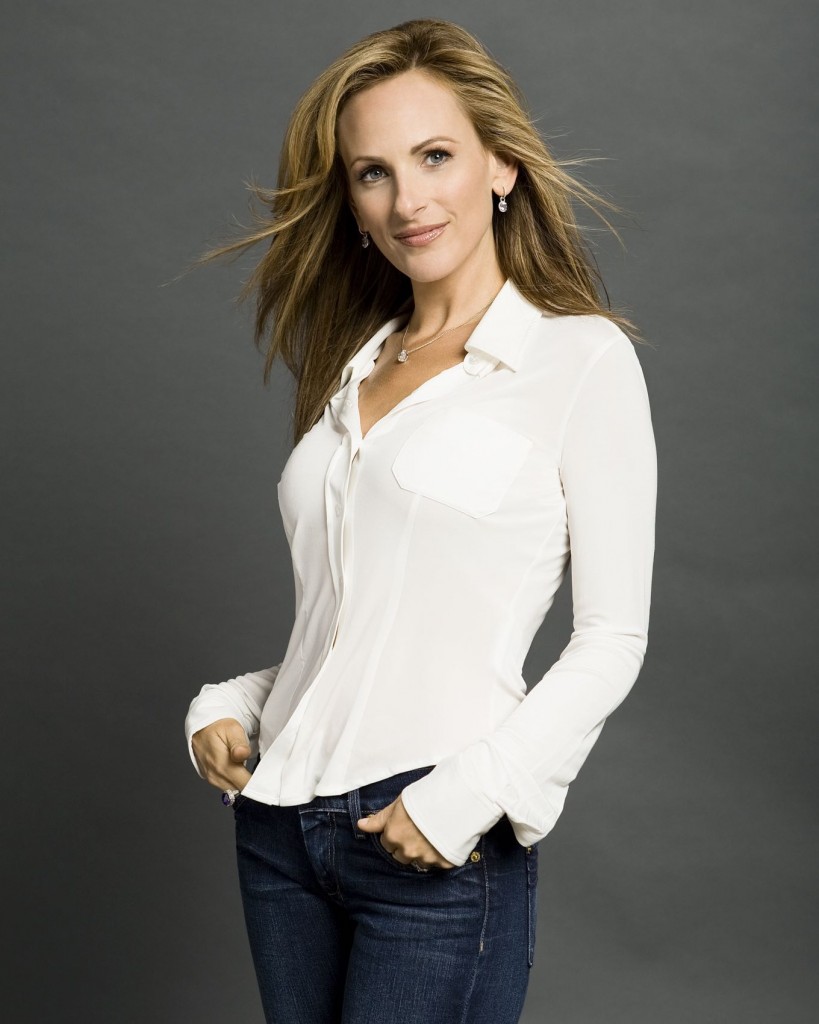 We recently sat down with Academy Award-winning actor Marlee Matlin, who has been inspiring fans both on stage and on screen for more than three decades. After getting her start in the theater Matlin made her film debut in the 1986 drama Children of a Lesser God, becoming the first – and only – deaf actor to win an Oscar for Best Actress. Since then she's enjoyed an incredible acting career while also raising a family, two passions that come together in her role as ambassador for Kids' Night on Broadway, which takes place on February 9 and offers free admission to participating shows for kids under 18 accompanied by a full-paying adult.
Matlin is a fitting ambassador for the program – she recently made her Broadway debut in Deaf West Theatre's production of Spring Awakening at the Brooks Atkinson Theatre, so she knows a bit about the Great White Way. We could go on and on about Matlin's achievements – she's performed at the Super Bowl, received a star on the Hollywood Walk of Fame, and she appears as a recurring character on the Freeform (formerly, ABC Family) TV show Switched at Birth – but it's better to hear it from her.
Check out the exclusive interview to learn more about Matlin's experiences on Broadway and her parenting tips for taking kids to see their first theater show. For more kid-friendly shows, parenting tips, and videos please check out our Minimaster page.
Q&A with Marlee Matlin
TICKETMASTER: How did you get your start in the theater industry?
MARLEE MATLIN: I began my career in theater on a non-pro level when I was seven years old and joined the company of the International Center on Deafness and the Arts, performing plays and musicals in American Sign Language. But my first professional theater experience was when I was 19 years old when I performed with the Immediate Theater Company's production of Children of A Lesser God in Chicago. Then I did the film version of Children of A Lesser God and took a break from the stage. Thirty years later, after winning the Academy Award and working extensively in film and TV, I returned to the stage, this time making my Broadway debut in Deaf Wests "reawakening" of Spring Awakening.
This picture says everything! I have had the BEST time EVER on Broadway with the TALENTED cast/crew of @SpringBway! pic.twitter.com/ox85NliHud

— Marlee Matlin (@MarleeMatlin) January 11, 2016
TICKETMASTER: What are some tips for taking kids to see their first Broadway show?
MARLEE MATLIN: I know some people don't like to do this but I know a lot of parents who do and it makes theatergoing more fun, particularly for kids who've never seen a Broadway show: if the show has a cast album, introduce it to them before they see the show as a way to familiarize them with the music. By the time they get to the actual performance, they're singing along!
TICKETMASTER: Any advice for young aspiring actors?
MARLEE MATLIN: I like to give the advice that actor Henry Winkler gave me when I was a 12-year old aspiring actor. It was "always follow your heart and follow your dreams. If that's what you really want to do, don't let anyone else tell you otherwise." I followed his advice and 8 1/2 years later I was standing on a stage with an Academy Award in my hand!
I also think it's important to finish one's schooling – whether it's at school or home schooled. And don't use acting as an excuse to get out of homework!
TICKETMASTER: What are some daily steps you take to balance your career and family life? Any personal advice you'd like to share with other working parents?
MARLEE MATLIN: My advice to parents who have to balance work and family life is make sure you have a good partner in your spouse, one who is willing to give and take when it comes to sharing duties if the other one is away. I couldn't have done what I did on Broadway without the wonderful support of my husband – and with a lot of assistance from my mother-in-law. My husband also knows that when I'm home, he can count on me if he needs to work long hours away from home. It's important to develop a 100% shared relationship when it comes to balancing home, family and work. A give and take spouse makes it all happen.
TICKETMASTER: What was the first live event or theater performance you ever attended?
MARLEE MATLIN: I must have seen a lot of live performances and shows in my life and a few stand out. One was watching the Jackson 5 with Michael Jackson perform at my local mall in suburban Chicago. And the other was during my first publicity tour overseas for Children of A Lesser God in London, when I went to a performance of Phantom of the Opera with Michael Crawford and Sarah Brightman in 1986, just two months after it opened. It was so exciting!
TICKETMASTER: Can you share one picture that's on your phone right now with fans? It can be anything – a moment on stage, a recent meal, etc.
MARLEE MATLIN:
Best prom picture I ever took, with @DavidBowieReal @ "The Linguini Incident." I'm going to miss his wicked humor pic.twitter.com/SCLUlZRvgj

— Marlee Matlin (@MarleeMatlin) January 12, 2016

This pic is on my phone right now because on the day of my last performance of Spring Awakening I found out that David Bowie passed away. We worked on a film together about 25 years ago called The Linguini Incident and I never forgot his great humor and talent. It's been a week since he's passed but I'm still thinking about him and cherish this wonderful "prom" picture from the film. I'll miss him terribly.
TICKETMASTER: What other projects/productions are you currently working on?
MARLEE MATLIN: I'm back for a fifth season of "Switched at Birth" on Freeform (formerly, ABC Family). I'm also developing a single-camera scripted comedy to produce and star in and am developing a true crime miniseries — that I can't wait to talk about as soon as it's ready!
The Bledsoes. Day 2 of filming #SwitchedatBirth Season 5. pic.twitter.com/01TqAnUHne

— Lizzy Weiss (@Lizzy_Weiss) January 14, 2016
TICKETMASTER: Anything else you'd like to share with fans?
MARLEE MATLIN: I loved my first experience on Broadway and loved how every performance was different each night! It was the audiences that got me fired up each night and it was so exciting to see what energy we would be sharing as I performed on stage. So different than working in Film and TV. I miss it already!
I love you Broadway. Perhaps I'll be back – who knows? pic.twitter.com/diEBVKBGVT

— Marlee Matlin (@MarleeMatlin) January 11, 2016
TICKETMASTER: Can you give us a link to a YouTube video that you like or that means a lot to you (it can be anything you want!) and tell us why you chose it?
MARLEE MATLIN:

I love this clip from Late Night with Seth Myers of the Spring Awakening cast performing "Touch Me." The show will live forever in my heart — and on YouTube!!!
---
Matlin recently wrote an emotional and inspiring open letter after her final Spring Awakening performance, and she'll continue to shine her light on Broadway as an ambassador for Kids' Night on Broadway.