Exclusive Interview: Darius Rucker on the Southern Style Tour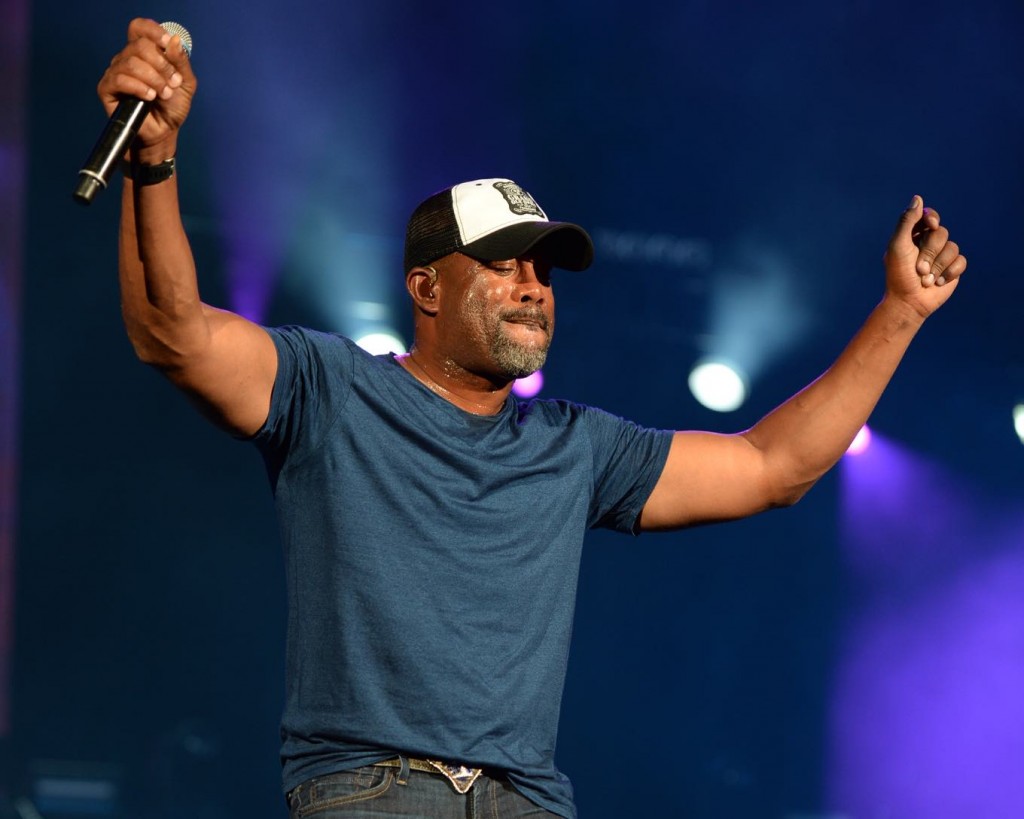 We recently caught up with country trailblazer Darius Rucker, who just extended his acclaimed Southern Style tour through the fall. Rucker's latest album Southern Style topped the country charts earlier this year, firmly cementing him as one of the genre's biggest stars and leaving ticket buyers clamoring for a chance to catch him on tour. Whether you've been a fan since his rock days with Hootie and the Blowfish or just can't get enough of his country tunes, there's plenty to love about his rollicking performances on the road. Check out the interview below to hear all about the tour, his love of big band and Bonnie Raitt, and how he defines his "southern style".
TM: Your new album Southern Style came out earlier this year and now you're sharing it with fans on the road. How's the tour been going so far?
DR: Oh man, it's been a great tour. It's been so fun having the Brothers Osborne and A Thousand Horses and Brett Eldridge out there. It was a great summer and I made some good friends. It was what a tour is supposed to be like, I think. We sold a lot of tickets and we had a lot of fun.
TM: You recently performed at your alma mater, the University of South Carolina. We know you're a big Gamecocks fan, and they pretty much think you're a god down there. What was it like to play for such a supportive hometown crowd?
DR: It was cool. It was just me and Mark, the guitar player with Hootie [and the Blowfish]. We were students at the journalism school, and they were dedicating a new building for the journalism school, so it was cool to go down there and play four or five songs and have a big crowd show up. It's always cool to be on that campus, man.
TM: In many ways this album is about living in The South. How would you describe the "Southern Style" life?
DR: My southern style is just really laid back. You know – be happy, work hard, and play harder. Have a good time and try to raise your kids right. It sounds so basic or cliché, but that's really what it is down here, that's how we live. Be nice to the guy next to you. That always works.
TM: Speaking of playing hard and raising your kids right, what do you like to do for fun when you're not in the studio or on tour?
DR: I play a lot of golf, but my favorite thing to do is go to a sporting event or some school thing with my kids. I love doing that stuff.
TM: You just extended the tour into the fall — how has the tour evolved since it started? Is it any different now than it was when you kicked things off?
DR: Yeah, there are some little things that you change from the beginning. Some songs you speed up, some you slow down, some you just say "that song's not working, let's try something else". We've been doing it through the year and it's pretty set, so I'm gonna change some stuff for the fall just to keep it fresh for us and for anybody who's coming to see us again. It's all about fun, man. Let's have some fun. If it's not fun, why are we doing it?
TM: Is touring a highlight of being a musician for you, or do you prefer writing and recording more?
DR: I like to tour because I like to play for people, but the actual touring part of it — the having to leave home and being on the road five days in a row and missing my kids' lacrosse games, and volleyball games, and football games, and choir rehearsals and shows and stuff like that, that's tough. But all I ever wanted to do was sing for people. I can't complain, I'm not complaining — I love being on the road because I get to play every night.
TM: Are there any venues or cities you're particularly excited to play?
DR: This tour is full of cities I look forward to. You don't wanna leave somebody out, you know? Of course Red Rocks is always awesome. Also when I get to play at home, which is something I don't get to do very much, it's awesome. The Gorge is another place that's just gorgeous. It's amazing. It's so beautiful. That's why you don't wanna say just one, because there's so many cool venues. Madison Square Garden too…I've played The Garden, you know? It's crazy.
TM: You mentioned some of the amazing artists you've had opening for you on this tour. Can you tell us a bit more about them?
DR: It's been great, man. A Thousand Horses, those are my boys. They're fam. We've been hanging out together for years now and I love having them out, love keeping them out. I love how great they're doing, and they're family, you know?
The Brothers Osborne, I was so excited when we got them, and they've been everything I thought they would be. Those guys are so funny. They're so cool. I was watching their show and they've got that thing, they've got it. It was great to be a part of and become good friends with those guys and watch them regularly.
And Brett Eldridge – I wanted Brett for a lot of reasons. He's a cool dude and I thought we could have a lot of fun and just hang out and drink a beer together, and I was right. I also knew that I love the songs and I love his voice, and I wanted to see the show, and he brings it every night. Every night I knew I couldn't take a night off because those guys were killing it.
TM: Do you guys all find time to hang out together backstage after the show?
DR: Oh yeah, every night! Every night we sit around – you can't go anywhere until they take everything down – so every night it's hanging out and talking and having a beer.
TM: You hosted and performed at the iHeartRadio Country Festival earlier this year – how would you compare the festival experience to playing a show on a headlining tour?
DR: When you're headlining one of your shows, you know that everybody there paid their hard-earned money to come see you play. At a festival, there are a lot of people out there who would have never paid to see you play, so you got 45 minutes to show them why they should come see you play [laughs].
TM: 7 or 8 years ago you made the move from rock to neo-soul and then on to country. Do you foresee yourself dabbling in any other genres in the future?
DR: Oh, I don't see that. I wanna keep playing country until they don't wanna play my records anymore, and then I'll ride off into the sunset. I'm not gonna say "I'm never gonna do it", because you never know what the future brings, but right now I'm loving playing country, I'm gonna do this until they don't want me anymore, and then I'm gonna go home and play golf and be a dad.
TM: Purely hypothetical though, if you were gonna release an album in another genre, what would your fantasy genre be?
DR: A big band record, absolutely. With Quincy Jones doing all the arrangements.
TM: What's the last live show or performance you saw as a fan that really blew you away?
DR: The last time I went to a show and I was really, really impressed – really impressed — was this local band named The Archetypes. They've been around a long time, but I saw them and I thought, "man those guys are awesome". It was crazy how great they sounded. Another show I saw where I went "holy God" was Bonnie Raitt. It was un-friggin-believable. I was blown away.
TM: You're pretty active on Twitter. What's one person you think everyone should follow and why?
DR: I follow Brad [Paisley]. Brad's funny and makes me laugh. I follow Chuck D. Chuck D does some serious stuff, man [laughs]. Yeah, Chuck D makes me think a lot. I like following Jim Gaffigan. He constantly makes me laugh. You know, you get into people — I like to laugh, so that's what I dig.
TM: The tour ends right around Thanksgiving and then you get a little break. What are your plans for after the holiday? Is it right back to work or are you taking some time off?
DR: Oh, I'm gonna turn around in December and watch some football, play some golf [laughs]. I'm sure I'll write some songs and do things like that, but I'm gonna be mostly just…nothin'. And then I'm sure we'll have to start cranking it back up some time early next year.
Tags