10 Dance Music Terms To Know Before EDC Las Vegas 2016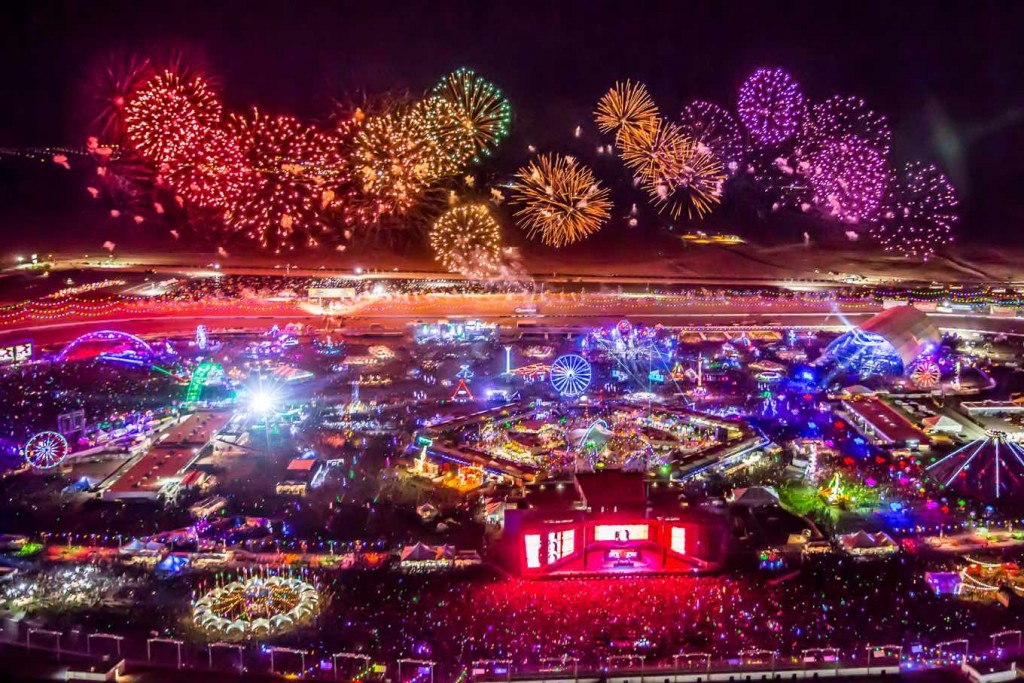 If you haven't heard the big news, here it is: tickets to Electric Daisy Carnival Las Vegas, or what the cool kids refer to as EDC, are on sale. The three-day festival is set to take place at the Las Vegas Motor Speedway from June 17-19, 2016, and if last year's lineup announcement is any indication, we can expect to find out if our favorite DJ's will be spinning in early May. Although the festivities are still a ways away, we thought we'd drop a bit of knowledge in preparation.
While dance music culture is in a constant state of evolution, there are a few dance-related terms and sayings that have remained somewhat consistent over the last year or so. As you grab your EDC tickets, wait in anticipation for the lineup announcement, and begin counting down the days until the big event, below are 10 key terms that will come in handy in a variety of situations.
Study up before you hit the Vegas Motorway, throw some hashtags in when appropriate, and you'll be ready to speak fluent "EDC" once Electric Daisy Carnival rolls around. Oh, and parents, if you're reading this: Be sure to slip these into conversations with your kids…they'll never look at you the same way.
If you just can't wait until the big event, Halfway To EDC was recently announced along with its killer lineup, so you can start practicing your new vocabulary on February 13 & 14 at Marquee Dayclub.
1. When someone says "EDM…"
Your Response: I think you mean dance music [or fill in the blank w/ appropriate subgenre].
The term "electronic dance music" and the initialism "EDM" was adopted by the U.S. music industry pic.twitter.com/DfZySd55Sw

— By-Product (@ByProductRadio) September 12, 2015
---
2. When someone asks what the EDC lineup is like…
Your Response: It's not about the line up, it's all about the experience. (But that line-up is straight FIRE!)
The lineup for EDC Vegas this year is soo fire I can only imagine what next year will be like when I go

— . (@itscharliev) May 6, 2015
---
3. When someone asks what you thought of a particularly heavy-hitting song…
Your Response: Wow, it was a serious BANGER!
Similar to his EDC set banger!??

— Adrian Avila (@adrian8avila) August 18, 2015
---
4. When someone asks who you're going to EDC with…
Your Response: My squad, of course.
Squad up for EDC

— bryton. (@itsbchain) September 15, 2015
---
5. When someone wants to meet up at EDC or When you are referring to someone keeping their word…
Your Response: Yo, come thru.
Can't wait for EDC ticket to come thru 😭

— JustJosh (@JustJoshC) May 11, 2015
---
6. When your favorite song comes on…
Your Response: I'm feeling all the feels.
edc feels pic.twitter.com/AXZGcZBPzO

— sarah (@wellhellosarah) September 6, 2015
---
7. When someone asks what your favorite part of the song was…
Your Response: I lost it during the drop, obviously.
got to hear one of my favorite drops😍

— ce. (@crebelxo) September 6, 2015
---
8. When you make the mistake of missing EDC…
Your Response: I have the ultimate FOMO (Fear of Missing Out).
Had way too much FOMO this year. EDC Vegas 2016, I'm comin!! 😁🎉🎶🙌🏽🙌🏽🙌🏽

— Vinny Nguyen (@VinnyNguyen7) September 8, 2015
---
9. When someone asks what's on your arm…
Your Response: It's kandi.
I ran into a guy from EDC last night and he showed me his first kandi bracelet, which just happened to be one I gave him. It's a small world

— Slug (@Bobbywwb) September 5, 2015
---
10. When someone asks what your personal motto is…
Your Response: PLUR (Peace Love Unity Respect).
Drumstep Fan Pic #Rave #raver #facemelt #lightshow #edm #edc #goodvibes #plurvibes #plur #plurwarrior #peace #love … pic.twitter.com/UXry3RHaR1

— Drumstep TV (@DrumstepTV) September 13, 2015
---
Originally published on September 21, 2015. Updated to include information about "Halfway to EDC" event.
Tags
You Might Like
As we prepare for Lollapalooza's virtual 2020 installment, let's look back at the moments that made the festival iconic.
Headed to Voodoo? Here's everything you'll need.
The first weekend of Austin City Limits Music Festival was picture perfect.